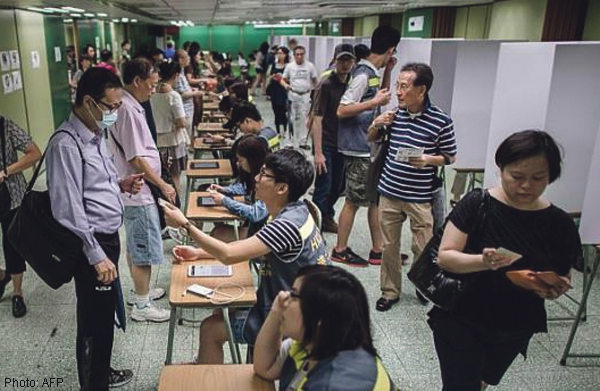 HONG KONG - Across the Causeway Bay bridge, where old women are hired to change fortunes by "da siu yan" - or hexing one's enemies - another exercise to try to influence the future of Hong Kong is under way.
The city's residents turned out in force yesterday to cast their votes at one of 15 polling stations, in an unofficial referendum on constitutional reform which Beijing has lambasted as "illegal".
Online voting began last Friday, while those who preferred to vote in person could do so only starting yesterday.
As of last night, some 690,000 people, or nearly a fifth of the 3.5 million registered voters in Hong Kong, had picked one of three reform proposals. The referendum ends on Sunday.
The turnout so far has far exceeded expectations. Organisers of the Occupy Central movement say it shows "trust" in the proposed civil disobedience exercise that aims to mobilise up to 10,000 people to paralyse the financial district if the government does not offer what it calls "genuine universal suffrage".
Academic Chan Kin Man, one of the three organisers, told The Straits Times: "This gives us a mandate to negotiate with Beijing, and to tell the central government that the people want true democracy."
Beijing has agreed that Hong Kong would have "one man, one vote" rights to elect their leader in 2017 but maintains that, under the city's mini-Constitution, the Basic Law, there must be a "broadly representative committee" that will pre-select candidates.
It has said that those who can run must be "patriots" who "love the country, love Hong Kong", and the city's pan-Democrats fear that this means there will be no genuine choice in the first place.
The public turnout will certainly infuriate Beijing, which has called the referendum a "farce".
Some watchers here are also concerned that with three options incorporating public nomination - already ruled out by the central and Hong Kong governments - and one offering abstention, public support will harden the movement's position while adding fuel to radical democrats' agitation. The city will hold its annual protest on July 1.
With Beijing highly unlikely to back down, this will leave little room for politically feasible compromises.
But Dr Chan said there is room for discussion if the authorities "respond to people's concerns".
"If they offer a good enough proposal even without public nomination, we will put it up for a second round of referendum together with the one chosen this time."
Yesterday, a long line of Hong Kongers trooped to the office of the Professional Teachers' Union at Canal Road West, where they queued at one of 15 counters.
There, volunteers checked their identity cards - voters must be permanent residents and at least 18 - before they proceeded to a booth to make their choice.
Many told The Straits Times that Beijing's release of a White Paper the previous week signalling a tightening of its control over the city had prompted them to vote. "This is about the future of Hong Kong," said university student Adam Chan, 24.
On why he was taking part in a referendum deemed unlawful by the authorities, taxi driver Wu Po Nam, 62, cited Chinese leaders Sun Yat Sen and Mao Zedong as having "worked against the prevailing governments" but are now hailed as heroes on the mainland.
"Unlike them, we Hong Kongers are not trying to overthrow the government of the day. But we do want to show that we want true democracy - even though they may think it illegal."
xueying@sph.com.sg

This article was first published on June 23, 2014.
Get a copy of The Straits Times or go to straitstimes.com for more stories.