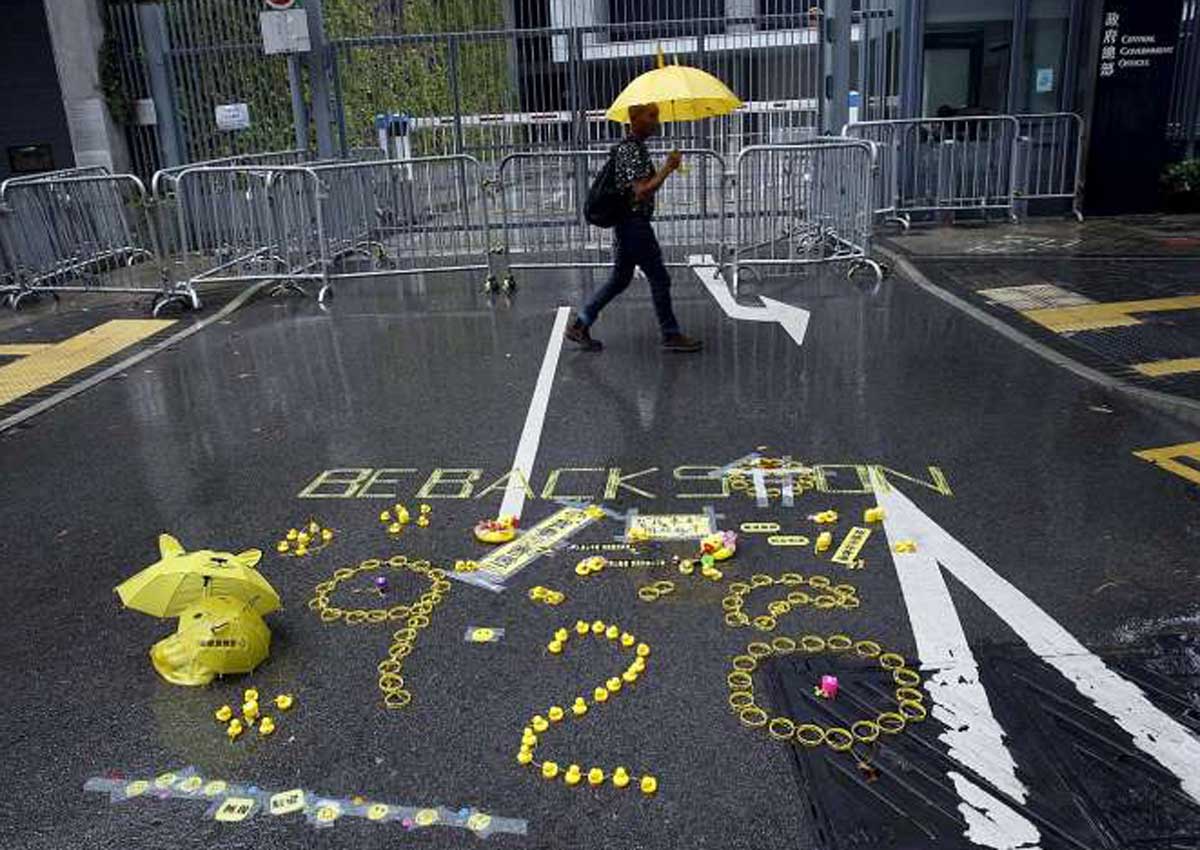 The occupiers are under siege.
A year ago, hundreds of thousands of Hong Kongers mobilised to block major roads for 79 days in a bid to force Beijing to liberalise rules on the election of the city's chief executive. They failed.
Today, the euphoria and unity of the Occupy movement has long dissipated, with the pro-democracy camp, by its own admission, divided and diluted.
By contrast, Beijing and its allies in the Special Administrative Region (SAR) have mounted a multi- pronged offensive to set the agenda in Hong Kong.
The central government is unleashing combative comments on how Hong Kong should be governed - with the implicit threat of hardline policies to follow.
It is also working diplomatic channels to pressure foreign governments to desist from offering support to activists.
Beijing will not budge on its Aug 31 directive rejecting universal suffrage in 2017 elections, Professor Lau Siu Kai, a leading adviser to Beijing on Hong Kong, says in an interview.
But even as Beijing wields sticks, it is dangling carrots. It is courting moderate pan-Democrats to become what it terms "loyal opposition". Prof Lau defines that as those who will not be antagonistic to the Chinese Communist Party (CCP).
On whether such tactics will work - Democratic Party leader Emily Lau has declared her party will not be "window dressing" for the CCP - Prof Lau says that time is on its side.
Beijing, after all, is playing the long game.
Says Prof Lau, vice-chairman of the state-sponsored Chinese Association of Hong Kong and Macau Studies: "This is a long process that will take more than 10 years.
"But I'm hopeful that as the older pan-Democrats who built their careers on opposing the CCP fade out, a more moderate camp will emerge because otherwise, by continuing with confrontational methods, it will meet with more pressure, more internal divisions and lose even more support of the public."
This optimism was borne out of a certain reading of the massive Occupy movement.
It was a vehicle for the people to "ventilate" their anger with the local government for not solving their livelihood problems, and frustration with a closed political system that produced such a government.
"The lesson for Beijing was that Occupy in fact demonstrates the political pragmatism of the Hong Kong people."
Idealistic student activists played a leading role in Occupy but Prof Lau dismisses suggestions that they will continue to be a force to be reckoned with. "There will be sudden spurts of student activism, but (even) Joshua Wong has already lost steam. When young people say they are looking at the long term, they are quitting."
Mr Wong, 19, leader of the Scholarism group and the youthful face of the Occupy movement, has said there are no plans for another civil disobedience campaign, and that his group, instead, is refocusing on Hong Kong's future after 2047 - the expiry of the "no change for 50 years" promise by Beijing when it took back the territory from Britain in 1997.
The situation, notes Professor Joseph Cheng, convenor of the Alliance for True Democracy, a coalition of pan-Democrats, reflects the reality of student movements. "Student leaders change. Every year you have a new set and so continuity is weak. They are divided, especially when there is no clear-cut objective to fight for."
One of Occupy's original initiators, Dr Chan Kin Man, concurs. While the protest movement was crucial in "awakening a whole generation", civic society is "fragmented" about the road ahead. "Lost and without direction", as he puts it.
"I don't think there will be another Occupy. People are lost. They are puzzled because such a large-scale movement did not produce change. And no one has answers."
That said, the traditional establishment bloc is not without its divisions. Chief Executive Leung Chun Ying recently removed his home affairs minister Tsang Tak Sing, and is unloved by the city's tycoons.
But the player with real muscle, Beijing, is setting the direction.
It has been investigating the factors that led to Occupy, with officials visiting Hong Kong, and conferring with Hong Kong representatives in Shenzhen and Beijing, says political commentator Du Ping.
One conclusion is Hong Kongers' discontent over livelihood issues.
But while the activists argue that a more competitive electoral system will deliver better governance, Beijing's takeaway is that the authority of the local executive should be strengthened instead.
This, says Prof Lau, explains recent comments such as those made by Liaison Office director Zhang Xiaoming, who said the chief executive's status "transcends" that of the three branches of government - executive, legislative and judicial.
Another concern is whether Article 23 - the controversial national security legislation widely seen as a threat to civil liberties - will be tabled in the Legislative Council.
"China is now assertive... it will not hesitate to remove anything it deems a threat to national security. And if that happens and even if Article 23 is not enacted, will China simply fold its hands (and do nothing)?" Prof Lau asks. 
In July, the National People's Congress passed a sweeping national security law which defined any threat to the state's power, sovereignty, or the sustainable growth of the economy as a threat to national security.
For now, Hong Kongers are more focused on the next chief executive race in 2017.
On whether Beijing would allow the unpopular Mr Leung - known as CY - to stand for a second term, Prof Lau would only say: "Any person who governs Hong Kong faces difficulties. CY has to change. We have to wait and see."
Says Dr Chan: "That will be a very important moment. If CY continues, it will annoy many people, and I envisage a crisis."
xueying@sph.com.sg

This article was first published on September 26, 2015.
Get a copy of The Straits Times or go to straitstimes.com for more stories.