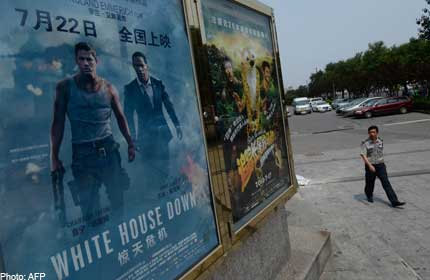 LOS ANGELES- China has agreed to resume payments owed to the US film industry after the two sides resolved a tax dispute, the Motion Picture Association of America, a trade group for Hollywood studios, said on Tuesday.
The MPAA said the China Film Group Corp, a state-owned distributor, had stopped payments to the Hollywood studios because of problems with a new value-added tax applied across China on Aug. 1.
The MPAA did not say when the payments stopped, but the film trade publication Variety said they might have been withheld as far back as March and that the amount owed to Hollywood studios could exceed $200 million (S$254 million).
"We are pleased to hear that the Chinese government has addressed the matter and all money due will be paid in full,"said MPAA chief executive and chairman Chris Dodd. "It is our understanding that the payment process has recommenced." The Chinese group had wanted to deduct the tax from what the studios earn in ticket sales in what is now the second-biggest film market.
Under a 2012 agreement between the Chinese and US governments, the American studios increased their share of revenue to 25 per cent of the Chinese box office from a previous rate of between 13.5 per cent and 17.5 per cent.
Deducting the new tax would have cut the studios' take by 2 percentage points.
Prior to the 2012 agreement, US studios had long complained of China's tight restrictions on foreign films, which they said helped fuel demand for pirated DVDs that are widely available in China.