Hong Kong's deputy fire chief on Saturday issued an internal message urging firefighters to do their utmost to save lives after an online video showed a group of them looking on as a man was attacked by a mob in Sham Shui Po.
Joseph Leung Wai-hung, deputy director of the Fire Services Department, also promised to improve the department's guidelines because firefighters were not sufficiently instructed or equipped to handle violent situations, such as riots.
"Fire service personnel were previously accused for appeasing rioters setting fires or even ignoring a man being attacked by many people. … I urge everyone to do your utmost in saving lives, whether they are residents, law enforcement officers or even rioters," Leung said in his message.
"Hong Kong is in danger, we should give full play to our department's mission of protecting life from calamity and danger. Even in the face of violence, we should save lives without fear."
Protesters on Friday wreaked havoc across the city, vandalising train stations, setting street fires and engaging in brawls.
In two videos that circulated online, a man was seen waving a knife at black-clad protesters in Sham Shui Po before a group of them chased him, hurling objects and hitting him in the head with rod-like objects.
The man ran to the intersection between Yen Chow Street and Cheung Sha Wan Road, where two fire engines had stopped. He was seen bleeding from the head as he waved a knife at protesters again and used a road sign as a shield - before being hit by again by protesters. Firefighters were shown in the video remaining in their vehicles, with none coming to help the man.
In response to media enquiries, a spokesman said the fire department was deeply concerned about the incident.
"We hope the public understands that … firefighters do not have sufficient experience, training or appropriate protective equipment to deal with violent incidents," he said.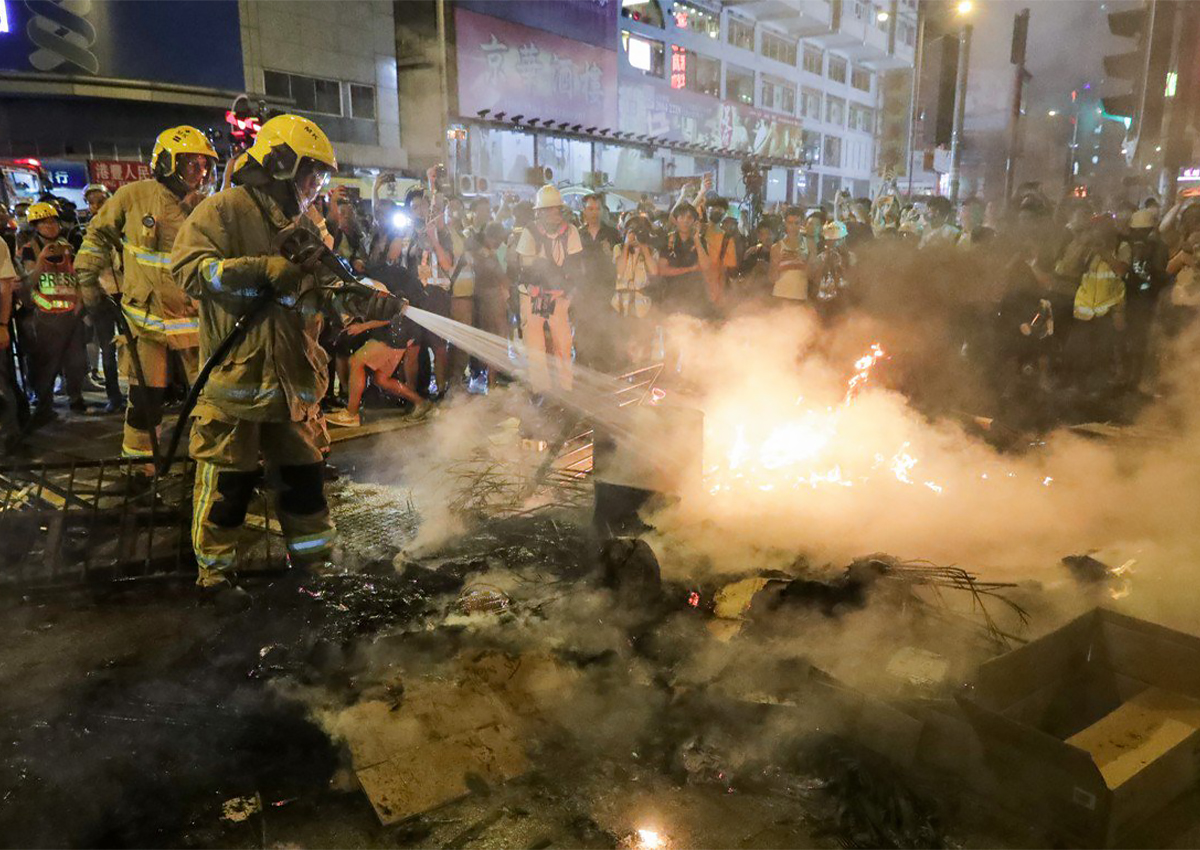 The spokesman said the firefighters were responding to a fire in the area when they ran into the street brawl.
"Firefighters were unable to make sure that they could offer help to the man under safe circumstances," he said. "Nevertheless, they tried to activate the sirens on the fire vehicles and shouted at the attackers, hoping that they would stop the attack."
The spokesman said the department's guidelines advise firefighters should try to avoid entering conflict zones during violent incidents. He said, however, that the department would review the recent operations and improve the guidelines.
This article was first published in South China Morning Post.