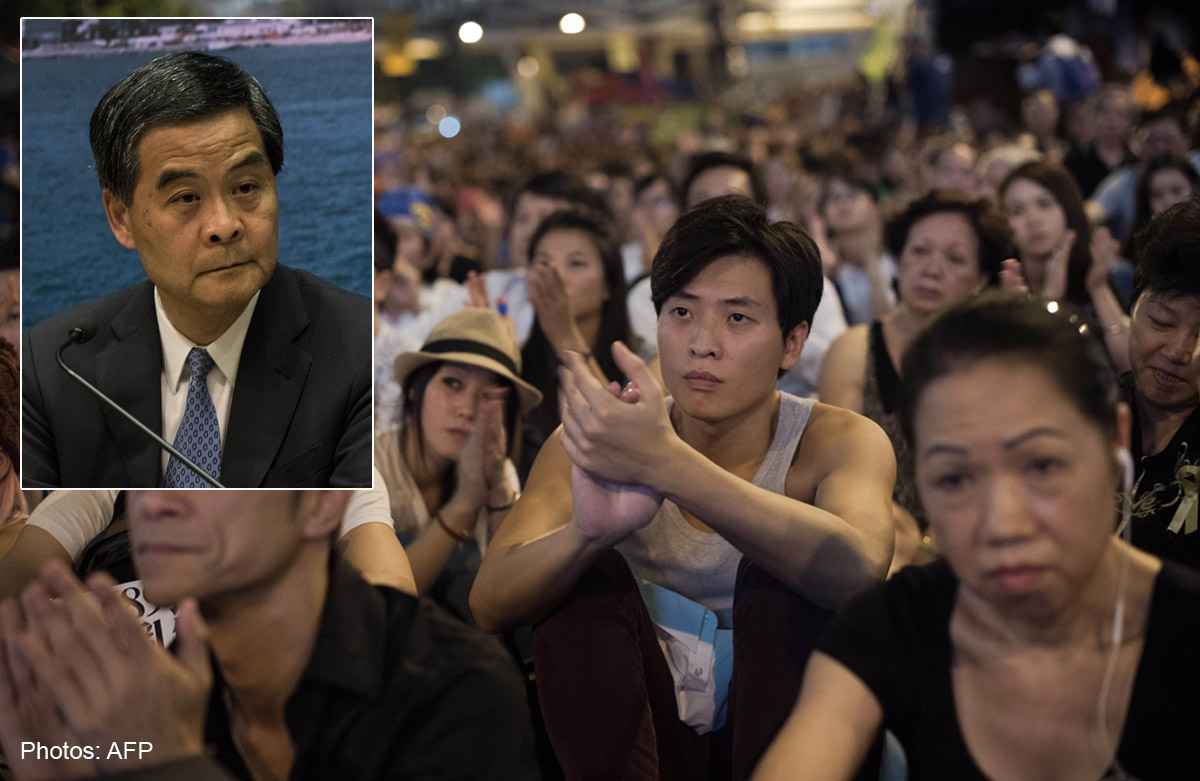 HONG KONG - Hong Kong's embattled leader Tuesday said he was open to creating a more democratic election committee before elections in 2017, extending a potential olive branch to democracy protesters as crunch talks to end the demonstrations got underway.
Parts of the Asian financial hub have been paralysed by rallies calling for Chief Executive Leung Chun-ying to resign and for China to revoke an August ruling that candidates for the city's next election be vetted by a pro-Beijing committee - something protesters have called a "fake democracy".
In an interview Tuesday afternoon with AFP and other newswires, Leung said that while Beijing would not back down on vetting his successor, the committee tasked with selecting those candidates could become "more democratic".
"There is room for discussion there, there's room to make the nominating committee more democratic and this is one of the things we'd very much like to talk to not just the students but the community at large about," he said.
The offer is still a long way from meeting the core demands of protesters who say anything other than public nomination of candidates is unacceptable.
But Leung's comments are the first indication of a potential negotiating point as talks got underway Tuesday between senior government officials and students leaders at a nearby medical college.
A failure by both sides to reach some sort of compromise could see weeks of further chaos in a city once renowned for stability and a resumption of violent confrontations between police and protesters after two days of calm.
Leung is not attending the discussions after students refused to talk to him, but he said he would be watching them on a live link.
More representative
Leung came to power in 2012 after winning 689 votes of a 1,200 strong committee made up of representatives from key Hong Kong sectors such as agriculture, religion, the legal profession and the city's powerful business community. Members of that committee were themselves voted in by a panel of around 250,000 people.
Analysts have previously suggested that the 1,200 member committee could be expanded to create a more representative body without upsetting Beijing and Leung.
Leung insisted his administration remains in charge of dealing with the ongoing protests, after repeated speculation Beijing was really calling the shots.
"We don't have any instructions from Beijing, or suggestions, as to when or who we clear the streets," he said, adding he did not feel the need to speak to his political masters on the mainland on a daily basis.
He warned police could move on the barricades at any time - even with talks going on - because patience among many locals was running out and some were "taking the law into their own hands".
"While the police have exercised tolerance, patience and restraint we have concerns that people may not," he said.
Over the last three weeks, protester camps have occasionally been attacked by government loyalist thugs while some taxi and haulage associations have threatened to take their own action against protesters barricades if they continue to block key intersections.
Previous attempts by police to remove barricades have sparked violent scuffles.
Leung also defended himself from allegations that he did not care about his city's poor. In comments that drew widespread condemnation on Monday, Leung suggested granting full universal suffrage would result in the poor dominating the electoral process.
Many protesters - particularly younger generations - say ever present inequality and the political elite's cosy relationship with the city's powerful tycoons has stifled opportunities and made it impossible to get onto the housing ladder.
But Leung defended his administration's record, saying he had pushed to provide more housing and had introduced policies to tackle poverty, adding, "my government has been described as a populist government".