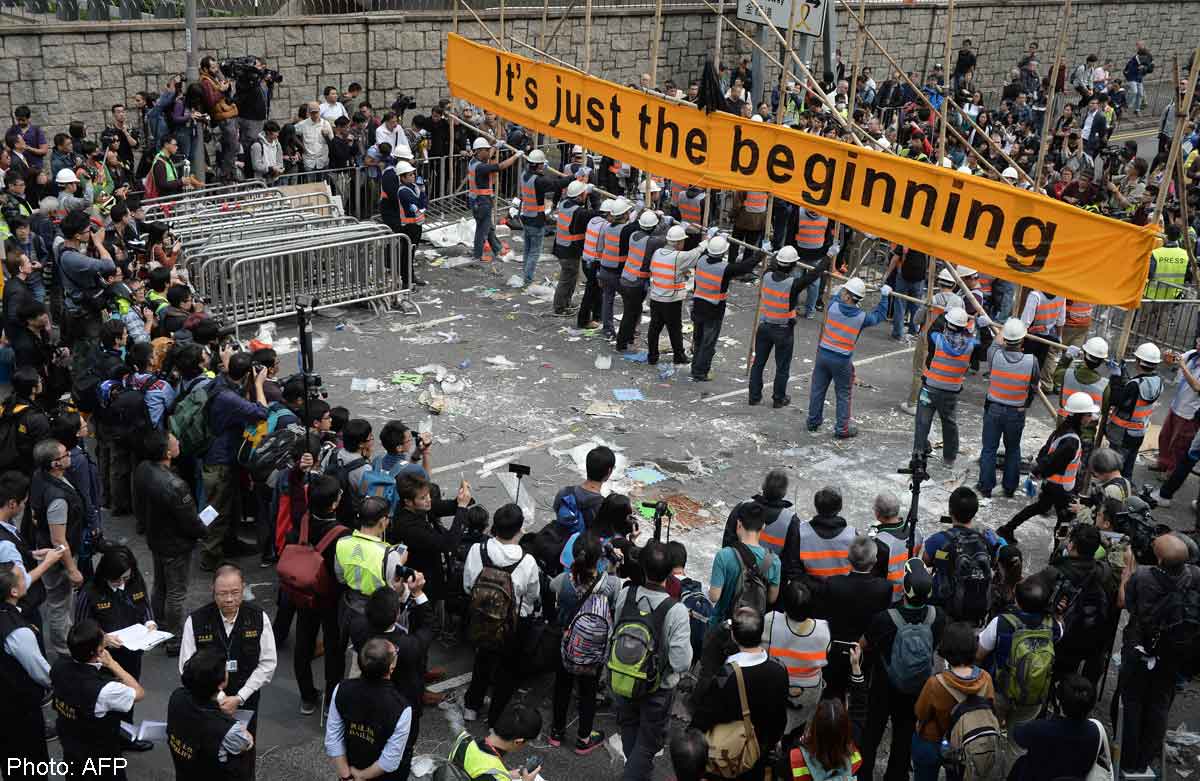 HONG KONG - Hong Kong's leader Tuesday warned against fresh pro-democracy protests ahead of the next step in the city's contentious political reform process, as a new official report on the mass rallies sparked widespread anger.
The government will Wednesday launch a second round of public consultation on the process for electing the city's next chief executive.
China has pledged that Hong Kong will be able to choose its own leader for the first time in 2017.
But it ruled in August that candidates will be screened by a loyalist committee - a decision that sparked more than two months of large-scale pro-democracy protests.
The new consultation will be the first official reform exercise since the authorities cleared the main pro-democracy protest camps in December.
But campaigners are pessimistic that any meaningful proposals will be on the table. Current leader Leung Chun-ying reiterated the government's hard line Tuesday and said any voting system would stick to the framework laid down by China.
"If we really want to implement universal suffrage on 2017, we... should not do anything that threatens the Hong Kong government or the Central Government," Leung told reporters.
He said that the process must stick to the city's constitution and that "coercive actions that are illegal or disrupt social order" would not change anything.
The public should take a "legal, rational and pragmatic" approach in expressing opinions, Leung added. However pro-democracy lawmaker Kwok Ka-ki said the consultation would be "a large scale propaganda excercise".
"Those coming from the democratic camp will be able to enter (as candidates), but they will never be able to be selected for election," he told AFP.
"The government will try to create an impression that we have a lot of room to discuss how candidates of different persuasions can enter the race, but the nominating committee will still do the gatekeeping," added political analyst Ma Ngok.
Campaigners' fury
It comes as an official report on Hong Kong's mass democracy protests submitted by city leaders to the Chinese authorities Tuesday sparked outrage among campaigners who called it a "rape" of public opinion.
The 220-page report gives a day-by-day summary of events during the rallies which saw tens of thousands take to the streets demanding fully free elections.
The "Report on the recent community and political situation in Hong Kong" was proposed by the government during fruitless talks in October with student protest leaders.
It pledged to truthfully reflect public sentiment and acknowledged there were "divergent opinions" over the election process.
But the report concluded that it was a "common aspiration" of citizens and the government to abide by Hong Kong's constitution and Beijing's rulings on political reform.
"This report was lazy and lacked emotion and did not identify the cause of the entire exercise," said Sin Chung-kai of the Democratic Party.
"Not only does it support the (Beijing) decision... it also rapes the opinions of Hong Kong residents." Several lawmakers ripped up copies of the document.
The report was submitted to China's State Council Hong Kong and Macau Affairs Office.
"Hong Kong is a society ruled by law," a spokesperson said on receiving the report, according to China's official news agency Xinhua. "Everyone should express their appeals in a peaceful and legal way."
Beijing's August 31 ruling to vet candidates was made after the Hong Kong government sent a report following the first round of public consultation on the leadership vote - heavily criticised by democracy campaigners for failing to reflect public views.
The new round of consultation Wednesday is expected to put forward specific proposals on mechanisms to select candidates.
Meanwhile the authorities continue to clamp down on activists.
On Monday, the justice department put forward court applications to formally charge 20 activists for obstructing bailiffs clearing the protest camp in Mongkok in November.
Dozens of other protest leaders, including founder of the Occupy movement Benny Tai and student leader Alex Chow, have also been requested to turn themselves in to police, according to local media.