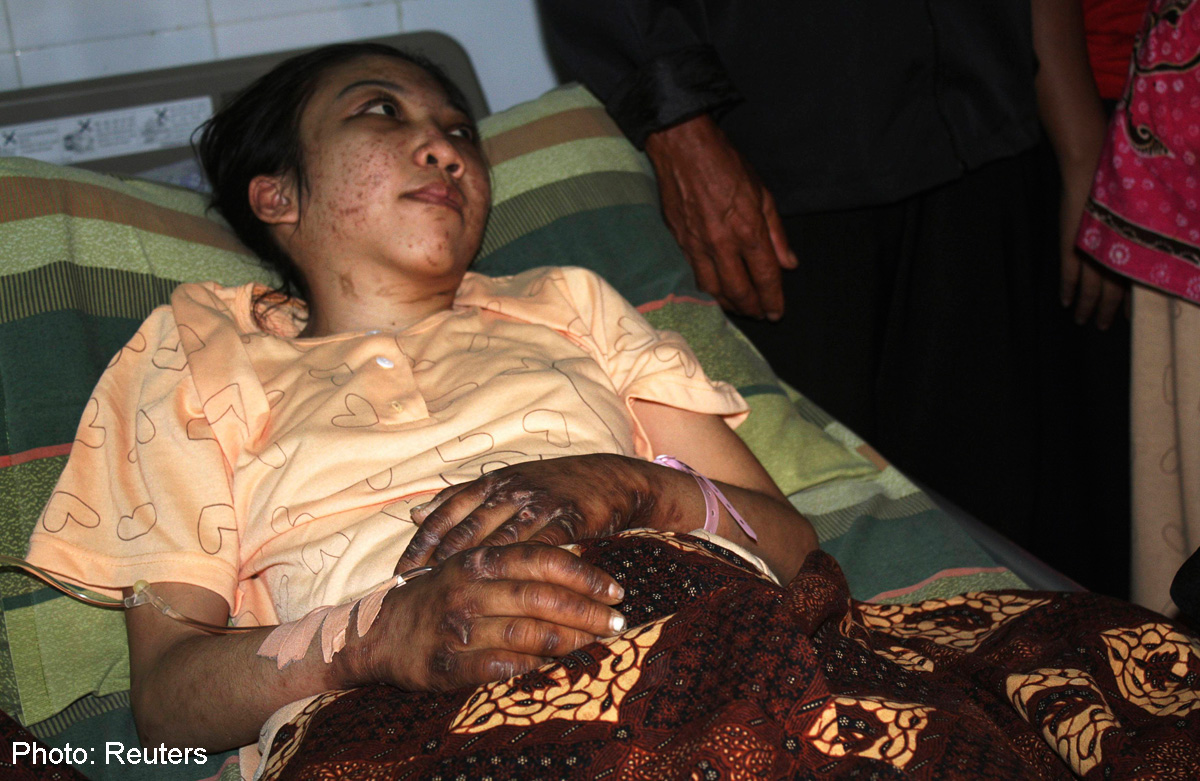 HONG KONG - A Hong Kong mother of two who a court heard punched her maids, beat them with mops and threatened to kill their relatives was released on bail on Wednesday after she was formally charged in a case that has triggered outrage.
Police arrested former beautician Law Wan-tung at the airport on Monday before she boarded a flight to Thailand, since when she has been jeered as a monster on trips between the police station and her home.
Law, 44, dressed in a black jacket, was calm as six charges were read out - two counts of wounding, one count of common assault and three counts of criminal intimidation.
The judge released Law on bail of HK$1 million (S$164,750) despite calls from the prosecutor to keep her in custody given the severity of the suspected abuse over many years, and the risk of her leaving Hong Kong.
The prosecutor described how Law had maltreated several former domestic helpers including 23-year-old Indonesian Erwiana Sulistyaningsih, who is now recovering from injuries in a hospital in Sragen, central Java. "She began hitting her non-stop, she scratched her, slapped her and pushed her head against the wall and punched her nose and teeth," the prosecutor said.
The court also heard how Erwiana and other former domestic helpers had been hit with various objects including clothes hangers and mops. Law threatened to kill their relatives if they disclosed the abuse, the prosecution said.
Doctors treating Erwiana say burns on her body were caused by boiling water.
Indonesian President Susilo Bambang Yudhoyono wrote on his official twitter account that he would help settle legal issues and medical treatment for Erwiana, describing her ordeal as"torture".
"I am sad and concerned about the disaster your daughter, Erwiana, has had to face," Yudhoyono told the woman's father on Tuesday, according to the president's office.
"I'm also angry at those who commit these crimes and I want the law and justice to be enforced... So far, the handling of Indonesian workers (in Hong Kong) has been good but this disaster has happened... What's important is that you know the government is not happy, I am not happy."
No plea was entered, but defence lawyer Patrick Wong in mitigation said Law had cooperated fully with police, had no criminal background and that there was no clear evidence of abuse except the claims made by the helpers. "She is a typical, normal Hong Kong citizen whose roots are in Hong Kong," Wong said.
Law left court wearing a black hood, sunglasses and surgical mask, followed by a scrum of reporters.
Erwiana's plight has sparked protests and mounting community concern in Hong Kong.
Several thousand domestic workers and supporters marched on Hong Kong's government headquarters on Sunday demanding a strong official response, justice and compensation for Erwiana.
Hong Kong, a former British territory that returned to Chinese rule in 1997, has around 300,000 foreign domestic helpers, most of them from the Philippines and Indonesia.