Hong Kong's embattled police force has admitted to an aggressive shift in tactics when dealing with the ongoing unrest in the city, while journalist associations have hit out at an increasing number of reporters injured as they cover the demonstrations.
Following several confrontations between the force and members of the media on Sunday - when a Post video journalist was struck by a stray projectile - a police press conference on Monday was held up for 30 minutes as reporters seized the chance to protest.
A freelance journalist read a statement accusing officers of ripping reporters' masks off and pepper-spraying them in acts that "interfered with press freedoms".
The Foreign Correspondents' Club, Hong Kong News Executives' Association, Hong Kong Journalists Association and Hong Kong Press Photographers Association all issued statements condemning police's use of force against reporters.
Once the police media briefing could start, Chief Superintendent John Tse Chun-chung, head of the force's public relations branch, confirmed officers had changed their tactics to curb the violence.
Senior Superintendent Wong Wai-shun, at the same briefing, said: "We will adopt a more proactive approach and try to combat vandalism and illegal acts. We hope it will be effective [in creating] a better situation in the future."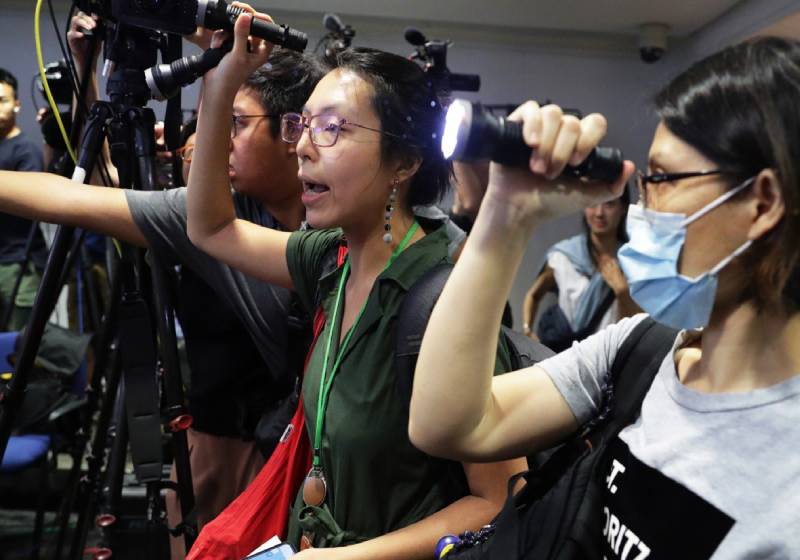 In response to public concerns about the identification of officers, Tse said the force had rolled out new "operational call signs", with staff on the front line wearing white tags on their vests stating their unit and section.
"The call signs are unique [to each officer]," he said. "But considering the growing number of cases of doxxing, we must find a balance between allowing the public to file complaints and protecting the privacy of our officers and their families."
Tse said only some officers on duty over the weekend had worn the signs and there was no timeline for their full deployment.
Identification was also a problem the other way, Tse said, pointing out it was difficult for police on the front line to tell genuine members of the press from impostors dressed like journalists.
"There are rioters who have tried to pretend to be reporters, or sought cover from them," he said.
While Tse admitted it was "absolutely unsatisfactory" for an officer to remove a reporter's mask without prior warning, he reiterated police had the authority to stop members of the press and ask them to confirm that they are authentic journalists executing their professional duty. This would include removing anything covering their face," he said.
The briefing also addressed the challenge of accuracy when using crowd-control tactics, such as water cannon or tear gas.
"I hope everyone can understand the force is taking measures to reduce the possibility of close encounters between police and violent protesters," Wong said.
Wong admitted there were limitations to such weapons.
"When we fire streams of water at particular places, we can't 100 per cent guarantee those jets of water will only be directed at any one person," he said.
Late on Monday night, tear gas was again deployed by riot police in Tuen Mun as anti-government protesters vandalised and set fire to businesses.
Radical activists smashed the glass front of a Bank of China branch and a Lung Mun Cafe, operated by the Fulum Group, which protesters believe is linked to a Fujian clan.
A police source said that, under the new tactics of early intervention, officers would intercept people wearing masks or dressed in black during stop-and-search operations in MTR stations, on the streets and in targeted vehicles.
"[Early intervention] can deter mobs from turning up and reduce criminal damage by rioters," the source said. "It's also good for morale and will restore public confidence in police if they see us taking firm and swift action."
In a Legislative Council subcommittee on the anti-mask law, many legislators expressed concerns over reporters' masks being forcibly removed by officers.
"Are journalists exempted under the ban? That's a simple question, yes or no?" Dennis Kwok, the representative of the legal sector, asked.
Undersecretary for the Security Bureau Sonny Au Chi-kwong said officers had the right to stop and search anyone, and added that news coverage on mask incidents might not have given a full picture.
Pan-democrat Gary Fan Kwok-wai accused police of intimidating journalists.
"The officers now view reporters on the front line as their enemy. They are trying to intimidate reporters, which is a blow to the city's fourth estate," he said.
Au conceded there was room for improvement in the relationship between frontline officers and journalists.
The press has not been spared tensions with protesters either. On Monday, the city's largest television station, TVB, applied for a temporary injunction to prevent anyone assaulting crew members or property.
Also at Monday's police briefing, the force revealed that from June 12 to October 27, police had fired about 6,100 tear-gas canisters, 2,400 rubber bullets, 550 beanbag rounds and 700 sponge-tipped rounds at protesters.
This article was first published in South China Morning Post.