Hong Kong police on Sunday said they had arrested 115 people after a night of chaos in Mong Kok and Prince Edward that marked the biggest outbreak of anti-government protest violence since the start of the coronavirus epidemic.
With the city facing the prospect of a resurgence of last year's social unrest in the middle of a public health emergency, Financial Secretary Paul Chan Mo-po warned of further harm to an economy already being battered by Covid-19.
"The blocking of the roads and the use of petrol bombs in Mong Kok [on Saturday] ... was worrying," Chan said in a television talk show on Sunday. "If the violent clashes continue, that would harm citizens' safety, hurt consumer sentiment and affect businesses."
The financial secretary warned that if the protest violence continued, foreign investors would lose confidence in Hong Kong's business environment - a concern he had heard during his visit to the US and Britain in October last year.
"Foreign businessmen in Hong Kong have started to ask themselves if they should move their families out of Hong Kong, and if they need to have other plans for their business," he said.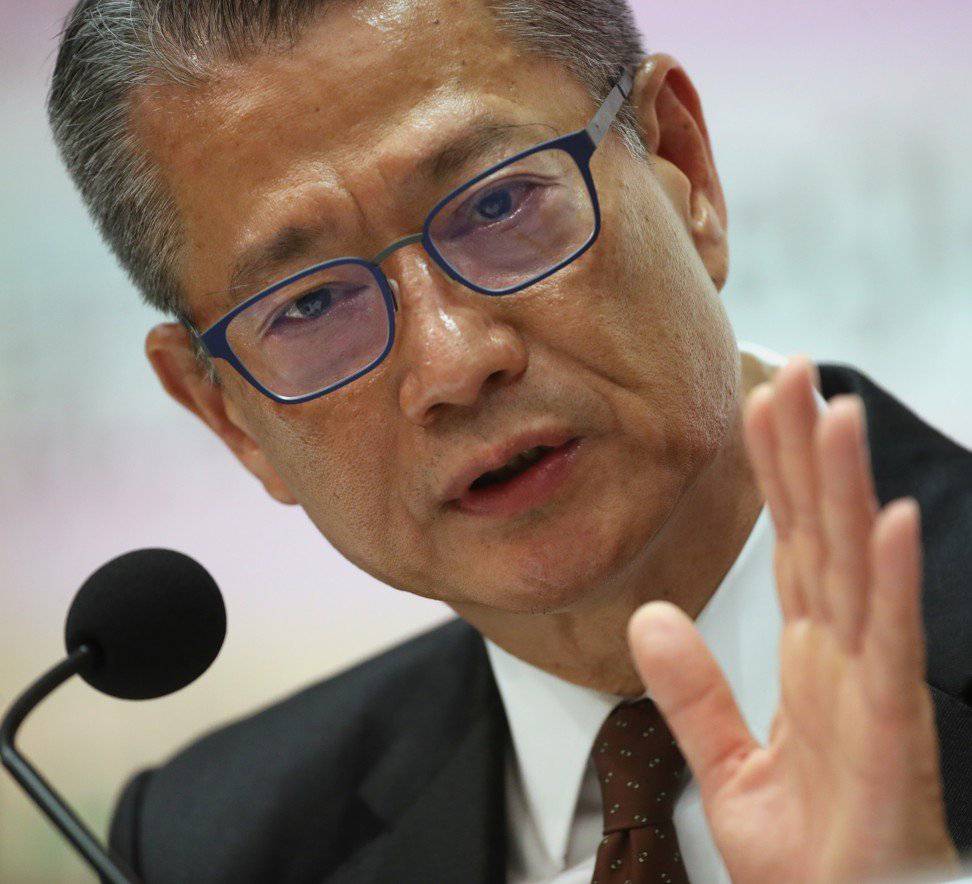 Financial Secretary Paul Chan says a return to the street violence that dogged Hong Kong in the second half of 2019 will harm overseas confidence in the city. PHOTO: South China Morning Post
Chan struck a more optimistic note in a separate blog post on Sunday, saying the economy had rebounded significantly after the severe acute respiratory syndrome (SARS) crisis of 2003, as well as after the financial tsunamis of 1998 and 2008.
In his budget speech last Wednesday, Chan forecast that gross domestic product would range from a 1.5 per cent decline to growth of just 0.5 per cent. He offered cash handouts, tax breaks and a raft of subsidies in a HK$120 billion (S$20 billion) package aimed at easing the financial burden on citizens and injecting new life into the ailing economy.
Police arrested 71 men and 44 women, aged 15 to 54, over Saturday's chaos on suspicion of taking part in unauthorised assemblies, possession of offensive weapons and instruments fit for unlawful purpose, arson, attacking police officers and obstructing them in the execution of their duties.
Police on Sunday also reported an early morning petrol bomb attack on the South Kwai Chung Jockey Club General Outpatient Clinic, which the government condemned as "malicious behaviour" that "caused innocent patients to suffer".
The clinic is one of 18 designated medical facilities for screening patients with minor respiratory symptoms of infection, which protesters do not want in their backyard.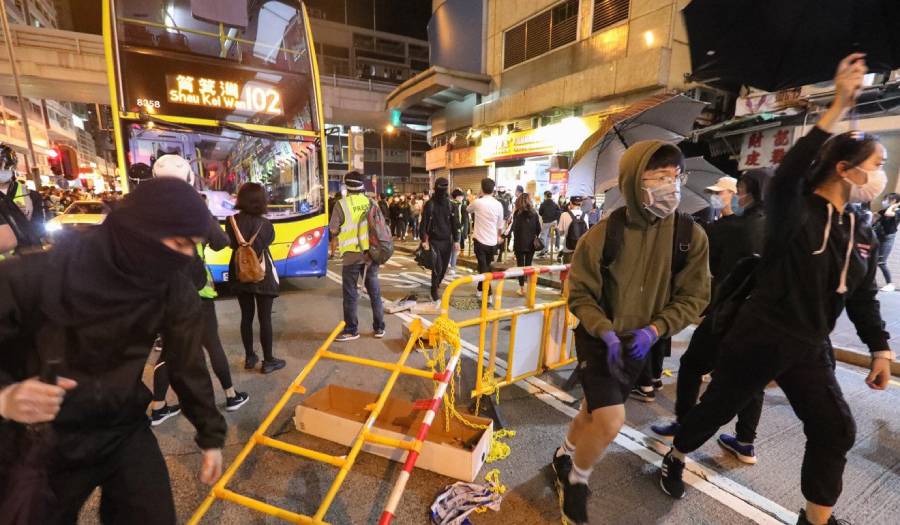 Buses and other vehicles were brought to a standstill when about 100 anti-government protesters took to Nathan Road. PHOTO: South China Morning Post
Dozens protested outside three other clinics in Shau Kei Wan, Yau Ma Tei and Kowloon Bay, demanding the government find alternatives further away from residential neighbourhoods.
Infectious disease expert Professor Gabriel Leung of the University of Hong Kong said it was a matter of practicality and empathy.
"Would you rather have these Hong Kong patients walking around on the streets, looking for clinics? Or would you rather have them going to a designated clinic which would be put under very strict protective measures?" he said.
"Even if you are selfish, you would want them to seek help as soon as possible."
An officer pulled out his gun and pointed it at radicals attacking him on Saturday, but did not open fire. Police said he drew his weapon because he feared for his life as protesters hurled bricks, stones, bamboo sticks and other hard objects at him.
"Rioters began to gather around Nathan Road and Prince Edward Road West yesterday evening, blocking roads, setting fires, vandalising public facilities, hurling petrol bombs and attacking police officers with bricks and hard objects. Several police officers were injured as a result," the government said on Sunday in an official statement.
The trouble broke out when protesters gathered outside Prince Edward MTR station, where they believe demonstrators were killed by police during a clearance operation on August 31, despite repeated official denials and a lack of any evidence.
Officers arrived soon afterwards, clearing flowers that had been placed at exit B1 of the station and urging the crowd to disperse. But about 100 protesters started to block Nathan Road and clashes broke out as the crowd grew in size into the night.
Protesters threw petrol bombs and bricks at officers, who responded with tear gas and pepper spray.
Online media outlet Stand News accused police of yanking off its reporter's gas mask and removing his helmet. The reporter was wearing a press vest and was being cooperative, the outlet said.
The government placed the blame squarely on the protesters, saying: "At this difficult juncture, a small number of radicals still conducted violent acts of vandalism which disregard law and order. Their behaviour is outrageous."
Looking at the weekend's return to protest chaos, political analyst Johnny Lau Yui-siu said the social unrest was bound to continue, as the government had yet to meet protesters' key demands, including the establishment of an independent judge-led inquiry into allegations of police brutality and amnesty for all those facing prosecution.
"It won't end, though it might take different forms, such as lobbying foreign governments to intervene," Lau said. "The question is not what the Hong Kong government does to resolve this, but if it wants to do anything... The authorities have not been listening to public opinion."
More than 7,000 people had been arrested in connection with the unrest since June, which was sparked by the now-withdrawn extradition bill.
Police have fired more than 16,000 rounds of tear gas and 10,000 rubber bullets. Some 2,000 people were injured, including 550 police officers.
This article was first published in South China Morning Post.