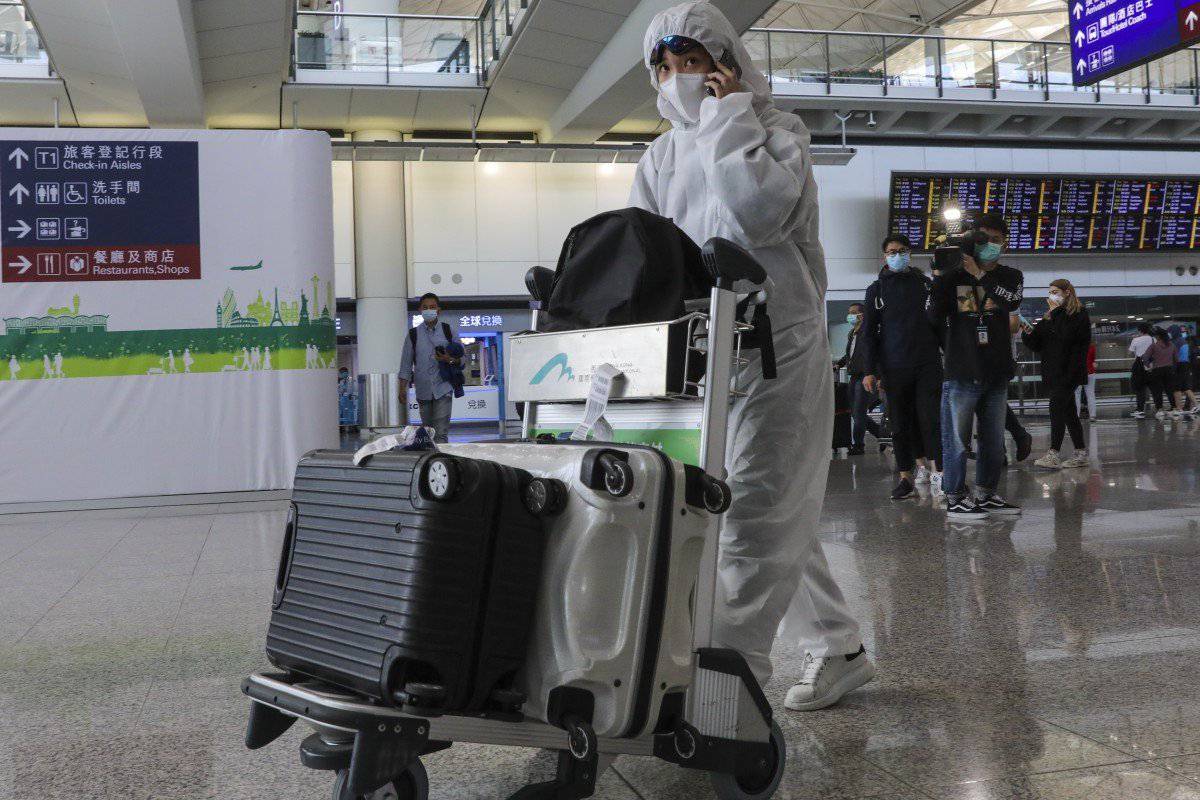 Travellers arriving in Hong Kong from any foreign country from Thursday will be put under 14-day home quarantine or medical surveillance, the city's leader has said, as she extended a red travel alert to cover all overseas nations.
The new restrictions would not apply to arrivals from Macau or Taiwan. Those arriving from mainland China had already been required to isolate at home since last month.
The tightening of the rules came as an 18-year-old Hong Kong student who returned from Switzerland on March 15 tested tentatively positive for the virus, potentially taking the city's infection tally to 158. The student, who is French, was being treated at Eastern Hospital.
Chief Executive Carrie Lam Cheng Yuet-ngor said on Tuesday that the decision was made after top officials met expert advisers, who concluded that efforts to curb the spread of the deadly coronavirus in the city should shift to control of imported infections, as the number of cases abroad had exceeded the total in mainland China.
Considering the second wave of imported infections in the pandemic, Lam also announced that full resumption of school classes on April 20 was "quite impossible" and the government would continue to not organise any large-scale events.
She said most of the cases confirmed in the previous two weeks involved patients who had recently been abroad. The new cases took the city's tally to 158, including a suspected case.
"If we do not impose tougher measures at this stage, our previous efforts to prevent the disease from spreading throughout these two months could be completely wasted," Lam said, speaking before an Executive Council meeting.
"If all these imported cases lead to a community outbreak, the consequence will be unimaginable and increase the burden on the public health system."
The city leader did not set a date for how long the measures would be in place.
"This will be a prolonged battle. Residents need to be psychologically prepared that it will be hard for us to completely control the outbreak within a short time," Lam said.
Macau's government meanwhile announced it would block entry of all non-residents except those from the mainland, Hong Kong and Taiwan from Wednesday. A mandatory 14-day home quarantine measure for city residents remained effective.
Asked why Hong Kong had not imposed a travel ban, Lam said such measures would be "too drastic", because all imported cases involved Hong Kong residents and some travellers might still have to make necessary trips to the city.
"While we are still in a pandemic situation, we have to allow the city to continue, business to resume, otherwise we may have more problems on the economic front," she said.
Chinese University respiratory medicine expert Professor David Hui Shu-cheong said Hong Kong was effectively closing its border through administrative means, and foreign arrival numbers were expected to drop.
"I don't think anyone will have the incentive to come to Hong Kong if you know that, on arrival, you will be quarantined for 14 days. This will cut the number of people coming to Hong Kong," he said.
Considering the tens of thousands of Hong Kong students studying abroad, Lam said the administration proposed to Cathay Pacific Airways that it arrange more fights to bring them back from Britain and the United States.
The government would also provide the airline with 67,000 masks so that the crew could distribute them to passengers.
People put under home quarantine are not allowed to leave their home or hotel room.
They need to check and record their body temperature every day, and health officers contact them through messaging apps or over the phone to make sure they remain healthy.
Secretary for Food and Health Sophia Chan Siu-chee appealed to the tens of thousands of people under - or soon to be under - the mandatory quarantine order to have self-discipline and keep their distance from relatives, even at home.
Top microbiologist Dr Ho Pak-leung from the University of Hong Kong suggested overseas students returning to the city in the next one or two weeks should stay at designated quarantine facilities for at least two to three days, before heading home for self-quarantine, to avoid spreading the virus to their family members.
"If these students [from the US and UK] return home right upon arrival, take off their masks and eat with their family members … that would not be a safe environment for home quarantine," Ho told a radio programme on Tuesday. "If each [infected] student transmits the virus to about three family members, it could lead to a spike in infected cases."
Professor Gabriel Leung, dean of the University of Hong Kong's faculty of medicine, said East Asia, including Hong Kong, had brought down the epidemic curve "quite effectively and successfully", noting that about half of infections in Hong Kong had been imported.
He said the key to success in epidemic control lies in "societal solidarity" and adherence to government intervention measures. "Hong Kong also has not done too badly… credit to Hong Kong people," he said.
Speaking on a live Q&A session on Twitter on Tuesday, he said the city did not have a "self-sustained local epidemic" so far, but an "exponential rise in the first wave" of infections in the next few weeks might touch off another round of infections in China.
But he believed China had the testing and tracing strategies in place to control a potential second wave of the disease.
For the latest updates on the coronavirus, visit here.
This article was first published in South China Morning Post.