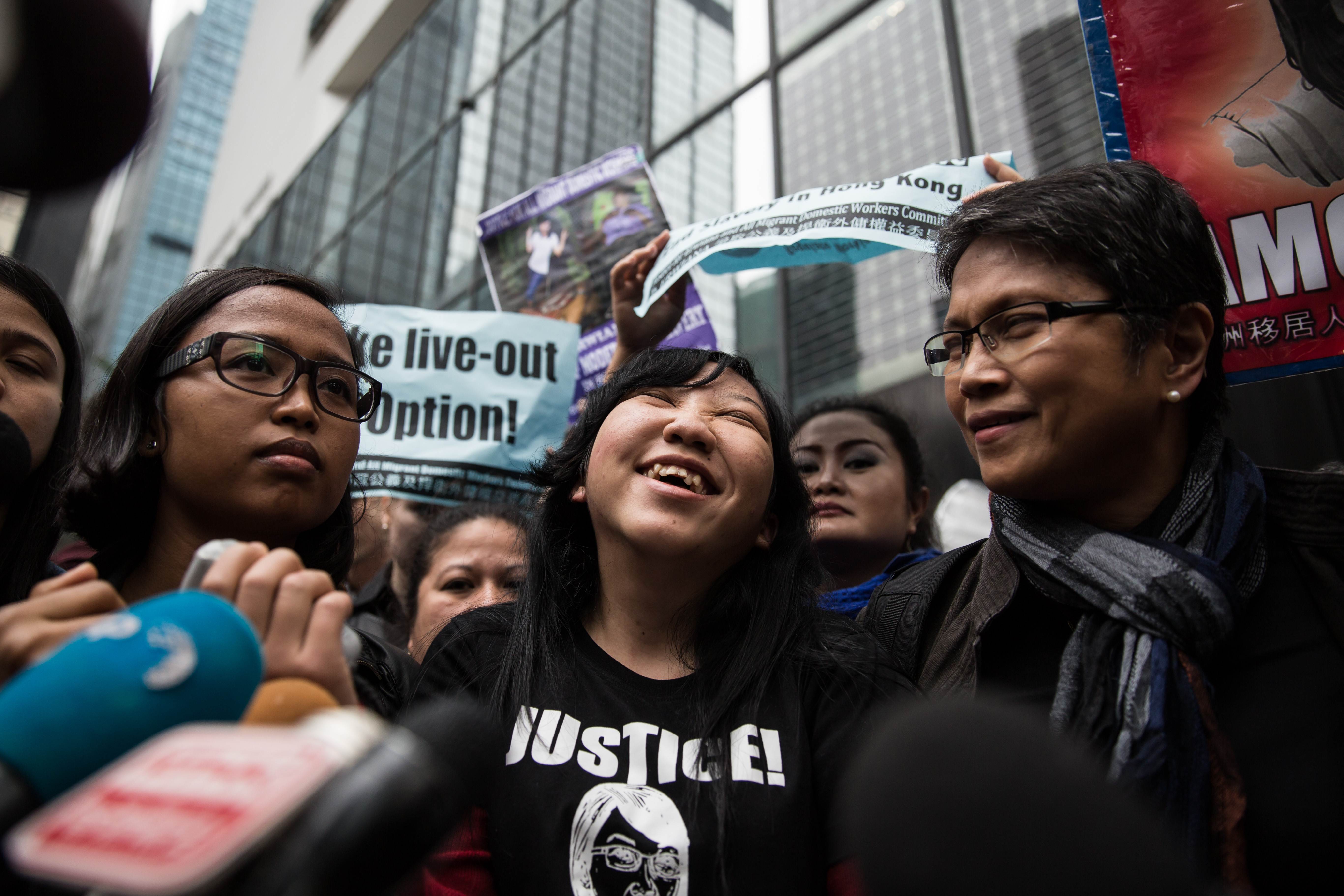 HONG KONG - A Hong Kong woman was jailed for six years on Friday for beating and starving her Indonesian maid and keeping her prisoner.
Law Wan-tung - who had faced a maximum sentence of seven years - "showed no compassion" to Erwiana Sulistyaningsih and other domestic staff, said judge Amanda Woodcock in handing down the sentence.
Law saw her staff as "people that are beneath her" said Woodcock.
44-year-old Law, a former beautician, looked stunned as the sentence was passed after being found guilty of 18 of 20 abuse charges. She was also ordered to pay a fine of HK$15,000 ($1,934).
The charges included inflicting grievous bodily harm and criminal intimidation against Erwiana Sulistyaningsih and an another maid, also from Indonesia.
Law looked emotionless as she was led out of court. She had pleaded not guilty to the 20 charges but had admitted one of not buying insurance cover for her maid.
Judge Amanda Woodcock read out her verdict saying "damning evidence" revealed "how little care and kindness the defendant showed" for Erwiana.
The brutality meted out to Sulistyaningsih has sparked calls for Hong Kong to revise its policies on migrant workers. Around 30 supporters of Sulistyaningsih protested outside the court.
Sulistyaningsih had told media she would forgive her former boss, but on Friday she said six years was not enough. "It seems that while we recognise maltreatment of migrant workers as bad and that slavery exists in Hong Kong, the Hong Kong government seems to tolerate it," she said outside the court. "With this sentencing, it is as if the people in government are okay with it." Erwiana, who arrived in Hong Kong in 2013, returned to Indonesia in January last year where doctors said burns on her body were caused by boiling water.
Of Sulistyaningsih's treatment, Judge Woodcock added: "She was given little rest, sleep and nutrition which left her a shadow of her former self." Woodcock called for an investigation by Hong Kong and Indonesian authorities into the workers' conditions.
Sulistyaningsih, 24, told a Hong Kong court in December how she lived on nothing but meagre rations of bread and rice, slept only four hours a day and was beaten so badly by her employer Law that she was knocked unconscious.
During the six-week trial, prosecutors said mother-of-two Law, 44, turned household items such as a mop, a ruler and a clothes hanger into "weapons" against her maids.
Law was convicted on 18 of 20 charges laid against her, including grievous bodily harm, assault, criminal intimidation and failure to pay wages.
"It is regrettable that this conduct is not rare and sadly is often dealt with in the criminal courts," said Woodcock.
"Such conduct could be prevented if domestic helpers were not forced to live in their employer's home," which is stipulated under Hong Kong law and is a key point which campaigners want reformed.
Woodcock also highlighted the "significant fees" charged to domestic helpers by agencies in their home countries and deducted from their Hong Kong salaries.
"There must be an element of exploitation here... the domestic helper becomes trapped when they are unhappy, but cannot leave or change employers because the debt needs to be paid off," she said.
Wearing a T-shirt emblazoned with her own face and the word "justice" Sulistyaningsih remained expressionless as the sentence was read out - she had said that she hoped Law would receive the maximum term.
Earlier Law's defence lawyer Graham Harris had said she was "not a monster" in mitigation and referred to her charity work and role as a mother.
Hong Kong has about 330,000 foreign domestic helpers, most of them from the Philippines and Indonesia and nearly all women, who can earn more in Hong Kong to send back to their families than they can at home.