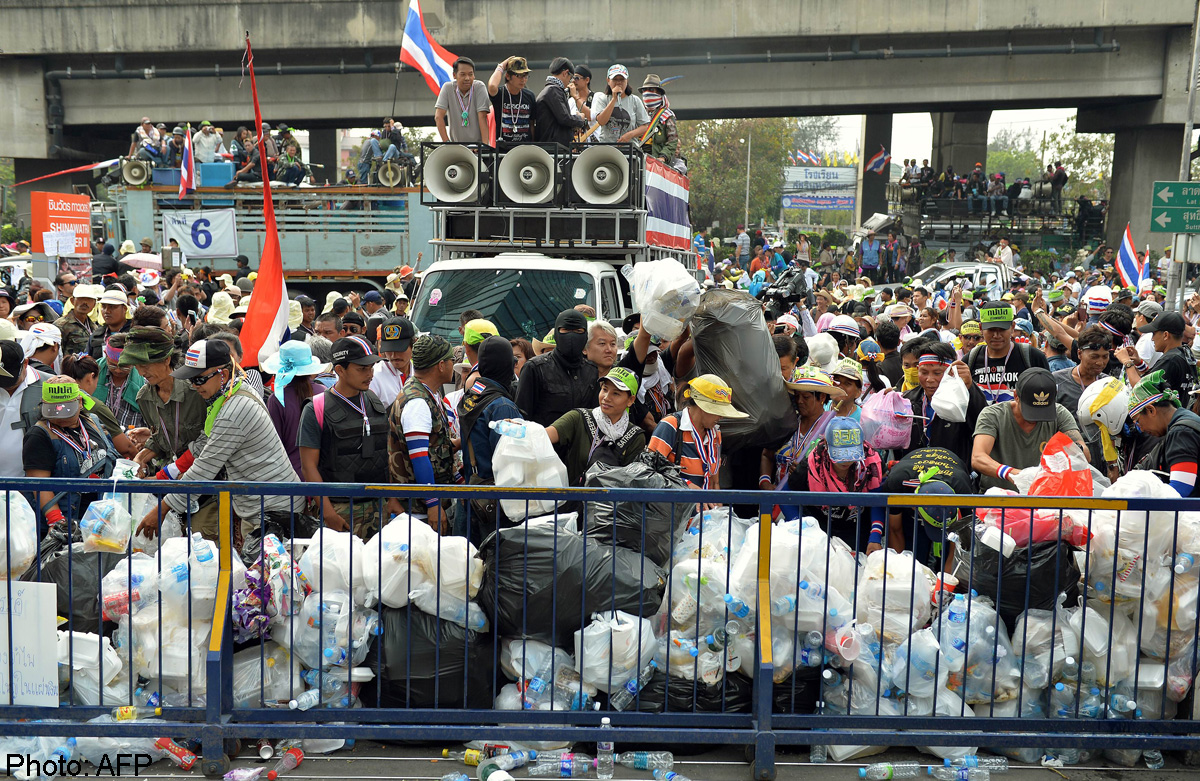 THAILAND - Since the anti-government People's Democratic Reform Committee (PDRC) emerged four months ago, caretaker Prime Minister Yingluck Shinawatra has been forced to seek alternative lodgings and offices, and has had to drastically change her work routine.
On some nights Yingluck does not return to her residence, and seeks overnight accommodation elsewhere.
Yesterday, she also reportedly cancelled her scheduled work at the Centre for Maintaining Peace and Order (CMPO) headquarters and reportedly sought refuge in a "safe house".
However, a source close to Yingluck said PM's secretary-general Suranand Vejjajiva was organising trips for Yingluck to oversee drought problems in the North and Northeast soon.
Yingluck's "safe houses" include a condominium unit in Pattaya, the Samphran Police Cadet Academy and a guest house inside the Air Force base in Don Muang district of Bangkok.
Yingluck appears to be deliberately varying her routine to avoid falling into a pattern in terms of where she works and sleeps.
It is not safe for her to work at Government House, as protesters have surrounded the area and could try to confront her at very short notice, thus putting her security at risk.
Safety measures have also been adjusted: Gone is the highly visible motorcade befitting a prime minister, in order to attract as little attention as possible.
As for her alternative offices, in the early days of the PDRC's campaign, Yingluck chose the National Police Headquarters near the Ratchaprasong intersection, which eventually proved to be too close to protesters. By the end of last year, she spent most of her time touring the North and the Northeast instead. Even then, there were instances of unpleasant encounters with whistle-blowing protesters.
When the PDRC stepped up its attempts to "chase" the premier after the New Year, Yingluck switched her temporary offices to three sites: the conference room of the Air Force base, the Army Club, and - most frequently - the Office of the Permanent Secretary of the Defence Ministry.
When she first arrived at the Office of the Permanent Secretary, some officials were caught off guard.
PDRC leader Suthep Thaugsuban recently led protesters to this office and told officials that they would surround the place if Yingluck returned, so it is unclear if she will be seeking another temporary office, such as in her home province of Chiang Mai, as offered by some red shirts.
Cases, petitions against PM
- The alleged improper transfer of former permanent Defence secretary General Sathien Permthong-in;
- Allowing her fugitive brother Thaksin to appear on state-controlled NBT TV channel to speak prior to a Thai boxing match in Macau;
- Allowing Thaksin to hold a Thai passport;
- Alleged mishandling of the 2011 flood crisis;
- Alleged mishandling of the rice-pledging scheme and opening the door to corruption;
- Petition with the National Anti-Corruption Commission (NACC) for the possible mishandling of proposed water-management projects;
- Possible corruption in relation to the proposed Bt2-trillion infrastructure projects. The NACC is in the process of collecting evidence.