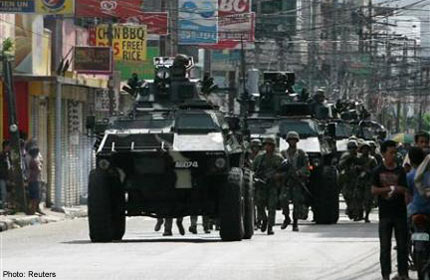 ZAMBOANGA CITY, Philippines - Houses were set ablaze on Tuesday as fighting erupted between Philippine security forces and Muslim rebels occupying five districts of the southern Philippine city of Zamboanga, witnesses said.
Fire fighters were prevented from getting to the houses by sniper fire, a Reuters witness said.
On Monday, hundreds of heavily armed Muslim gunmen landed in coastal districts of Zamboanga, took 30 hostages and had planned to march to the city hall to raise their flag and declare an independent state.
But security forces stopped them from reaching the city centre and a naval blockade prevented hundreds of gunmen from neighbouring Basilan and Jolo from reinforcing their comrades, setting off a sea battle that killed seven rebels, a navy spokesman said.
"We lost one of our boys but we got seven of them when our sea patrols intercepted a boatload of gunmen heading for Zamboanga," Commander Gerard Fabic told reporters.
Schools, shops and offices remained closed as the standoff entered the second day. Ferry and air services were also suspended.
Security officials say the rebels belong to a rogue faction of the Moro National Liberation Front (MNLF) rebel group, which entered into a peace agreement with government in 1996 and ran a Muslim autonomous region on southern Mindanao island.
Five years later, the faction, led by former university professor Nur Misuari, broke away, claiming the government had not fully implemented the deal.
Misuari opposed the deal signed last year by the Moro Islamic Liberation Front (MILF) in which the group agreed to a new autonomous region that would give it greater political powers and more control over resources.
Four decades of conflict in the south killed 120,000 people, displaced two million and stunted growth in the poor but resource-rich area of the mainly Roman Catholic country. Last year's deal spurred hopes of an economic revival.