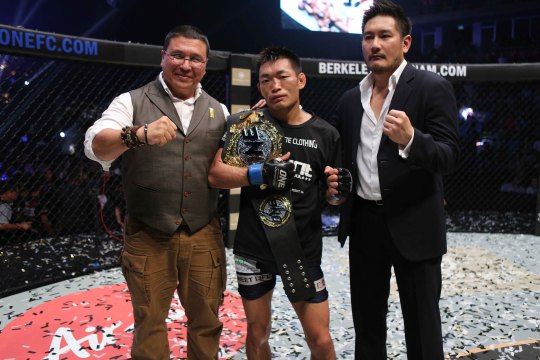 ONE Strawweight World Champion Yoshitaka "Nobita" Naito may not be the most flamboyant character to step into the ONE Championship cage, but behind his quiet exterior burns the heart of a fierce competitor and a proud champion.
Inspired by Japanese martial arts pioneer Kazushi Sakuraba, Naito has grown into one of the most successful strawweight competitors in the world, capturing the ONE World Title in 2016 to reach his dream of becoming a world champion.
His early years were difficult, with Naito struggling to find his niche throughout his schooldays. He found it hard to engage with his work, and struggled to make friends, leaving him on the periphery of school life. Eventually, he opted to leave.
"I dropped out because it was not interesting. I still regret doing that," he admits.
"At the time, I felt liberated. But later, things got difficult.
"I quit because I wanted to escape. At the time, I did not think deeply about it. I just wanted to run away from what I was up against. It was a huge obstacle in front of me, and to this day I regret running away from the obstacle in front of me."
With no obvious career prospects and no qualifications to fall back on, Naito turned his attention to something that fired his passions in a way study and work never could - martial arts.
He immersed himself in the culture of martial arts, watching the booming scene in Japan, and becoming fascinated by one competitor in particular.
"My martial arts hero has always been Kazushi Sakuraba," he explained.
"It fascinated me each time watching him win by submission against big foreign athletes. I was a huge fan."
Inspired by the successes of his fellow countryman, Naito decided to try martial arts for himself, and along with his brother, joined the nearest martial arts gym.
Naito fell in love with it almost immediately, and dedicated himself to being the best martial artist he could be, training hard and working to sharpen his skills with each session.
Six years after his first class, he made his professional debut, winning via guillotine choke in the second round for the Shooto organisation in August 2012.
"The exhilaration just ignited me and pulled me into the sport," he recalled.
"What I love about martial arts is that it is not only about the physical strength, but you also have to use your head to compete, and there are a lot of different martial artists with different styles. You have to be good in multiple aspects, which makes it interesting."
Naito went on to capture championship gold in Shooto, defeating Shinya Murofushi in September 2014 to become the promotion's flyweight champion.
Despite his successes, he struggled to get his family to support him, though that stance has softened more recently.
"My family was not that interested in what I was doing. They still do not have much interest in what I do. They do cheer for me, of course," he admitted.
"I told them there were some really fantastic teachers and that some really made a lot of money doing them and things like that. I am not sure if they understood or not."
Naito then signed for ONE Championship and was thrust immediately into a bout for the ONE Strawweight World Title against Muay Thai legend and defending champion Dejdamrong Sor Amnuaysirichoke at ONE: KINGDOM OF CHAMPIONS. Even more daunting was the fact that the bout took place on Amnuaysirichoke's home soil in Bangkok.
After a tough opening round that saw Naito on the wrong end of some punishing striking from the champion, the Japanese challenger managed to stay active throughout the contest, and eventually finished the champion via rear-naked choke in the fourth round.
"In Japan, a lot of people watched my bout on the TV, so I got messages congratulating me through social media," he recollects.
"Also, at the gym, my gym mates held a party for me and celebrated my victory. They also watched me on TV and I received comments that I did really well, which I am very proud about."
Naito then cemented his status as ONE Strawweight Champion by defeating previously-unbeaten Joshua Pacio at ONE: STATE OF WARRIORS in Yangon, Myanmar, in October 2016.
Now he's set to return to the ONE Championship cage against the latest challenger for the title, Brazilian submission ace Alex "Little Rock" Silva at ONE: WARRIORS OF THE WORLD on 9 December.
It's a challenge Naito is relishing, and one he hopes will elevate him to a new level.
"I am proud of myself and the organisation I belong to, because I can be involved in title bouts in different countries and compete in front of different people," he said.
"My favorite thing is seeing myself on the "Champions Wall" along with legends. The show is getting bigger and bigger each time, and it is getting more exciting."
On top of the world as a ONE World Champion, Naito's decision to launch himself into martial arts as a youngster has paid rich dividends.
Indeed, it's changed his life, as he explained.
"Martial arts is now the focus of my life," he said.
"If combat sports had not be part of life, even now I think my life would not be as good as it is."