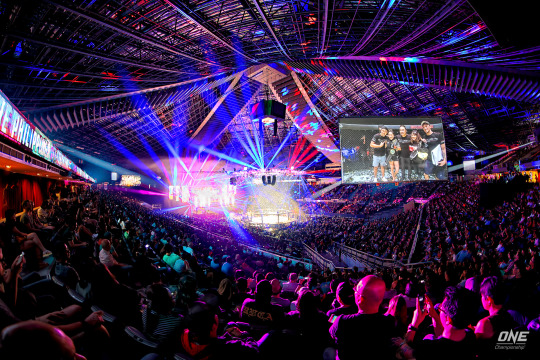 In a matter of years, Singapore has become the regional hub for mixed martial arts in Asia.
Not only is the country home to ONE Championship, but the nation has a flourishing scene packed with talented prospects and world-class gyms such as Evolve MMA, Juggernaut Fight Club, and Impact MMA.
"Singapore is now the epicenter of MMA in Asia because of ONE Championship. Las Vegas has always been known as the fight capital of America, and Singapore is fast becoming the fight capital of Asia," says Wesley De Souza, General Manager of Evolve MMA.
"There are so many more MMA, Muay Thai, and BJJ gyms opening up. We also see more boxing, BJJ, Muay Thai, and MMA competitions in Singapore. It is a great time to be a martial arts practitioner in Singapore."
Up until recently, however, the Lion City was far from the fight capital of Asia.
The scene was barely alive in the early 2000s. There were a couple of dojos teaching traditional martial arts, and even fewer focusing on mixed martial arts. Fight G MMA Academy, which opened its doors in 2002, was the first.
On the events front, in November 2006, the American-based King Of The Cage promotion hosted a show in Singapore. Arvind Lalwani, a national champion in multiple disciplines and owner of the local Juggernaut Fight Club, was in attendance that night, and remembers the barely-publicized show vividly.
"People did not even understand what MMA was," he recalls. "There were hardly any people there. I think less than 100 people showed up, so it was pretty disappointing, and the fights were literally Muay Thai guys against some guys who knew a little bit of jiu-jitsu and judo."
Though the Western independent promotion failed to make some noise in the Lion City, a locally-based organization emerged four years later.
Victor Cui, then an executive at ESPN StarSports, formed Martial Combat in 2010. The organization held a dozen shows at the Compass Ballroom in Resorts World Sentosa from May through October.
Those shows at the toe featured the likes of Asian MMA pioneer Ole Laursen, future ONE athlete and commentator Mitch "The Dragon" Chilson, as well as future ONE Lightweight World Champion Eduard Folayang.
"In terms of MMA shows, the first of its kind was actually Martial Combat," De Souza states. "Organized by ESPN Star Sports, it was the first time MMA had been showcased in Southeast Asia. The promotion was very successful, and showed everyone that there really was a market for MMA in Asia."
Martial Combat was a success. Cui filled a void in both the local and continental mixed martial arts market, and was prepared to take the next step. He teamed up with Chatri Sityodtong, a former Wall Street hedge fund manager, to launch ONE Championship in 2011.
The mega promotion held its inaugural show, ONE: CHAMPION VS CHAMPION, at the Singapore Indoor Stadium that September, and featured Folayang in the main event.
"That event literally changed the MMA scene, " Lalwani explains. "People started to understand MMA better. For the next six months to a year, it started getting better. There were more people getting into it, both males and females."
Another thing that helped the scene was the development of world-class gyms offering lessons in various disciplines, and placing a premium on mixed martial arts. In addition to Fight G MMA Academy, other legitimate training facilities set up shop, including Evolve MMA in 2009, Impact MMA in 2010, and Lalwani's Juggernaut Fight Club in 2011.
"The scene started to really gain traction once more gyms started coming about, and people from all walks of life started training. With more gyms around, training martial arts started to become a more common activity. People were using to get fit or learn to defend themselves," De Souza explains.
"The emergence of martial arts training as a widespread physical activity and ONE Championship were the two factors that truly started to ignite the MMA scene in Singapore, and the whole of Asia."
It also helped that Singapore was producing some incredible talents. Some of the earliest warriors representing the nation were the country's first mixed martial artist Bruce Loh, undefeated model-turned-fighter Juan Wen Jie, and Chilson, who relocated to the Lion City and became a core member of the Evolve Fight Team.
For three years, ONE was the only show in town, but many within the local community felt there was a void that needed to be filled within the amateur ranks, including Lalwani.
"There was not any other promotion or show, or any other avenue, for amateur MMA fighters over here to fight," he says. "A lot of them were traveling to fight in Malaysia, Thailand, and the Philippines to get fights, and even there, it was like one show a year. I wanted to do something about it, so I decided to start an amateur mixed martial arts league."
Lalwani created the Singapore Fighting Championship (SFC) in 2014. He held the first event that December at GymKraft. Aside from a few professional matches, the inaugural show was highlighted by tournaments in four different weight categories, with the victors claiming the promotion's amateur titles. The whole operation took six weeks to plan out and 300 people were in attendance.
Despite not holding any events in 2015, there were three the following year, and the SFC held their fifth show this past April. Fan attendance rose to 800 people, and now features all combat sports including boxing and kickboxing. There are tentative plans to hold a sixth event later this year.
Though the scale is rather intimate, it is how Lalwani always imagined it to be. "We want to put it right there, in your face, only five meters away, and surrounded by 800 people," he states. "That is a great atmosphere."
Not only has the SFC helped to unite a local mixed martial arts community, but it has groomed talents such as Benedict Ang and Tiffany Teo, who have taken their careers to the next level.
"The local scene is doing fantastic, and is getting better as the years go by," De Souza acknowledges. "Arvind (Lalwani) has done a great job at promoting fights in Singapore. He has gained a lot of attention and support for it. It is really good for the sport, as it has given a big platform for many new, up-and-coming fighters to test themselves before moving on to bigger things like ONE Championship."
What's more, major talents such as ONE Women's Atomweight World Champion Angela Lee, Amir Khan, Garie Tang, Ang, and Teo are proudly flying the Singapore flag as they compete around the world.
Between ONE, the world-class gyms, and amateur leagues such as the SFC, it is no surprise that Singapore has become one of the foremost fight capitals in Asia, and that trend looks set to grow.