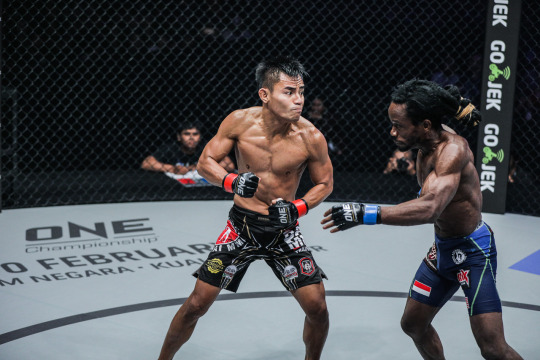 Stefer Rahardian weaves his way through the tight alleys that make up the the neighbourhood he's called home since the age of five.
Rahardian has seen the neighborhood change a lot during his time. But no matter who or what comes and goes, this is home.
"This used to be a tough neighborhood when I was growing up," the 30-year-old recollects. "Guys would be drunk on your front door. There were drugs and gangs. There are nice houses here now, and it is safer."
The changing demographics may have been a godsend for the young "Eppen," who never had to go far to find trouble. Or maybe it was trouble that found him. It all started at home when the Rahardian family was split apart after his parents went their separate ways. That was 20 years ago in a country where divorce was taboo.
To make things worse, his older brother passed away not too long after. 
Rahardian found no solace in the outside world. The small, devout Muslim was a fish out of water at his Christian school. Bullies snatched the 90 cents he was given for lunch money daily. That is, until he had enough, and decided to fight back.
"Day by day, month after month, I came to realised that if I do not fight back, then it would be really difficult for me to go to school here," he says. "In my school, there were so many different guys from the islands of Ambon and Papua. They were big. So I said, 'Tomorrow, I will fight.'"
Rahardian chose to challenge the biggest bully that tested him. Shoves were exchanged and punches were thrown. Teachers quickly intervened. It was not the technical affair Rahardian engages in these days as a professional martial artist, but it was enough to get the other bullies to leave him alone.
However, that was not the start of his martial arts journey, unlike some of his contemporaries that turned to martial arts to defend themselves, Rahardian only started training in 2008, and it was all because a good friend invited him to a Brazilian jiu-jitsu class.
The rest, as they say, is history, as Rahardian was instantly hooked. He worked a regular job in downtown Jakarta, but once it came time to knock off, he rushed down to the gym to train for two hours daily. The bulk of his earnings went towards lessons. He was all in, but progress was slow.
"My first tournament, I lost.  My second one, I lost. But I did not want to give up. I thought I only had to win once. I wanted to know I had not wasted my time," he remembers. "In the fourth tournament, I came in second. That was when I got addicted to winning medals."
Rahardian kept at it, and slowly improved. And then, all the progress was nearly wiped away. One of Rahardian's sparring partners fell, landing awkwardly on the Indonesian's leg. The spill tore Rahardian's ACL in his right knee, and along with it, his training and competition aspirations. The bill for surgery came up to more than USD$3700, something the aspiring fighter did not have.
"I needed to fix it, but I did not have the money," Rahardian says.
The 30-year-old found a guardian angel in his gym, who loaned him the money for the surgery, on the condition that he repaid it with future earnings. With money in hand, he got the procedure done in Surabaya, a long way from home.
It didn not turn out to be a wise move. Rahardian's surgery was botched, and a screw tasked with holding his recovering knee in place popped out. "Eppen" found himself going further into debt for another corrective operation, but the damage was done. When he was ready to return to competition, he found many of his old training partners had moved on.
"Nobody wanted to train with me," he recalls. "They all thought I was done."
Andrew Leone changed all that. In 2013, Leone and Rahardian linked up at Jakarta Muay Thai & MMA. The pair hit it off, and they have been working together since.
"I do not want to disappoint Andrew (Leone), so I give 100 per cent," the Indonesian explains. "I think he trusts me."
Today, Rahardian splits his time between Jakarta Muay Thai & MMA and Leone's other training facility, Bali MMA. He eventually got the professional debut that eluded him and currently stands at a perfect 6-0. 
He will be looking to make it lucky number seven when he faces Cambodia's Sim Bunsrun at ONE: TOTAL VICTORY on Saturday, 16 September.
As "Eppen" walks the alleys of his central Jakarta neighbourhood, he cannot help but be reminded of how far he has come – and how far he would like to go.