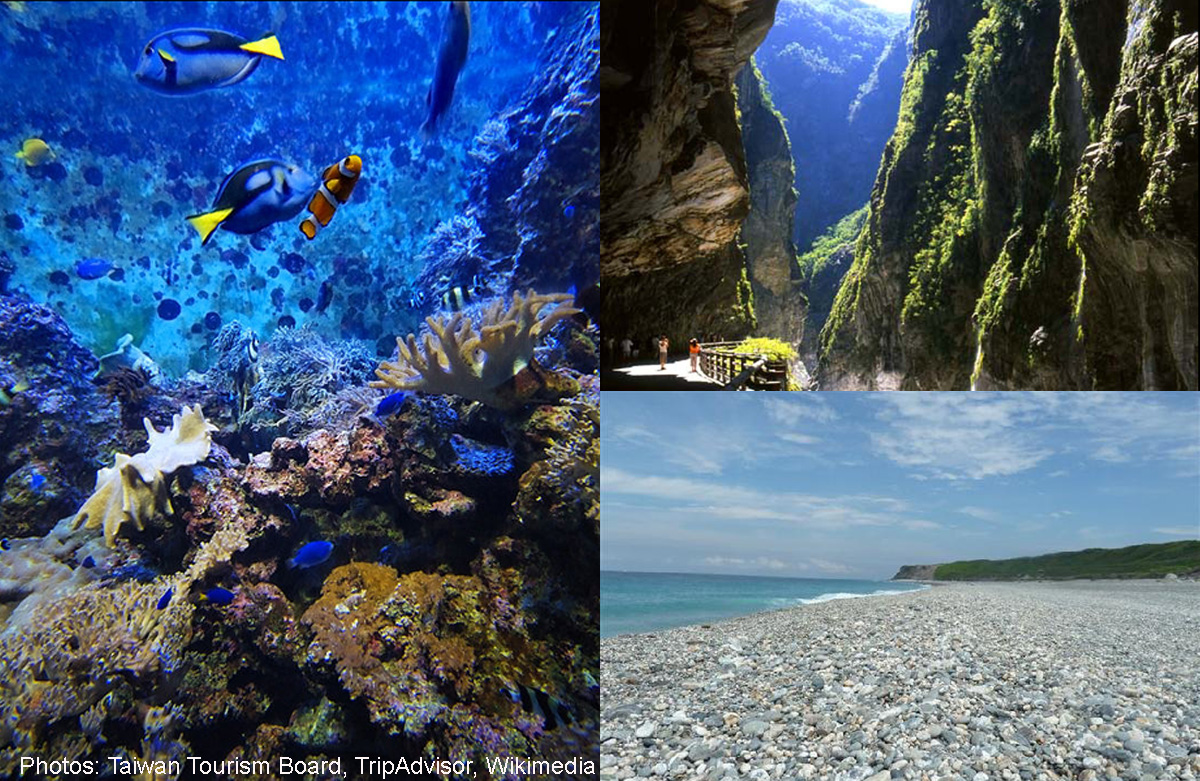 Many Taiwanese proudly proclaim Hualien as the most beautiful place in Taiwan.
Though it has many interesting cultural and historical sites that showcase Taiwan's past, it is its natural terrain that draws people.
From a ragged mountainous range that averages 2000m-high to hectares of fields dense with wild flowers, and tranquil lakes; Hualien offers many outdoor attractions for both the sports enthusiast and nature lover.
Taroko National Park
Imagine ragged mountains that tower over you, treacherous ravines that threaten to shred your skin if you were to crash against them, babbling streams and cascading waterfalls that you can hear miles before you get near them.
You can find all these at the second-largest national park in Taiwan which spans three areas along the eastern coast - Hualien, Taichung City and Nantou County.
For nature-deprived city dwellers from concrete jungle Singapore, this 92,000-hectare-large national park with its landmark 19km-long marble gorge, offers a unique experience in the midst of nature.
While those who prefer not to break a sweat may opt to hire a taxi to see the national park, it is highly recommended that one expend some effort to see the best sights.
To do so, adventurers may opt for one of the many trail routes ranging from easy to challenging on foot or mountain bike.
On the former, you can climb precarious-looking suspension bridges (which are safer than they look) to see waterfalls.
A steep walk to Bell Tower will take you to the highest point in the mountain where you can behold the spectacular landscape all around it. Should you get hungry, there are quite a few snack shops scattered around the park.
Chihsingtan Coastal Bay
The beaches at this crescent-shaped bay are not for sunbathing or frolicking.
The black-grey sand is gravel-like, with lots of roughly hewn coloured pebbles, yet it is a popular spot with locals and tourists alike - both love to pick pebbles for souvenirs and enjoy breathtaking views of a huge expanse of the Pacific Ocean and blue skies before them.
Early risers will also be rewarded with an unparalleled view of sunrise from the bay.
Far Glory Ocean Park
In this 51 hectare-large amusement park there is something for everyone in the family, including grandma.
Though it sits on a mountain, there are many escalators in the seven themed sections, minimising the need to walk.
Hair-raising thrill rides and beautiful marine life are just some of the attractions at this park.
Go to sgtravellers.com for more stories.