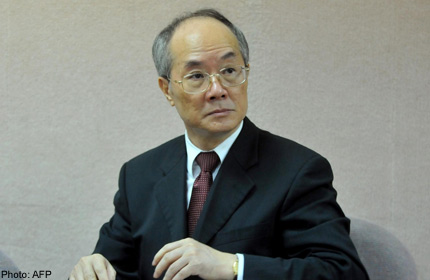 TAIPEI - Prosecutor-General Huang Shih-ming (黃世銘) apologised yesterday during an interpellation in the Legislative Yuan over the controversial Legislature-wiretapping case.
This is the first time Huang has issued an apology over the case in the Legislative Yuan since local media reported on Sept. 28 that the Special Investigation Division (SID) had monitored the Legislative Yuan's switchboard for a month.
During the interpellation, Kuomintang (KMT) lawmaker Liao Cheng-ching (廖正井) questioned Huang on why the SID did not conduct a thorough check before monitoring the Legislature's switchboard.
Liao further criticised Huang, saying that after the controversy was exposed the SID did not issue an apology, and even denied that the wiretapping took place.
Huang said he immediately apologised to the public as soon as the SID realised the bugging was a mistake.
Democratic Progressive Party (DPP) Legislator Chen Chi-mai (陳其邁) focused on the issue of Huang allegedly leaking the information of an ongoing case to President Ma Ying-jeou by reporting the alleged influence-peddling case to Ma on Aug. 31. The SID's investigation of the case closed on Sept. 5.
Chen said that while Huang was reporting the case to Ma on the night of Aug. 31, the SID was concurrently questioning prosecutor Chen Cheng-fen (陳正芬) over the allegations of corruption.
This case was still under investigation and yet Huang reported it to the president, Chen Chi-mai criticised.
Huang said the purpose of the SID questioning of Chen on Aug. 31 was to confirm the statement obtained from prosecutor Lin Shou-tao (林秀濤) over the illegal lobbying case, adding that Chen was only questioned for 15 minutes.
The SID only asked Chen a few questions, Huang added.
Huang further noted that on Aug. 31 he called Ma's staff around 9 p.m., and arrived at the president's residence at 9:30 p.m. with a transcript of telephone conversations between Legislative Yuan Speaker Wang Jin-pyng (王金平) and DPP caucus whip Ker Chien-ming (柯建銘).
Prosecutor Chen was questioned by the SID between 9:30 and 9:45 p.m., Huang added.
During the interpellation, several lawmakers urged Huang to resign over the wiretapping of the Legislative Yuan's switchboard and for allegedly leaking confidential information of an ongoing case to a third-party.
Huang stressed that he will not resign over the incidents, noting "it was right for me to report the case to the president."
Earlier in September the SID revealed an alleged influence-peddling case involving Wang, Ker and former Minister of Justice (MOJ) Tseng Yung-fu.
Ker said since he has pressed charges against Huang over the wiretapping case he will not question Huang in any interpellation.
The new Minister of Justice Lo Ying-shay (羅瑩雪) said a task force under the MOJ is probing the controversial Legislature-wiretapping case, which is still under investigation.