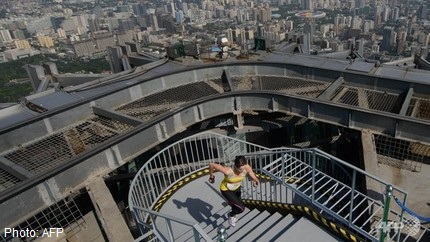 BEIJING - Hundreds of runners in China sprinted their way up 82 floors and more than 2000 stairs as the country's first ever "vertical run" was held in a Beijing skyscraper on Saturday.
Thomas Dold of Germany emerged on top of the 330 meter (1,080 feet) tall China World Trade Center Tower 3, Beijing's tallest building, just 10 minutes and 22 seconds after setting off from its ground floor to take the men's title.
"You have to run between three and four steps per second," Dold said, adding that he had bounded up the building's 2041 stairs two at a time.
Around 600 runners took part in the competition, part of an international skyscraper racing circuit which sees races up some of the world's tallest buildings New York's Empire State Building and Taiwan's Taipei 101.
Competitors are advised to use their hands to pull themselves up using the staircase's handrail during the race.
"It was a very complicated stairwell, it changed a lot," said Australia's Suzy Walsham, who completed the race in 11 minutes and 46 seconds to claim the women's title.
Competitors who travelled from as far afield as Austria, Poland and New Zealand for the race, said they had been surprised by Beijing's air pollution during their preparations.
"It was quite a shock to come up and view the finish and you couldn't see a thing," Melissa Moon, a female competitor from New Zealand, said.
But runners at the finish line on Saturday were greeted with clear skies and a panoramic view of Beijing landmarks including Tiananmen Square on a relatively unpolluted day.
Tired competitors were able to take the buildings' elevators, which travel from the building's 80th floor to the ground in around 40 seconds, following the race.