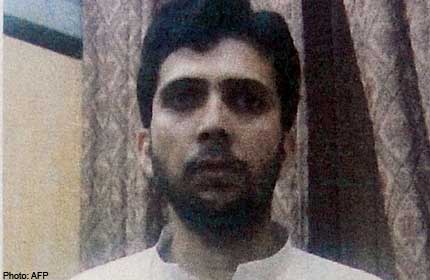 INDIA - In a major counter-terrorism success, India's intelligence agencies have arrested one of the country's most wanted terror suspects.
The agencies, in a joint operation with Bihar police, nabbed Yasin Bhatkal, co-founder of the home-grown Indian Mujahideen, in that state along the India-Nepal border on Wednesday night.
It was the second such arrest in a fortnight. "Yasin Bhatkal was traced along Bihar- Nepal border by our intelligence agencies... interrogation has been going on," Home Minister Sushil Kumar Shinde told reporters.
Bhatkal, 30, also known as Mohammed Ahmed Siddibappa, is wanted for a string of bomb blasts that killed hundreds of people over the last five years in Pune, Bangalore, Delhi, Mumbai and Hyderabad.
The attacks he allegedly planned and executed included a blast in which he was caught on a security camera placing bombs at a German bakery in Pune. The resulting blasts killed 17 people, including five foreigners.
India designated the Indian Mujahideen as a terrorist group in 2010. The following year, the United States said it had links to Pakistan-based terror outfits.
"There is still a long list of people that India wants... this (Bhatkal's arrest) will give India satisfaction," External Affairs Minister Salman Khurshid told reporters.
Between 2005 and 2008, there were 29 major terror attacks in India. In 2008, terrorists laid siege to Mumbai for 60 hours, killing 166 people and laying bare intelligence lapses and lack of coordination among security agencies and police.
But in the last two weeks, security and police agencies have had a rare level of success by taking Bhatkal into custody on Thursday and, on Aug 16, arresting Abdul Karim alias Tunda, a bomb-maker wanted in connection with 40 attacks and allegedly a member of Pakistan-based terror outfit Lashkar-e-Taiba.
In June last year, Abu Jundal, another alleged operative of the Lashkar-e-Taiba, was arrested at the Delhi airport, The latest arrests, particularly that of Bhatkal, who is also accused of indoctrinating recruits, are expected to yield important information.
Former top cop Ved Marwah said: "His arrest will lead to a treasure trove of information, and interrogation should reveal various linkages."
Dr Ajai Sahni, an analyst with the Institute for Conflict Management, said: "It is a major arrest. He is the driving force in the Indian Mujahideen and has been involved in virtually most of the action of the outfit.
So it is very significant. Each of these people tends to be replaceable, but leaders are not so easy to replace."
He said the high-level arrest will yield a lot of information on the group's methods and structure. "A lot of cadres will be compromised, so there will be a relocation of them and their leaders," he said.
Bhatkal, who claims to be an engineer, is part of the core leadership of the Indian Mujahideen, and has been on the run for five years. The National Intelligence Agency had offered a 1 million rupee (S$19,000) reward for information leading to his arrest. Mumbai police had posted his photograph in public places, including railway stations.
India's External Affairs Minister said the arrests showed that safe havens for terrorists were on the wane. "All over the world and in our region, safe havens for terrorists are shrinking," said Mr Khurshid.

Get a copy of The Straits Times or go to straitstimes.com for more stories.