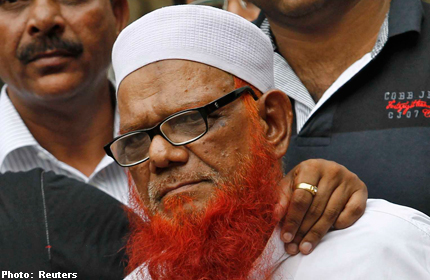 NEW DELHI - The Delhi police said they have arrested a terrorist believed to be involved in 40 terror attacks, including the 1993 Mumbai blasts that killed 257 people and a series of bomb blasts in Delhi in the 1990s.
Abdul Karim alias Tunda, allegedly a member of Pakistan-based terror outfit Lashkar-e-Taiba, was picked up at India's border with Nepal, capping a two-decade search for one of the country's most wanted terrorists. Reports said he had earlier been deported from the United Arab Emirates.
A former carpenter who lost his hand in a bomb-making accident, the 70-year- old was back on the radar at the time of 2010 Commonwealth Games when a plot to bomb Delhi was uncovered with the arrest of some of his operatives.
"He was the bomb expert for Lashkar-e-Taiba. Now according to reports, he had also moved into circulating fake Indian currency from bordering countries. People are trying to attack our country not just with bombs but also fake currencies," Junior Minister of Home Affairs R.P.N. Singh told television channels.
At the time of his arrest, he was carrying a Pakistani passport issued on Jan 23 this year in the name of Abdul Quddus, police said. Tunda's capture is a boost for the Delhi police, who have been facing criticism for failing to provide security, particularly for women, in the capital city.
India has been plagued by terrorism. Between 2005 and 2008, there were 29 major attacks. In 2008, terrorists laid siege to Mumbai for 60 hours, killing 166 people, including a Singaporean, and laying bare intelligence lapses and a lack of coordination among security agencies and police.
One of the worst attacks came in 1993 in Mumbai where bombs went off in multiple sites. Police have been searching for Tunda for his alleged role in the blasts and for bombings in Delhi in 1997-1998 and other cities, said Mr Sanjeev Kumar Yadav, deputy commissioner of the special cell of the Delhi police.
Experts say that while Tunda's arrest is a big achievement, India still had a long way to go in its fight against terrorism. "He is an active terrorist and as they grow older, the greater the aura, following and capacity to inspire others. There is no retirement age for terrorists," said Dr Ajai Sahni, security analyst with the Institute for Conflict Management. "Without trying to minimise this, it is a major achievement to arrest him but as far as the broad trajectory of terrorism is concerned, it's a blip."
The Delhi police said that apart from active participation in planning and coordinating terror attacks, Tunda had also been training others in making bombs.
Tunda, who is from the northern Indian state of Uttar Pradesh but had been living in Pakistan and Bangladesh, was on a list of 20 terrorists that India handed over to Pakistan in 2008 following the Mumbai terror attacks.
Get a copy of The Straits Times or go to straitstimes.com for more stories.