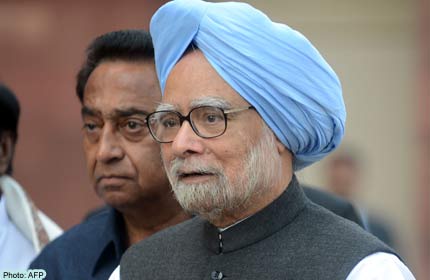 In the strongest condemnation yet of the arrest and strip-search of a female Indian diplomat that triggered a tense diplomatic row with the United States, Prime Minister Manmohan Singh has called her treatment "deplorable".
His reaction came after the US Marshals Service confirmed that Dr Devyani Khobragade, the 39-year-old diplomat at the centre of the storm, had been subjected to a strip-search like other prisoners after being arrested on visa fraud charges after dropping off her child at school.
In an e-mail to colleagues published in the Indian media on Wednesday, she wrote: "I must admit that I broke down many times as the indignities of repeated handcuffing, stripping and cavity searches, swabbing, in a hold-up with common criminals and drug addicts, were all being imposed upon me despite my incessant assertions of immunity.
"I got the strength to regain composure and remain dignified, thinking that I must represent all of my colleagues and my country with confidence and pride."
The Indian government has since moved Dr Khobragade out of the consulate-general and into India's permanent mission to the United Nations in New York, an attempt to get her full diplomatic immunity. But her diplomatic accreditation will still have to be approved by the US State Department.
In India, the government has stripped American missions of various privileges and removed barricades protecting the US Embassy in New Delhi, as the news sparked anger and protests.
A headline on the front page of The Hindustan Times read "India takes on Uncle Sam", while the Mail Today ran a photo of a man dragging away concrete barriers at the US Embassy under the words: "Bulldozer Diplomacy".
Protesters from the ultra-nationalist Shiv Sena group marched in New Delhi on Wednesday, shouting "Down with Barack Obama!"
In Parliament, External Affairs Minister Salman Khurshid said: "It is no longer about an individual, it is about our sense of self as a nation and our place in the world. We will bring back the woman diplomat arrested in New York and restore her dignity."
Politicians from different parties united in Parliament - a rare sight - to slam the action.
Reports from Washington said the US is reviewing the circumstances surrounding the arrest. State Department deputy spokesman Marie Harf admitted it was a "sensitive issue" but insisted it should not be allowed to affect broader US-Indian ties.

However, it is understood that India wants nothing less than for the case to be dropped.
US prosecutors have accused Dr Khobragade - who earns up to US$5,000 (S$6,300) a month, aside from perks like free housing - of agreeing to pay her Indian domestic help, Ms Sangeeta Richards, US$4,500 a month in a visa application. Prosecutors say she paid Ms Richards 30,000 rupees (S$600) a month, three times less than the US minimum wage.
Dr Khobragade has pleaded not guilty to charges of visa fraud and making false statements, but faces up to 15 years in jail if convicted. She was released on US$250,000 bail.
Commenting on the Indian government's response to The Straits Times, former Indian foreign secretary Lalit Mansingh said: "This is a symbolic act of displeasure. But things should not get out of control."
gnirmala@sph.com.sg

Get a copy of The Straits Times or go to straitstimes.com for more stories.