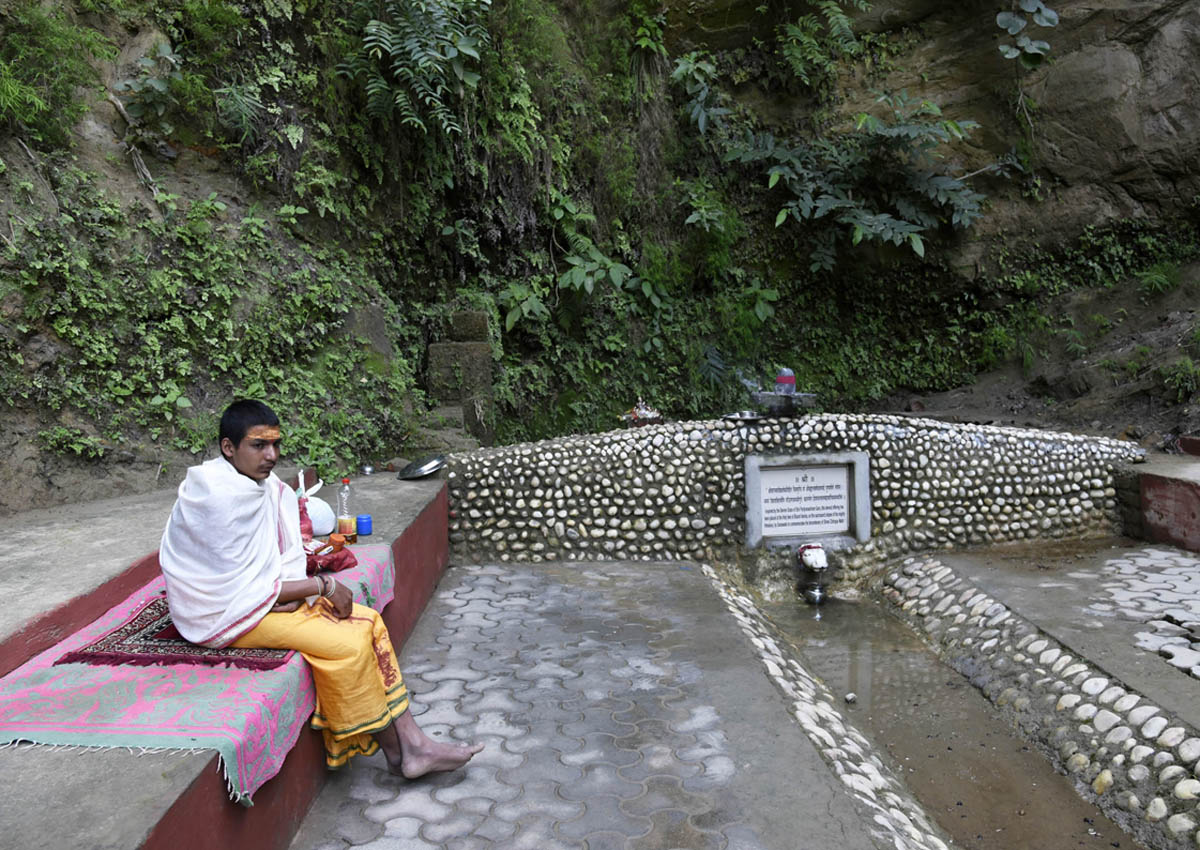 On a piece of barren land in the northern Indian state of Haryana, half a dozen men and women appear to be carving out a ditch along a 300m strip.
But these labourers are part of a much grander plan to uncover an ancient river thought to have disappeared more than 4,000 years ago.
Hired through a government rural employment guarantee scheme, the workers in Bhita village are helping the Bharatiya Janata Party (BJP) government in its ambitious project to revive the revered Saraswati.
The plan involves creating water channels - as well as a dam and reservoir - that critics say are a waste of money, providing no guarantee that a river will spring back to life.
"We are manually digging as part of the effort to revive the river, which runs underground in some parts," said Mr Gagandeep Singh, the local official in charge of the project in the Yamunanagar district of Haryana. "We have identified that the river passes through 43 villages and is 55km long in our district."
The feasibility study of the district plans is yet to be completed, but no matter. "We started the digging before a feasibility study was done to create some momentum for the revival. In the coming days, we will go mechanical," Mr Singh said.
In a project replete with cultural symbolism, such enthusiastic supporters dismiss claims of a wasteful political agenda or doubts about whether the river existed beyond mythology.
The Saraswati is referred to as the "mightiest of rivers and holiest of goddesses" in one ancient Hindu scripture (Rig Veda), and many pray at points where it is believed to have flowed between the rivers Yamuna in the west and and Sutlej in the east.
It is believed among the country's Hindu majority that the Saraswati meets at the confluence of the Ganges and Yamuna rivers in the city of Allahabad as a third, invisible river. Some studies have traced its route from Adi Badri in Haryana to Rajasthan and Gujarat.
About 12km has been excavated in Haryana since April after the local authorities used revenue records, local folklore and satellite imagery of palaeochannels - remnants of an inactive river - identified by the Indian Space Research Organisation to chart what they believe is the river's course.
Water was found at a depth of 2m in one part of the dig in May, triggering so much excitement that one newspaper headline hastily claimed "Saraswati river sprouts to life after 4,000 years in Haryana".
Hindu nationalists and some historians believe Hinduism was founded indigenously along the banks of the Saraswati and not brought in by Aryans in 1500BC, as taught in history books.
While some of India's most prominent historians have dismissed this theory for lack of archaeological evidence, and even called it propaganda, the Hindu groups say the revival of the Saraswati would establish their theory.
Mr Prashant Bhardwaj, deputy chairman of the Saraswati Heritage Development Board, said the revival was core to establishing Indian identity.
"This is the big establishment of our identity. Our identity is that we belong to India, our ancient civilisation and heritage belong to India. How can Aryan civilisation flourish from outside India?" he said.
"This is not just the flow of water. This is the flow of our civilisation. This is the flow of our cultural heritage. This is the main objective..."
He said that the board plans to promote "cultural, archaeological and eco-tourism" by establishing "tirthas", or pilgrimage sites, along the revived river.
It would also help water conservation efforts with the construction of a reservoir and dam to supply water-deficit areas.
The Haryana government in August announced it was allotting 500 million rupees (S$11 million) for revival efforts, while its neighbour Rajasthan, also under BJP rule, has asked for 700 million rupees in federal funds to further study the palaeochannels.
"Anything below the earth is not an easy task. We are of the opinion that there is a palaeochannel, but is it the Saraswati River? We don't know," said Mr Vimal Soni, a senior hydrologist in Rajasthan's Ground Water Department. "Only if we get sediment provenance and the age of the ground water can we conclude it belongs to Saraswati."
Critics also called the project a waste of money when a plan to clean existing rivers like the Ganges, India's holiest but most polluted, is yet to gain any real momentum.
"We have such a poor track record in protecting, cleaning, sustaining and rejuvenating our existing rivers, protecting them from destructive dams, pollution, over-exploitation and encroachment. We need to work on this rather than trying to revive a river that is dead," said Mr Himanshu Thakkar of the South Asia Network on Dams, Rivers and People, a non-profit group. "It seems to be a political agenda."
French-born Indologist Michel Danino, author of The Lost River: On The Trail Of The Sarasvati, said he has not seen any precise plan for the scheme, but "to increase the amount of water (crucial for long- term sustainability of the whole scheme), massive reforestation of the slopes of the Shivaliks (mountain range) is indispensable".
Any scepticism about the revival project does not bother Mr Arvindar Kumar, a Hindu working at Bhita village. "I am unemployed. For me, this is work to put food on the table," said the 29-year-old, who earns 236 rupees a day for the excavation work. "We are just here to do labour."
gnirmala@sph.com.sg

This article was first published on October 12, 2015.
Get a copy of The Straits Times or go to straitstimes.com for more stories.