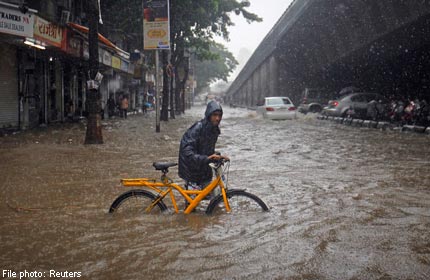 INDIA - Just half a day of moderate rains last week brought New Delhi to its knees, flooding the city and shutting it for hours. Roads caved in, trains stopped and storm water deluged an airport terminal.
In response, the government appeared resigned to divine deliverance: Its chief minister, Mrs Sheila Dikshit, urged citizens to pray for the rain to stop.
The disruption was a stark reminder of the uphill task India faces in upgrading its urban infrastructure to cope with hundreds of millions of people moving to cities in the coming years.
Within 20 years, 600 million Indians, or about 42.5 per cent of the population, will live in cities. Demand for services such as water, sanitation, transportation and low-cost housing will increase fiveto seven-fold over the next two decades, according to government data. Most jobs will be in urban areas, and the number of cities with million- plus populations - about 50 now - will jump by 40 per cent.
"What kind of economic power India will become will depend on how fast and how effectively we can handle this urban transition," says Professor Abhirup Sarkar, an economics don at the Indian Statistical Institute.
India defines an urban area as any place with at least 5,000 people, a population density of 400 per sq km and where at least 75 per cent of working men are engaged in non-farming employment.
For decades, urbanisation in India centred on a handful of big cities such as Mumbai, Kolkata and New Delhi. But an economic surge over the past two decades dispersed development: Villagers no longer migrated only to the big cities, but also to nearby boom towns offering new opportunities. In the decade to 2011, some 2,532 villages were transformed into minor urban centres, the latest census shows.
But with infrastructure lagging growth, most urban centres, old and new, have the same to-do list: Fix public transport; build more roads, homes, schools and hospitals; fix electricity and water supplies as well as the overwhelmed sewerage works and drainage.
In Mumbai, India's richest city and a magnet among its economic migrants, almost 50 per cent of its 20 million people live in slums. Its public transport is estimated to be a decade behind demand, and on a scale of one to 10, its essential services was rated 5 in a private poll.
In the newer cities and towns, the private sector often improvises to overcome shortages in essential services traditionally provided by government agencies.
Homes and offices in booming urban outgrowths such as Gurgaon or Noida near Delhi run massive diesel generators to compensate for power outages, manage their own water supplies from bore wells, and hire hundreds of buses and cars to overcome shoddy public transport.
India spends only US$17 (S$21) per capita per year on urban infrastructure, whereas most global benchmarks suggest US$100.
Housing remains the biggest problem, with supplies short by 18.78 million units. Other problems are more basic: About 60 per cent of the 1.1 billion people across the world who have no access to toilets are in India.
Congestion is another problem.
A 2010 government study estimated that in about 20 years, traffic speed in major urban corridors will fall from 17-26kmh to 6-8kmh.
Yet, there is no clear road map for raising the US$1 trillion India needs to build urban infrastructure over the next 20 years.
Experts are worried. "We have not even begun to think how we will handle this transition, which is already taking place at a fast pace," said private think-tank RPG Foundation head D.H. Pai Panandikar. "Essentially we are staring at an urban nightmare scenario."
mkritti@sph.com.sg

Get a copy of The Straits Times or go to straitstimes.com for more stories.