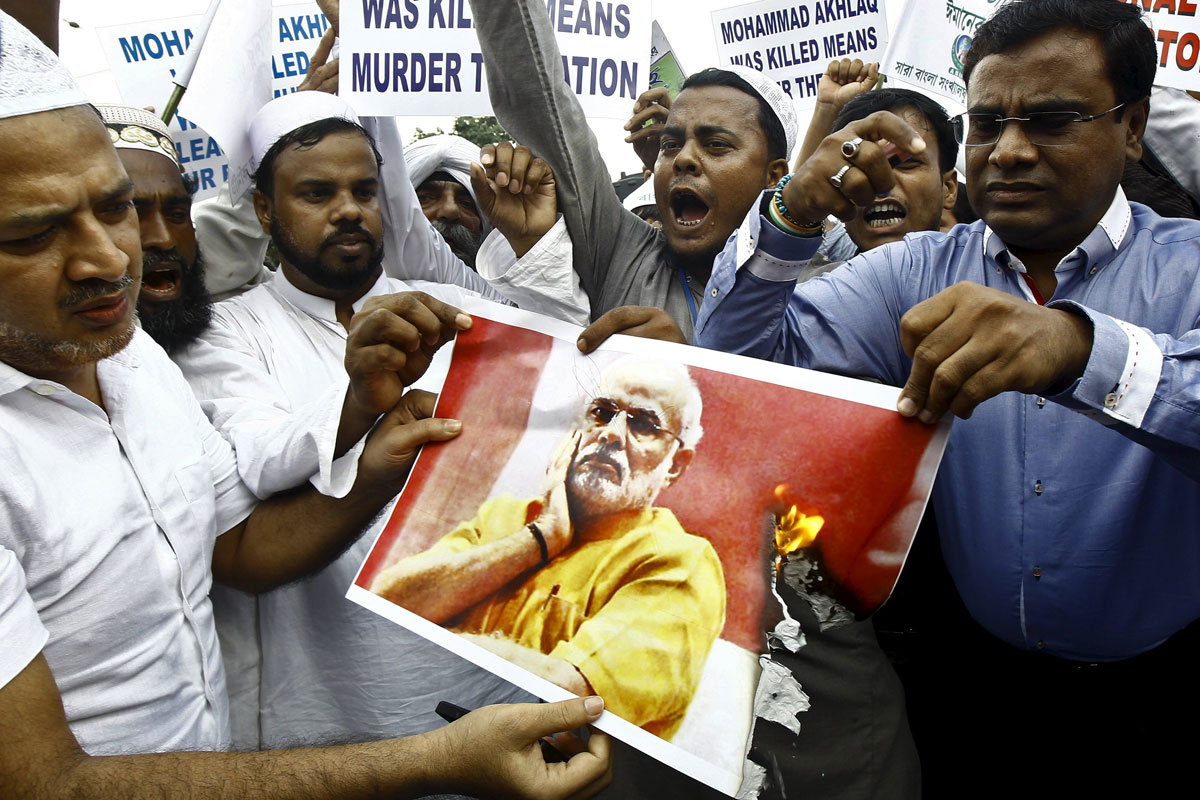 India's literary world is in revolt as more than 40 writers, playwrights and poets have returned the country's top literary award to protest against rising religious intolerance, attacks on writers and the recent lynching of a man by a mob who thought he had slaughtered a cow.
Hindi-language poet and writer Kashinath Singh, a resident of the city of Varanasi, Prime Minister Narendra Modi's parliamentary constituency, on Friday became the latest in the last two months to give up the award he received in 2011 from the Sahitya Akademi, or National Academy of Letters, an autonomous body that gets funding from the government.
"A serious threat looms large on the freedom of speech," he told reporters while announcing his decision.
Since Mr Modi came to power last year, Hindi nationalist groups, emboldened by his Bharatiya Janata Party's (BJP) rise to power, have more actively pushed their agenda, which includes stopping the slaughter of cows, held holy by Hindus. The BJP gets its ideological support from the Rashtriya Swayamsevak Sangh, the apex Hindu organisation.
Intellectuals feel that these groups are bent on polarising the country along religious lines and criticise what they say is a tepid response by the government. Delhi, in turn, has accused the authors of political motives and trying to create a crisis for the Modi government.
Two incidents in particular have shaken the literary community. One was the August killing of Sahitya Akademi award winner M. M. Kalburgi, 77.
He was shot dead reportedly for speaking out against superstition and idol worship, a Hindu practice. The police are still investigating his murder and have released sketches of the suspects.
The second case was the lynching of Muslim blacksmith Mohammad Akhlaq by a Hindu mob in village Dadri last month over rumours that he had slaughtered a cow. Ten people have been arrested in the case.
"India is a pluralist society with many cultures and religions. All of them have to be respected," said Mr Uday Prakash, a noted Hindi writer and poet. "Dissenting thoughts or voices were being silenced and when it came to physical attack - that bothered me the most."
On Sept 4, Mr Prakash became the first to return the Sahitya Akademi Award.
Others followed swiftly, including Ms Nayantara Sahgal, the niece of India's first prime minister Jawaharlal Nehru. Suddenly deluged with returned awards, the Akademi has called a meeting for Oct 23.
Writers were also angry that the Akademi did not respond to the death of Mr Kalburgi the way they would have expected.
Still other incidents have raised concerns of the literary world this year.
In January, well-known Tamil writer Perumal Murugan announced on Facebook that he had decided to give up writing after protests by Hindu and caste-based groups claiming that he had degraded a Hindu deity in his work.
On the government's behalf, Finance Minister Arun Jaitley responded. "The new strategy of anti-Modi, anti-BJP sections appears to be to resort to politics by other means," he posted on Facebook on Oct 14. "The easiest way is to manufacture a crisis and subsequently manufacture a paper rebellion against the government."
While there is division within the literary community on whether returning an award is the right way to protest, many still blame the government for not moving swiftly to condemn communal incidents.
Weeks after Mr Akhlaq was lynched, Mr Modi last Wednesday called the incident "unfortunate and unwarranted" but said the federal government had little role in the incident. Under India's federal structure, states are responsible for law and order within their borders.
English- and Hindi-language writer Mridula Garg said intolerance was increasing because of the weak government response.
"This intolerance is increasing because it is often encouraged by the ministers of the government, whether it is the BJP or other parties," she said. "When nobody is condemning the intolerance, it will go on. In this atmosphere, who will speak against it? Writers and artists have to speak."
The communal incidents followed by the writers' protest are already seen to have hurt the Modi government's image and campaign pledge promising inclusive growth.
"It has hit the government quite strongly and it does dent the image of the government and that is the intention of those who are protesting," said Dr Sandeep Shastri, pro vice-chancellor of Jain University in Bangalore. "They feel it is important to highlight the fact that the government is not being as inclusive in its approach as they want it to be."
This article was first published on October 19, 2015. Get a copy of The Straits Times or go to straitstimes.com for more stories.