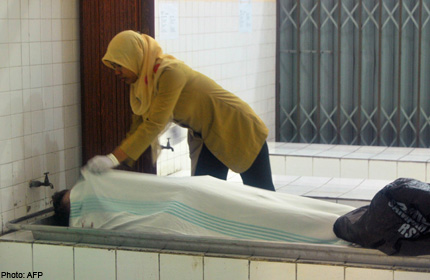 JAKARTA - Indonesian police said Thursday that the death of two German brothers after a heavy drinking session was not suspicious, despite reports suggesting they had consumed tainted alcohol.
Lukas B., 19, died on the main island of Java last week after downing whisky mixed with soft drinks during a drinking game with his brother, Felix B., and Indonesian friends, police said.
Lukas, who was volunteering at an Indonesian NGO, died several days after the drinking game at a hotel in Semarang, Central Java province, on August 18.
Felix, 23, left before his brother died but was admitted to hospital in Qatar en route back to Germany.
"We've been informed that his brother, Felix, has also died, in Doha," said a spokesman for the Germany embassy in Jakarta.
Toxic bootleg alcohol is common in Indonesia and causes many deaths each year - however, Semarang police chief Elan Subilan said he did not think the brothers had consumed tainted drinks, contrary to some reports and police would not open a criminal probe.
"We carried out a scientific investigation and an autopsy result showed that Lukas suffered from alcohol poisoning as he drank too much that night," he told AFP.
"We have questioned six people and did not find any evidence of wrongdoing linked to Lukas's death," he said.
One of the Indonesian friends involved in the drinking game was also admitted to hospital for three days but had since recovered, Subilan said.