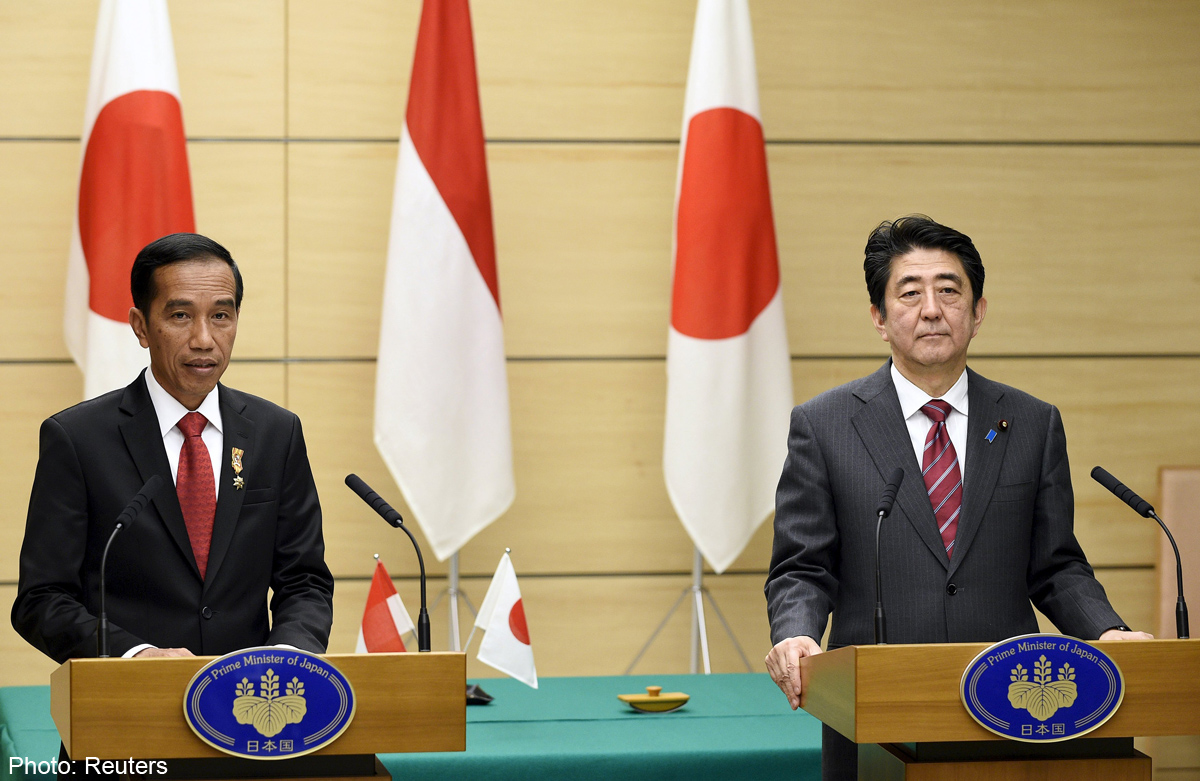 Japan and Indonesia agreed Monday to launch a high-level bilateral "maritime forum" to expand co-operation in ensuring security at sea and to increase Japan's assistance in building Indonesia's port infrastructure and coast guard capabilities.
In a summit in Tokyo, Japanese Prime Minister Shinzo Abe and Indonesian President Joko "Jokowi" Widodo welcomed the signing of a defence co-operation pact that involve Japanese capacity building assistance for Indonesian forces, as well as bilateral co-operation in peacekeeping missions and defence equipment development.
Abe and Jokowi, who is on his first visit to Japan since becoming president last October, also agreed to set up a bilateral initiative to promote trade and investment, with Tokyo offering ¥140 billion (about S$1.6 billion) in low-interest loans for the construction of a mass rapid transit system in Jakarta.
The leaders pledged to arrange talks in the near future between their defence and foreign ministers in line with an agreement struck between Abe and Jokowi's predecessor, Susilo Bambang Yudhoyono, in December 2013 to launch so-called two-plus-two security talks. The two countries have yet to hold such talks.
"We affirmed to further strengthen our strategic partnership as Asia's leading oceanic and democratic states," Abe said at a joint news conference with Jokowi.
"We've produced major results at this summit, such as the launch of the high-level maritime forum to achieve an open and stable ocean and the start of 'Promosi,' the new trade and investment promotion initiative," he said.
Jokowi also hailed the maritime forum and Promosi, saying, "Japan and Indonesia agreed to launch the forum in order to enhance competence of coast guard capabilities and infrastructure, as well as the marine industry."
The president called for increased investment from Japanese companies. "Indonesia welcomes investment in such fields as the construction of power plants, port facilities, road building and maintenance, and highway infrastructure, as well as investment in special economic zones," he said.
The two sides, however, have yet to agree on details about the maritime forum such as when the first session will be held and who will take part, except that it will be at a high level, according to a senior Japanese government official.
The agreement on the maritime forum comes as Indonesia aims to serve as a fulcrum between the Pacific and Indian oceans under Jokowi's maritime axis doctrine, which attaches priority to developing maritime infrastructure, building deepwater ports and logistical networks, as well as developing the shipping industry and tourism.
The doctrine also calls for eliminating the sources of conflict at sea such as piracy and violations of sovereignty, in an apparent reference to China's muscle-flexing to press its claim to most of the South China Sea.
In an effort to ensure regional peace and stability, Abe and Jokowi called on China and ASEAN to speed up consultations toward the early conclusion of a legally binding code of conduct aimed at reducing territorial and maritime conflicts in the South China Sea.
The leaders urged Beijing and states engaged in territorial disputes with China in the South China Sea, such as the Philippines and Vietnam, to exercise restraint and settle issues based on international law.
Jokowi invited Abe to attend the 60th commemoration of the Asian-African Conference slated for April in Indonesia. Abe expressed willingness to attend if his schedule permitted, according to a senior Japanese government official.
Abe said he was "very pleased" that Jokowi chose Japan as his first foreign travel destination outside ASEAN solely for a bilateral summit since he became president.
After a four-day state visit to Japan through Wednesday, Jokowi will travel to China and hold talks with President Xi Jinping, according to the Indonesian Foreign Ministry.