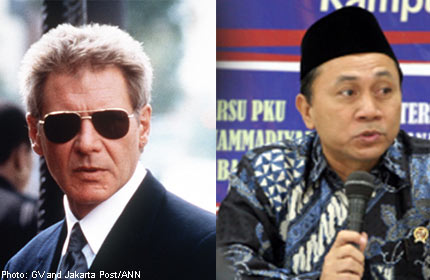 Forestry Minister Zulkifli Hasan has complained about Harrison Ford's attitude when the Hollywood actor interviewed him for a documentary being filmed in Indonesia.
Ford, who is known for his role in the Indiana Jones movies, arrived at the Forestry Ministry in Jakarta on Monday to interview the minister for the documentary on global warming shot in forested areas, such as in Palangkaraya in Central Kalimantan and Riau.
Zulkifli said that during the interview, Ford claimed that widespread deforestation had happen in protected national parks and the perpetrators had not been brought to justice.
"I can understand that this is the first time for this American to come here and see Tesso Nilo [National Park in Riau]. And it seems that what he wants to see is any perpetrators involved in the damage immediately arrested," said Zulkifli.
He said it was not easy to explain to Ford the challenges the government faced in tackling environmental problems.
"He was emotional. During the interview, his emotions ran high. I can understand his love for animals, the environment and rain forests, however," Zulkifli added.
The minister said he told Ford that forest damage in Indonesia had to be tackled in stages. Illegal forest clearing could no longer be responded to with force but by providing areas for productive forestry activities.
"The interview time was very limited. I was given a chance to make only one or two comments," said Zulkifli.
He said that he should have been given the opportunity to discuss the matter with Ford before the interview so that even if there were different points of view, they could understand each other.
"But I suddenly had my face made up and was then interviewed," said the minister.