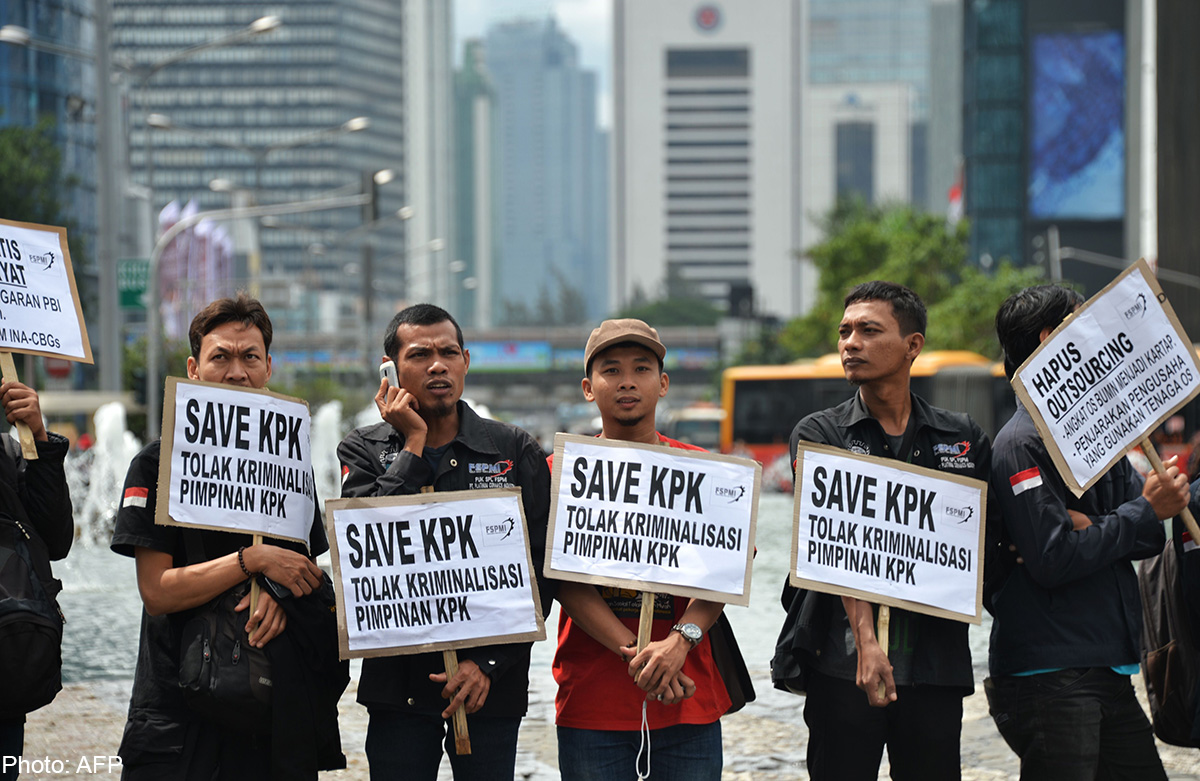 JAKARTA - A feud between Indonesia's law enforcement and its corruption watchdog over the nomination of a police chief has escalated into a full-blown crisis for Joko Widodo, testing the new president's pledge to usher in cleaner governance.
Barely 100 days into his term, Widodo sparked an outcry last month when he nominated Budi Gunawan, a politically-connected figure with a murky financial record, to be head of the national police.
The situation snowballed several days later when the anti-corruption agency, known as the KPK, named Gunawan as the subject of a bribery investigation, prompting Widodo to postpone - but not cancel - his appointment as police chief.
The notoriously corrupt police - who have in the past clashed with the hugely popular KPK - retaliated by arresting the agency's deputy chairman on years-old perjury allegations, triggering angry protests.
The deputy chairman has resigned, and police are now threatening to bring charges against the KPK's entire leadership, a move that the agency warns could paralyse it.
Activists rallying day after day outside KPK headquarters are urging Widodo, who comes from a humble background and is Indonesia's first leader from outside the political and military elites, to intervene.
But so far the president has taken a cautious approach to a scandal that is proving the first real test of his leadership.
"If he blunders in this KPK case, his image of running a clean government, he can kiss it goodbye," Yohanes Sulaiman, a political expert at the Indonesian Defence University, told AFP.
Political pressure
Widodo, popularly known as Jokowi, is under immense pressure to make a decision about Gunawan's future, but is backed into a corner.
Pressing ahead and installing a known criminal suspect as police chief would shatter his clean credentials, but Widodo risks revolt from political allies if he dumps Gunawan.
Parliament, which must endorse new police chiefs, has already backed Gunawan, and many parties - including from Widodo's own coalition - want to see him inaugurated.
Gunawan used to be a close aide of Megawati Sukarnoputri, the head of Widodo's political party who backed him for the presidency, and many suspect she is the one who is continuing to push the officer's nomination.
Widodo is seeking to buy time as he mulls a way out of the crisis. He asked a team of hand-picked advisers to recommend a course of action, and they said he should not press ahead with the nomination.
While he now seems likely to reject the nomination in the coming days, Widodo is facing accusations of dithering like his predecessor Susilo Bambang Yudhoyono, who was frequently criticised for his indecision.
Former KPK deputy chairman Erry Riyana Hardjapamekas, one of the special advisers assisting the president, said Widodo wanted to please but was more firm than his predecessor.
"I think there is a strong will to solve this problem as soon as possible," he said, adding he did not think Widodo would go ahead with Gunawan's inauguration.
Corruption fighters under fire
But activists fear every day that passes puts the KPK in greater jeopardy. If police level accusations against the remaining commissioners they will be forced by law to stand aside, hollowing out the agency's leadership.
While the current showdown has triggered an immediate crisis for Widodo, it has also prompted broader questions about how to stop the cycle of conflict that has seen the police and KPK lock horns over the years.
The KPK has made many enemies since it was established in 2002 to improve Indonesia's poor record on fighting graft. Bribery is pervasive in Southeast Asia's largest economy, which was ranked 107th out of 175 nations and territories in Transparency International's latest corruption index.
A number one ranking means the least corrupt.
The KPK has exposed graft at the highest levels, leading to convictions for high-profile figures such as the former top judge of the constitutional court, who was jailed for life for bribery last year.
But the agency's near perfect conviction rate has attracted many enemies, none more than the police, who loath its extensive powers to pursue cases and seek prosecutions in a special corruption court.
The force has baulked at KPK attempts to tackle police corruption, with Indonesia's chief detective in 2009 famously mocking it as a "gecko versus a crocodile".
Some are calling on Widodo to grant KPK commissioners immunity from prosecution during their tenures. However, others see tensions as inevitable until the graft-ridden police undertake drastic reform.
"I think it will be a long battle, a long war," said Hardjapamekas.