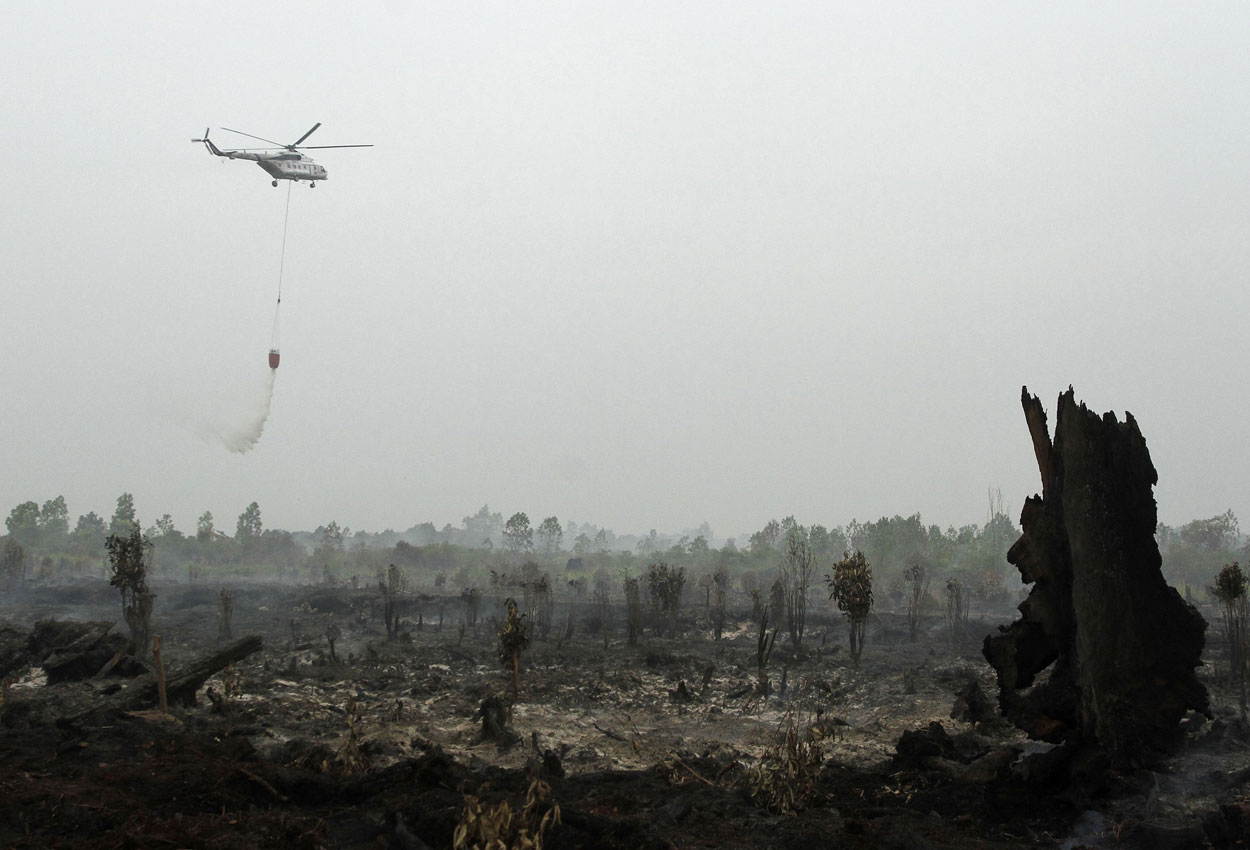 Indonesian lawmakers are investigating a controversial decision by the police to drop charges against 15 companies allegedly behind forest fires in Riau province last year.
A working committee set up by the parliamentary commission for law, human rights and security will be leading the probe, reported Kompas news yesterday.
Mr Masinton Pasaribu, from the ruling Indonesian Democratic Party - Struggle (PDI-P), said they will examine why police investigations against the 15 Indonesian firms were terminated earlier this year.
The Straits Times understands that members of the Riau provincial police as well as representatives of the companies have been summoned to give evidence before the committee next week.
Smoke from fires raging over forest and concession land in Riau as well as other areas in Kalimantan and Sumatra had led to record air pollution levels in South-east Asia last year.
The government has come down hard on errant individuals and companies that use fire to clear land but its enforcement effort against companies has had mixed results.
The case against the 15 companies was initiated earlier this year by the Environment and Forestry Ministry, but news broke in July that the police had halted their investigations.
The issue came to a head last week when Tempo news, quoting the Indonesian Forum for the Environment (Walhi) and the Riau Forest Rescue Network, reported that fires were recently detected on land owned by eight of the 15 companies.
The eight mentioned in the report are Dexter Perkasa Industri Indonesia, Siak Raya Timber, Bina Duta Laksana, Perawang Sukses Perkasa Industri, Ruas Utama Jaya, Huta Sola Lestari, Suntara Gajah Pati and Sumatera Riang Lestari.
Walhi executive director Riko Kurniawan said the police decision to drop the case against the firms "was a big mistake, as proven by the repeat of their wrongdoing".
National Police chief Tito Karnavian on Tuesday defended the move, saying the decision was based on different reasons, including findings that some of the fires had originated from outside concessions.
"Not all cases of forest and land fires were terminated; many were also tried in court," said General Tito.
Indeed, 30 companies have been sanctioned over last year's fires, while about 10 companies are still facing civil suits initiated by the Environment and Forestry Ministry.
The ministry also scored a minor victory on Aug 12 when a high court overturned an earlier decision and found pulpwood firm Bumi Mekar Hijau guilty of illegally setting fires on its concession in 2014.
Green groups such as Wahli on Tuesday hailed the latest verdict as a "small win" for Indonesia's conservation efforts.

This article was first published on September 01, 2016.
Get a copy of The Straits Times or go to straitstimes.com for more stories.