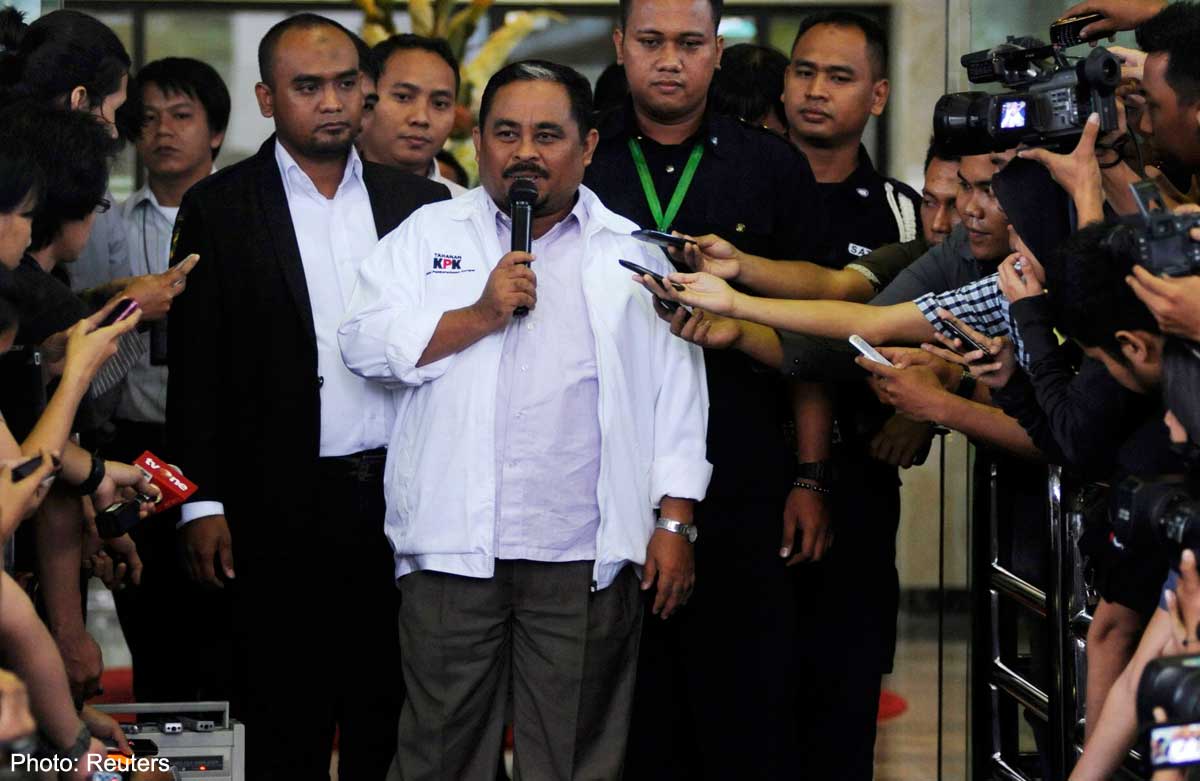 JAKARTA - An Indonesian court has jailed the disgraced former head of the country's biggest Islamic party for 16 years over a scandal in which bribe money was laundered as gifts for dozens of women, including an adult magazine model.
The controversy, which erupted when an aide was discovered in a hotel room with a naked college student, has shattered the clean image of the Prosperous Justice Party (PKS), damaging its chances at polls next year.
Luthfi Hasan Ishaaq, who was president of the PKS when the scandal emerged, was found guilty late Monday by the anti-corruption court in the capital Jakarta of accepting bribes from a meat import company.
Anti-graft investigators seized 1.3 billion rupiah (S$135,000) in bribe money as well as six luxury cars from Ishaaq during the investigation.
The meat company, Indoguna Utama, had pledged to give him 40 billion rupiah in kickbacks to use his influence with the government to have its beef import quota raised, the court heard.
"Luthfi Hasan Ishaaq was proven legally and convincingly guilty of conspiring in crimes of corruption and money laundering," chief judge Gusrizal Lubis told the court.
He was found guilty of corruption and money laundering and jailed for 16 years. He was also ordered to pay a one-billion-rupiah fine. Ishaaq said he did not accept the verdict and would appeal.
Two executives from Indoguna Utama were previously found guilty and jailed over the case.
The scandal emerged in January when anti-corruption agents raided a hotel room and discovered Ishaaq's aide, Ahmad Fathanah, with the naked student shortly after receiving bribe money.
It snowballed into a huge controversy, even by the standards of graft-ridden Indonesia.
Fathanah was found to be the main conduit for the bribe money. Evidence emerged he bought gifts for 45 women - including an adult magazine model - to launder the cash.
He was jailed for 14 years in November over the scandal.
Ishaaq, the former head of a party that trumpeted its conservative Islamic credentials to win votes, was found to have lavish spending habits and evidence emerged he had multiple wives.
The PKS was already facing a tough fight to win votes at elections next year as the popularity of Islamic parties wanes in Muslim-majority Indonesia.
The case also comes as the coalition government - of which the PKS is a member - struggles to recover from a string of scandals that have hit President Susilo Bambang Yudhoyono's Democratic Party.