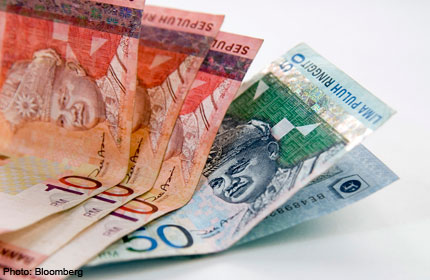 Indonesian workers in Malaysia sent almost US$1 billion (S$1.2 billion) back home through legal channels in 2012, says a senior Malaysian official.
Last year, Indonesian workers in Malaysia remitted 2.95 billion ringgit (S$1.1 billion) to their homes, Malaysian newspaper The Star reported on Tuesday, quoting Malaysian Deputy Finance Minister Ahmad Maslan as saying.
According to Maslan, remittances by foreign workers in Malaysia to their home countries reached 19.75 billion ringgit in 2012, a 50 per cent increase from US$4.2 billion in 2010.
With almost $1 billion in remittances, Indonesia workers became the second biggest group of foreign workers in Malaysia after Bangladeshi workers, who sent 3.3 billion ringgit. Nepal (1.99 billion ringgit), India (625 million ringgit) and the Philippines (561.3 million ringgit) were the third, fourth and fifth biggest countries that received remittances from their workers in Malaysia.
"The amount had gone up due to an increase of access to non-banking financial institutions that allowed foreigners to transfer their money to their home countries," the Star reported quoting Maslan as saying.
But these figures may not reflect the real amount of remittances by Indonesian workers. Many of them prefer to bring their earnings in cash and do not remit through legal channels. Most of them are working illegally in Malaysia.
"Not everybody sends money through banks. Many workers bring money home along with them," Jumhur Hidayat, the head of the Indonesian Migrant Worker placement and Protection Agency (BNP2TKI), said recently.
According to several estimates, two-thirds of the total 3.1 million foreign workers in Malaysia are illegal. The majority of these illegal workers are from Indonesia, thanks to the porous land and sea borders between the two countries and similar language and culture.
Nobody knows exactly how many Indonesians are working in Malaysia. But there are some clues.
According to labour attaché at the Indonesian Embassy in Malaysia Agus Triyanto, there were 220,000 Indonesian housemaids working in Malaysia and each worker received 700 ringgit ($218) per month. Illegal workers receive much lesser than this official rate. The rest of them work - both legally and illegally - in agriculture, construction, manufacturing and services sectors.
According to various estimates, there are around 2 million illegal and legal Indonesian workers in Malaysia. Most of these workers are ill-educated women who work as housemaids or as agricultural or factory workers.
The World Bank said in a report in April this year that Indonesia received US$7.2 billion from its 6.5 million migrant workers in 2012, the third biggest sum in Southeast Asia after the Philippines and Vietnam. But according to Jumhur, official and unofficial remittances by Indonesian migrant workers could reach Rp 120 trillion (around S$14 billion) in 2012.