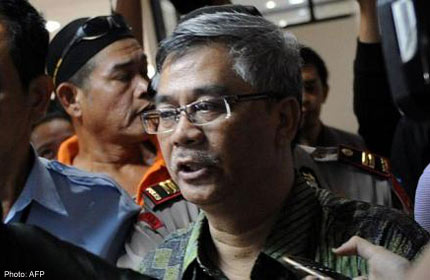 THE day they buried widely respected constitutional lawyer Fajrul Falaakh, the Constitutional Court struck down a government regulation in lieu of law that would have tightened supervision over the country's highest judicial body.
Lamented his widow Ratih Hardjono, a former Kompas correspondent and personal aide to the late president Abdurrahman Wahid: "He would have rolled over in his grave."
Mr Falaakh, 54, had always thought it wrong for the court of last resort to be a law unto itself - more so since disgraced former chief justice Akil Mochtar allegedly made a fortune taking bribes for favourable rulings in a string of local election disputes.
Misguided or not, a group of private legal experts challenged President Susilo Bambang Yudhoyono's regulation, claiming it was unconstitutional and interfered with the independence of the court. Naturally, the eight remaining justices agreed.
Jailed since last October, Mochtar - a former two-term Golkar Party legislator - is the highest-profile figure ever arrested by the Anti-Corruption Commission (KPK) on bribery and money-laundering charges since it was established in 2004. His trial began last Thursday.
The three bribery charges cover suspect rulings in 10 election disputes in which he is accused of accepting payments totalling 57 billion rupiah (S$6.3 million), often from winning candidates.
He is also charged with laundering 160 billion rupiah during his time at the court, as well as 20 billion rupiah when he was sitting in Parliament.
The case delivered a damaging blow to Indonesia's democratic development and made a mockery of Parliament's fit-and-proper test, which was meant to weed out potential bad apples from sitting on a court that is now untouchable.
In more developed democracies, that might be perfectly acceptable. But in a country whose judicial system and processes remain demonstrably flawed, it could prove to be dangerously fallible.
Endorsed by Parliament last December, the new regulation stipulated that candidates must be screened by an independent seven-man panel made up of nominees from the government, the House, the Supreme Court and the Judicial Commission.
It also sought to dilute political interference in the fit-and-proper process by requiring that aspiring justices should not have had any political affiliations for the previous seven years.
The court would also have been overseen by an honour council comprising a former Constitutional Court justice, a legal practitioner, two legal academics and a community leader - all free of political ties for at least five years.
Twice nominated for the court himself, the last time by Political Coordinating Minister Djoko Suyanto, Mr Falaakh was still fighting for greater oversight when he died suddenly of a heart attack on Feb 12.
All five KPK commissioners walked past a 70m line of wreaths to Mr Falaakh's home to pay their respects, making a point of telling his widow that the quiet, curly-haired law lecturer was a man of unquestioned integrity.
The message seemed clear.
When the Constitutional Court was established in 2003, having three justices each from the Supreme Court, Parliament and the government was seen as a compromise in removing some of the President's previous powers over judicial appointments.
Under the first chief justice, constitutional lawyer Jimly Asshiddiqie, the court thrived. But when he stepped down in 2008, successors Mahfud MD and Mochtar, both political appointees, allowed those high standards to lapse.
In Mochtar's case, disastrously so. Then deputy head of the House legal commission, the 53-year-old West Kalimantan- born lawyer supposedly passed Parliament's fit-and-proper test when he was appointed to the court in 2008.
But despite being linked to an election bribery case in 2010, he did not undergo a repeat examination when he was reappointed to the bench on April 2 last year - and then chosen chief justice by his fellow judges the very next day.
Mr Adnan Pandu Praja, one of the KPK's five commissioners, could not disguise his contempt for the House vetting process when asked recently how someone as apparently consumed by greed as Mochtar could have slipped through the net.
One senior Golkar party man says positions waiting to be filled are often the object of trade-offs among the political parties making up the ruling coalition and have little to do with whether candidates are suitable or not.
The KPK's own experience is a good guide to the difficulty of hiring suitable people to oversee Indonesia's rule of law. Of the 130 law-enforcement officers who at one point applied for better-paid positions as KPK investigators, only one made the cut.
Mochtar had in fact been on the KPK's radar screen since he was accused of demanding one billion rupiah from Mr Jopinus Saragih, the regent of Simalungun in North Sumatra, to uphold his victory in an election dispute.
He was cleared of the allegations a year later after an in-house ethics panel said it could not find any evidence that he had met Mr Saragih outside the court.
But if the case gave him a shock, it did not seem to have deterred him.
Mochtar's arrest last October was vindication for whistle-blowing lawyer Refly Harun, a former member of the court's expert staff, who became the target of then Chief Justice Mahfud's ire after he claimed some justices routinely took bribes.
Relying on assessments from the watchdog, Financial Transaction Reports and Analysis Centre (PPATK), the KPK has so far put Mochtar's net worth at a staggering US$23 million (S$29 million) in cash and property, much of it held under different names.
That has provided the grounds for the money-laundering charge, which has been used with increasing frequency since legislation was passed in 2012 allowing the state to impoverish graft suspects. Last year alone it confiscated US$100 million in ill-gotten assets.
Mochtar faces at least 20 years in prison, but given the money-laundering charges, his exalted position in the judiciary and the recent trend towards heavier punishment for high-profile corruptors, he may well be looking at life behind bars.
Mr Asshiddiqie, who had been a member of then-President B.J. Habibie's legal reform team in the late 1990s, was so outraged at what he called "this national disgrace" that he has publicly demanded Mochtar's execution.
thane.cawdor@gmail.com

Get a copy of The Straits Times or go to straitstimes.com for more stories.