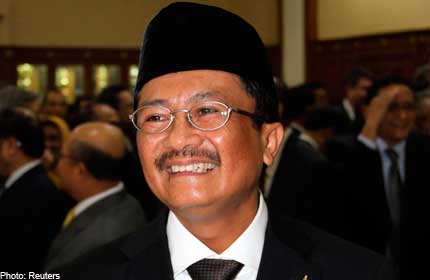 INDONESIA - Democratic Party officials have denied allegations of underhanded dealings with the head of Indonesia's oil-and-gas regulatory agency, Rudi Rubiandini, who was arrested on Tuesday night for allegedly taking bribes from an oil trading firm in a case that has dominated headlines.
With Rudi suspended from his job on Wednesday, commentators and local media raised suspicions that the case was linked to the Democrats - already battered by several corruption scandals.
On Thursday, party council secretary Jero Wacik - who is energy and mineral resources minister and oversees the affected agency - denied accusations that the alleged bribes were meant to finance the Democratic Party's upcoming convention to select a presidential candidate, Antara News Agency reported.
"This has nothing to do with the party, people can say what they want. Let the KPK explore the case," he said, referring to the Corruption Eradication Commission. Party deputy chairman Nurhayati Ali Assegaf made a similar denial.
The investigation has drawn attention to graft in the lucrative oil and gas sector, an area the KPK said it had been closely looking at of late. It also highlights how intractable the problem of corruption in business and politics remains in South-east Asia's largest economy.
But the case could also have wider implications, observers say, as it comes during the political fund-raising season ahead of elections for parliament and the presidency next year.
Mr Marbawi Katon, executive director of the Institute for Strategic and Public Policy Research, told The Straits Times that while Rudi is not a party member, his links with those who are will likely be the focus of media attention in the coming days.
"There is a sense that members are frustrated that efforts to improve the party's image have not worked," he said, adding that some are now aiming to raise funds to help win votes.
Rudi, who as chairman of SKK Migas oversaw the exploration and production of crude oil and natural gas in Indonesia, was arrested at home with some US$600,000 (S$762,000) in US and Singapore currency.
Also arrested was a middleman who delivered money from a senior executive of oil trading company Kernel Oil, which is registered in Singapore. The executive, who was also nabbed, was identified as Simon Gunawan Tanjaya.
SKK Migas deputy Widyawan Prawiratmaja told reporters that Kernel Oil was among 40 firms registered to bid for rights to trade oil, but it had not won a tender this year. The agency will open its next tender on Monday, he added.
KPK commissioner Bambang Widjojanto also said officials may summon Mr Jero for questioning. Mr Jero told reporters he was ready to be questioned and would let the KPK do its job.
On Thursday, anti-graft officials searched the offices of Mr Jero's ministry, as well as SKK Migas and Kernel Oil's Jakarta office.
Mr Umar Juoro of the Centre for Information and Development Studies told The Straits Times: "Like in most instances of corruption, this latest case probably isn't one-off. But hopefully this is a good step to clean up a sector that has long been suspected of rampant graft but which has been difficult to prove."

Get a copy of The Straits Times or go to straitstimes.com for more stories.