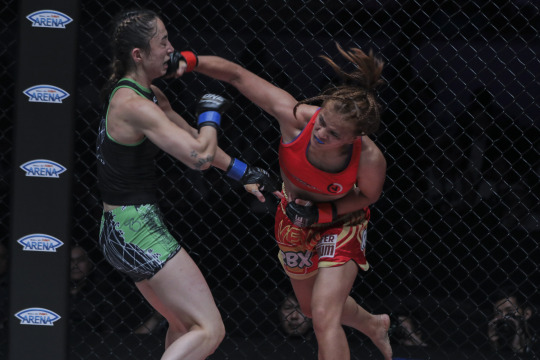 Sometimes you can't choose when your opportunities arrive. You just have to grab them when they arise. 
That's exactly what Gina Iniong did, as she chose to step in on short notice and face Mei Yamaguchi at ONE: IMMORTAL PURSUIT on Friday, 24 November.
The pair will do battle in the ONE Championship cage at the Singapore Indoor Stadium, with the prize being a likely world title shot for the winner. 
Indeed, Yamaguchi was originally scheduled to face ONE Women's Atomweight World Champion Angela Lee at the event. But after Lee was involved in a car accident, the Singaporean superstar was ruled out of the event, leaving a space on the card.
The ONE matchmakers put a call in to Iniong's coach, Team Lakay's Mark Sangiao, who broke the news to the Filipino striker, telling her that she had a huge opportunity to catapult herself to the front of the atomweight queue.
"Coach Mark broke the news to me, and told me that I had the chance to face Yamaguchi next in Singapore," the 28-year-old explained.
"'Seize the moment', he told me, casually. I agreed, and Coach Mark said this was a huge opportunity for me."
Conditions are still optimal for Iniong, despite stepping back into the ONE Championship cage just two weeks after her last bout. But her performance in that contest, a dominant second-round TKO finish of Priscilla Hertati Lumbangaol in Manila at ONE: LEGENDS OF THE WORLD, showed that she is in prime form – arguably, the best of her career.
"I was not hurt. After the bout, I felt great. There are no injuries, and thankfully, I did not get hit a whole lot, so I am still fresh," said Iniong.
"Taking this bout on short notice should be no problem for me, since I am still on weight and still in competition shape."
Iniong's confidence stems not only from her recent performance, but also from the knowledge that she's faced - and beaten - Yamaguchi before. The pair met back in March 2014, when Iniong edged a split decision after three competitive rounds.
"She has improved a lot since the last time I shared the cage with her," Iniong admitted.
"She has amazing stamina, endurance, and techniques. She is a complete martial artist.
"All martial artists, as long as they are consistent with training, can improve their skills. Yamaguchi has definitely gotten much better over the past three years."
Now, with both athletes significantly improved from their meeting back then, Iniong remains optimistic that her evolved skillset can eclipse that of her opponent, even coming in at short notice.
"I am not underestimating Yamaguchi by any means," she said.
"To do so would be a terrible mistake, even if I am familiar with her style. Having faced her before does not matter now. This is a completely different matchup.
"If I can beat Yamaguchi, I hope to get a shot at the title, but that is up to ONE Championship. I am willing to do whatever is necessary, and if that means I need to keep winning, then I will keep winning."
While some athletes would hesitate at such a huge opportunity being presented on short notice, Iniong is determined to grab the chance, and turn it into a title shot against Lee early in 2018.
Some may view such an opportunity as a free swing, but Iniong is treating it as if it's the only opportunity she's going to get, as she looks to move herself into title contention. To her, this is a bout that she simply must win.
"This bout is really important to me, to my career," Iniong explained.
"I am driven by my goal to become champion. Since joining ONE Championship, I have had my eye on facing Angela Lee, and I would not be deserving of a shot at the title if I cannot defeat Mei Yamaguchi. I have to win on Friday night."