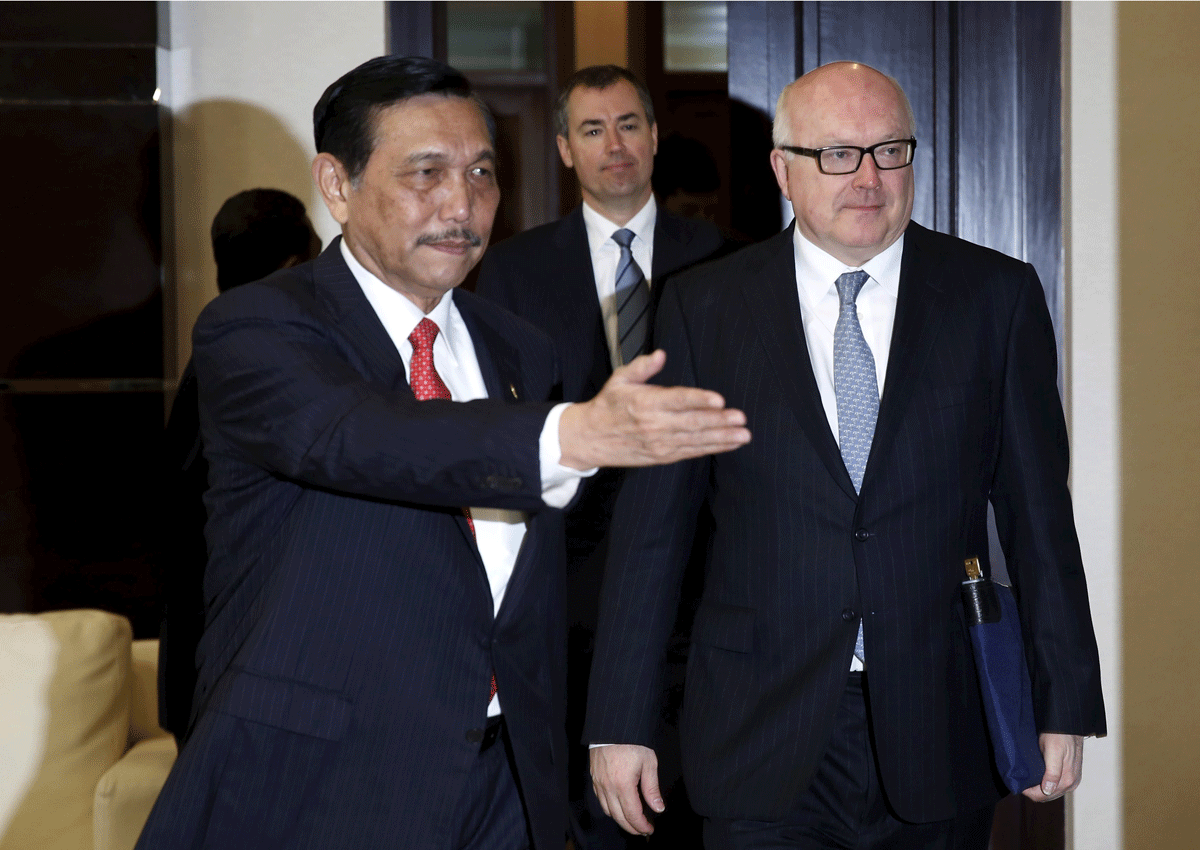 The Islamic State in Iraq and Syria (ISIS) is seeking to create a "distant caliphate" in Indonesia, and plans to use the Muslim-majority nation as a base for attacks against Western interests, Australia warned yesterday.
During a visit to Jakarta, Australia's Attorney-General George Brandis said ISIS wanted to expand its presence in Indonesia.
"ISIS has ambitions to elevate its presence and level of activity in Indonesia, either directly or through surrogates," he told The Australian in comments published yesterday.
"You have heard the expression the 'distant caliphate'? ISIS has a declared intention to establish caliphates beyond the Middle East, provincial caliphates in effect. It has identified Indonesia as a location of its ambitions."
The extremist Sunni Muslim group has declared caliphates in territory it controls in Iraq and Syria, as well as in Libya. Australian officials reportedly believe that ISIS does not have the capacity to create a caliphate in Indonesia but could set up a permanent foothold in the archipelago. This would allow extremists to roam relatively freely and prepare attacks.
"The rise of ISIS in the Middle East is something that has destabilised the security of Australia, it has destabilised the security of Indonesia and it is destabilising the security of our friends and partners, particularly here in the region," Justice Minister Michael Keenan told The Australian. Mr Brandis and Mr Keenan were in Jakarta for counter- terrorism-focused talks on Monday between Indonesian and Australian ministers and officials.
Their warning followed three days of raids in Indonesia which ended on Sunday and resulted in the arrest of nine ISIS-linked extremists. They allegedly planned to attack malls, police stations and minority groups during the year-end holiday period and were found with explosive materials and an ISIS-inspired flag.
However, an Australian expert on Islam in Indonesia, Dr Greg Fealy, expressed reservations about the claims by the two officials, saying ISIS did not appear to have specifically focused on Indonesia. He noted that Jemaah Islamiah, which operates in Indonesia, has links with Al-Qaeda and opposes ISIS.
"ISIS does not have any form of organisation in Indonesia," Dr Fealy said yesterday. "There has not been a single attack which we can conclusively attribute to ISIS. There are individual Indonesians who fight with ISIS and some who have been given money, but they seem to be acting individually and not on behalf of ISIS."
Indonesia has experienced a series of deadly terrorist attacks by Muslim extremists since the early 2000s, including attacks targeting tourists, hotels and embassies.
Dr Fealy said ISIS was primarily focused on its military struggle in the Middle East and was not known to have sent back any sizeable contingent of fighters or funds to focus on operations in South-east Asia.
"If ISIS had plans for Indonesia and South-east Asia, they would release a lot more fighters and money," he said, adding that some ISIS fighters in the Middle East were believed to have been blocked from returning to their home countries.
Australia and Indonesia have both struggled to address the threat from extremists who return home after fighting with ISIS and other radical groups in the Middle East. Several ISIS-inspired attacks and thwarted plots in Australia have been initiated by local radicals.
This article was first published on Dec 23, 2015. Get a copy of The Straits Times or go to straitstimes.com for more stories.