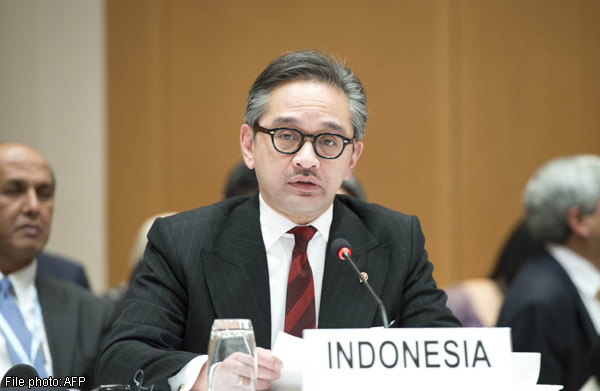 JAKARTA - Indonesian Foreign Minister Marty Natalegawa says Jakarta has firmly told Beijing it will not accept an air defence identification zone (ADIZ) over the South China Sea.
And his reading is that Beijing has no plans to impose such a zone for now.
Dr Marty's comments, made at a hearing on Tuesday by the parliamentary committee on defence and foreign affairs, are the most forceful from Indonesia on the subject to date, and came a day after United States Secretary of State John Kerry left Jakarta, where he said ASEAN was firmly at the centre of the US pivot.
China's declaration of an ADIZ in the East China Sea last November drew objections from the US, Japan and South Korea, and raised fears that Beijing might soon also declare one over the South China Sea, where its maritime claims are disputed by four ASEAN countries.
Indonesia had refrained from commenting on the matter publicly at the time, in line with its position of treading cautiously and avoiding taking sides with either major power on contentious issues.
But in comments that indicate Beijing would cross the line with an ADIZ in the South China Sea, Dr Marty said: "We have firmly told China we will not accept a similar zone if it is adopted in the South China Sea.
"And the signal we have received thus far is, China does not plan to adopt a similar zone in the South China Sea."
Indonesia, unlike Brunei, Malaysia, Vietnam and the Philippines, does not have overlapping claims in these waters with China, but its military is concerned that Beijing's nine-dash line touches on the country's exclusive economic zone near the Natuna Islands, located between Peninsular Malaysia and Borneo.
Dr Marty's comments also came days after the US Secretary of State said last Friday in Beijing that such a move would provoke tensions in the region.
In response, Chinese Foreign Minister Wang Yi urged the US to take an objective view "and use practical actions to advance mutual trust between countries and improve stability in the region".
Diplomats say the comments appear to suggest that Beijing may be mindful of the blowback a South China Sea air zone might draw from ASEAN countries, at a time when it is trying to deepen links with the region beyond trade and economic matters.
Dr Marty did not say when the message was conveyed to Beijing, but he last met his Chinese counterpart at a conference in Switzerland earlier this year.
On Monday, as he wrapped up his three-nation Asia visit in Jakarta, Mr Kerry also warned that the future stability of the region would depend on how well, and how soon, ASEAN members and China agree on rules to manage tensions in these waters.
"We can inform members that Indonesia is at the forefront in urging a firm handling of the matter," Dr Marty said on Tuesday.
He told MPs that Indonesia hoped talks on a code of conduct to mitigate these tensions could be completed as soon as possible, "even this year".
"But this will depend on cooperation on all fronts," he said. He noted that Thailand, which is coordinating the talks, was facing various domestic issues.
Mr Rizal Sukma of Jakarta's Centre for Strategic and International studies, told The Straits Times: "I fully support the position. ADIZ in the South China Sea will complicate the prospect for managing the conflict peacefully."
He added: "I doubt China will risk its relationship with ASEAN states by imposing an ADIZ in the South China Sea."
zakirh@sph.com.sg

Get a copy of The Straits Times or go to straitstimes.com for more stories.