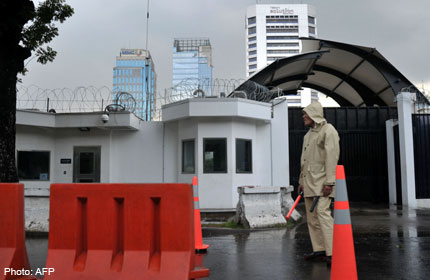 JAKARTA - The capital is bracing itself ahead of the Christmas and New Year holidays, which will see a mix of religious and entertainment events held across the city.
While emphasising that Jakarta was relatively safe, Governor Joko "Jokowi" Widodo said that city authorities would make the utmost efforts to ensure the capital's security.
"We should rely on intelligence information to foresee possible threats and prevent them from happening during Christmas and New Year's Eve," he said during a leadership meeting on the issue at City Hall on Monday.
Jakarta Police deputy chief Brig. Gen. Sudjarno pointed out that the capital had not seen any significant threats during the January-November period. The police, however, would increase awareness and efforts as the holidays approach.
In previous years there have been a series of terrorist attacks against places of worship and religious clashes during the holiday season.
Sudjarno said the police would deploy 10,198 personnel to secure 948 churches across the capital with major churches, such as the Jakarta Cathedral and the Immanuel Protestant Church in Central Jakarta, receiving particular attention.
The security measures will be extended to safeguard 732 churches in neighbouring Tangerang, Depok and Bekasi.
Meanwhile, Jakarta Tourism and Culture Agency head Arie Budhiman pointed out that Jakarta had not witnessed any major trouble during tourist events in the past four years. The agency recorded a 9.4 per cent increase in the number of New Year's Eve celebration events during the period.
"The hotel industry is still dominant with 56.92 per cent, followed by restaurants, bars, nightclubs and other places," Arie said.
The National Police would deploy a total of 87,772 personnel nationwide to safeguard the holiday season, said police chief Gen. Sutarman.
Among the top priority areas, he said, were North Sumatra, South Sumatra, Lampung, Java island and Bali. "We will intensify security measures at places where people gather during the holiday season, such as churches, bus and train stations, airports, ports, shopping centers and tourist sites," Sutarman told members of the House of Representatives' Commission III overseeing legal affairs at a meeting on Monday.
Separately, National Police spokesperson Brig. Gen. Boy Rafli Amar said that the police's Densus 88 counterterrorism squad would join forces with regional police offices to prevent any terror-linked attacks during the celebrations.
Semarang Police will start the security operation on December 23 for 10 days, and have recommended that church management install closed circuit TV to ease monitoring of possible terrorist attacks. There are 207 churches in the provincial capital of Central Java, 17 of which have already set up security posts linked to the police.
"I advise churchgoers to bring only the Bible while attending the services. It will slow us down if the police have to check individual purses and bags," Chief Comr. Djihartono said.