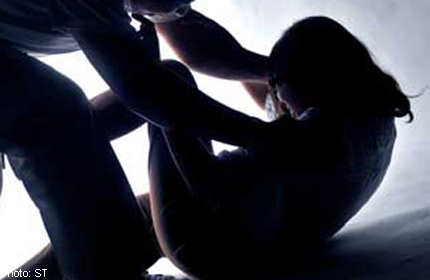 JAKARTA - A street vendor selling coffee in West Jakarta was abducted and sexually assaulted for two days by gang members after she refused to pay them protection money of 100,000 rupiah (S$11) in a case that has shocked many.
On Sunday morning, the 45- year-old woman, who was barely clothed, managed to escape from the shack where she had been held captive and abused with cigarette butts, burnt plastic and chilli.
She ran to a nearby apartment where guards and passers-by gave her some clothes before taking her to a police station.
The woman, who is widowed with four children, is being treated in a hospital where she may need surgery after being brutalised by her attackers, police said.
Local media reports said she bore burn marks and her face had sores from the beatings.
Police rounded up 19 gang members in a raid, but released all but one on Monday after establishing that they were not involved in the attack. They are looking for other attackers.
The brutal assault comes amid concern over rising violence against women and as police and the city government turn up the heat on thugs by stepping up enforcement against extortion rackets that hold many of the city's street vendors hostage.
The abduction of the woman, referred to by her initial H, came as a court in New Delhi handed down the death sentence to four men behind the gang rape and death of a 23-year-old university student, a verdict that made global headlines as well.
Ms Masruchah, deputy chair of Indonesia's National Commission on Violence against Women, said of the latest attack: "Law enforcers must send a strong signal that crimes of this nature cannot be taken lightly.
"The victim was brave enough to voice out about her ordeal, and those behind this sadistic, inhumane crime deserve the full force of the law," she told The Straits Times.
What was particularly troubling about this case, the police added, was how passers-by ignored the victim's cries for help.
"In front of the scene of the crime was a stall, to its right a workshop, to the left a public toilet," West Jakarta criminal investigation department head Hengky Hariadi told reporters.
"No one responded to her cries for help. When we asked, they said they were afraid of thugs," he said.
"There have been too many victims, but few fight back or report to the police out of fear," Dr Parasian Simanungkalit, the head of anti-drug and anti-violence group Gepenta, told The Straits Times.
"This latest incident is a reflection of how brazen these groups of gangsters can be," the retired police brigadier-general added.
The public is increasingly worried about thugs, he said, adding that the authorities have to deal with them firmly before those opposed to them take the law into their own hands.
zakirh@sph.com.sg

Get a copy of The Straits Times or go to straitstimes.com for more stories.