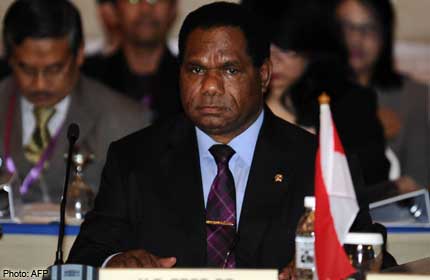 KUALA LUMPUR - Indonesia's reluctance to publicly share maps that could help pinpoint the culprits behind haze-causing forest fires can be partially traced to its Freedom of Information Law.
Clauses in the law specify that data which could reveal the country's wealth of natural resources, such as forests, cannot be made public.
Exemptions can be made, but there is a process that needs to be followed, the Communication and Information Ministry's chief spokesman, Mr Gatot Dewa Broto, told The Straits Times.
The issue of whether concession maps can be made public surfaced when environment ministers from Brunei, Indonesia, Malaysia, Singapore and Thailand met in Kuala Lumpur on Wednesday to discuss tackling cross-border haze.
They agreed that these maps would be shared between governments on a "case-by-case basis", subject to Asean leaders' approval at a summit meeting in October.
"Our regulations regarding transparency and publicly available information bar us from releasing such information," Indonesian Environment Minister Balthasar Kambuaya said.
The 2008 law actually mandates that agencies make a range of official data publicly available, with several exceptions, including where national security and diplomatic ties need to be protected.
But it also says that these are not permanent, and the government can issue a regulation for an exemption. It does not say how wide the exemption can be.
Several observers and NGOs have criticised the limited plan to share maps, saying continued secrecy will impede efforts to prevent illegal fires.
Singapore had earlier pressed for these maps to be made public, so they could be used with satellite data on hot spots to identify and take action against Singapore-linked firms with fires on their lands.
Mr Samadhi Nirarta of Indonesia's presidential work unit on monitoring development (UKP4) said that while information on natural deposits is classified, information on concession ownership and areas of concession, among others, should be public.
Like Indonesia, Malaysia was "strict" about sharing its maps, Natural Resources and Environment Minister G. Palanivel said on Wednesday. He also said that land matters came under the jurisdiction of state governments, not the federal government.
"But a state government cannot reasonably refuse federal government access (to land information)," said Universiti Malaya law lecturer Azmi Shahrom. "Malaysia has ratified the Asean Agreement on Transboundary Haze Pollution, which requires that countries share information."
A more sensitive point, he noted, was the scrutiny that access to concession maps would bring. "Who owns this land, who this person is related to, how big his area is - once everything is transparent, then any transaction or ownership which is dubious will be open to public scrutiny," he said.
Dr Nigel Sizer, director of the World Resources Institute's Global Forests Initiative, described the lack of commitment to public disclosure as "a serious obstacle to progress".
"Continued secrecy by South-east Asian governments about the location of land holdings by oil palm, pulp wood and other companies will seriously impede efforts to prevent illegal fires and the associated suffocating smog in the future."