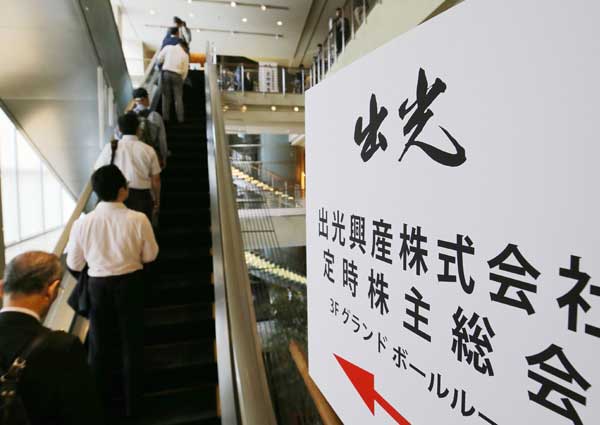 TOKYO - About 1,000 police fanned out across Tokyo on Thursday in a dragnet aimed at nabbing gangsters notorious for extorting companies on Japan's busiest shareholder meeting day of the year.
The annual cat-and-mouse hunt targets hoods who threaten to disrupt investor gatherings unless the company hosting the event pays them off, a longstanding racket known as sokaiya in Japanese.
Television footage Thursday showed cops in dark business suits and carrying leather briefcases making their way to meetings across Japan's sprawling capital.
"I want you to take swift and appropriate action, including on-the-spot arrests, if you see sokaiya or other crimes," Hiroshi Okano, an official at the Tokyo Metropolitan Police Department's organised crime bureau, told the officers.
"Please be on high alert," he added.
Some 340 companies were reportedly holding their annual shareholder meetings in Tokyo Thursday, with around 1,200 meetings held through the month of June.
The disruptions at meetings - such as shouting down executives, revealing real or imagined company secrets, and making threats - has declined over the decades as tougher criminal penalties were adopted to crack down on the problem.
But some 230 groups and individuals were still involved in the practice as recently as this year, while hundreds more show up at companies' headquarters to demand money, according to national police data.
The illegal practice, which peaked before Japan's bubble economy crashed in the early nineties, was once so widespread that some firms assigned employees to funnel cash to Yakuza crime syndicates.
That led many firms to start holding their shareholder meetings on the same day to reduce the chance of being targeted.