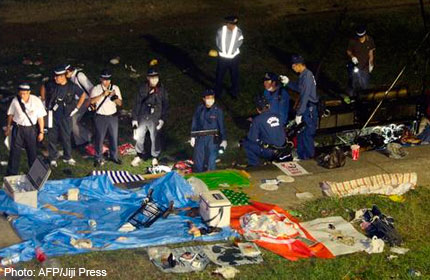 TOKYO - A 44-year-old woman who suffered severe burns in an explosion at a fireworks festival in western Japan two days ago became the first person to die from the accident on Saturday, police said.
Hiromi Takeuchi was one of 60 people injured in the blast which ripped through food and drink stalls set up to entertain visitors at an annual festival outside the ancient capital of Kyoto.
She passed away in a local hospital where she had been receiving treatment.
Police earlier said 18 were seriously injured with Takeuchi and an eight-year-old girl in critical condition.
Police suspect that the explosion occurred when a vendor at one of some 350 stalls at the site opened the cap of a petrol container to refill an electric generator, press reports said.
The highly pressurised petrol was sprayed over a wide area, causing gas cylinders to blow up and three of the stalls went up in flames.
The vendor was expected to be investigated on charges of professional negligence when he recovers from severe burns he suffered in the accident, the reports said.