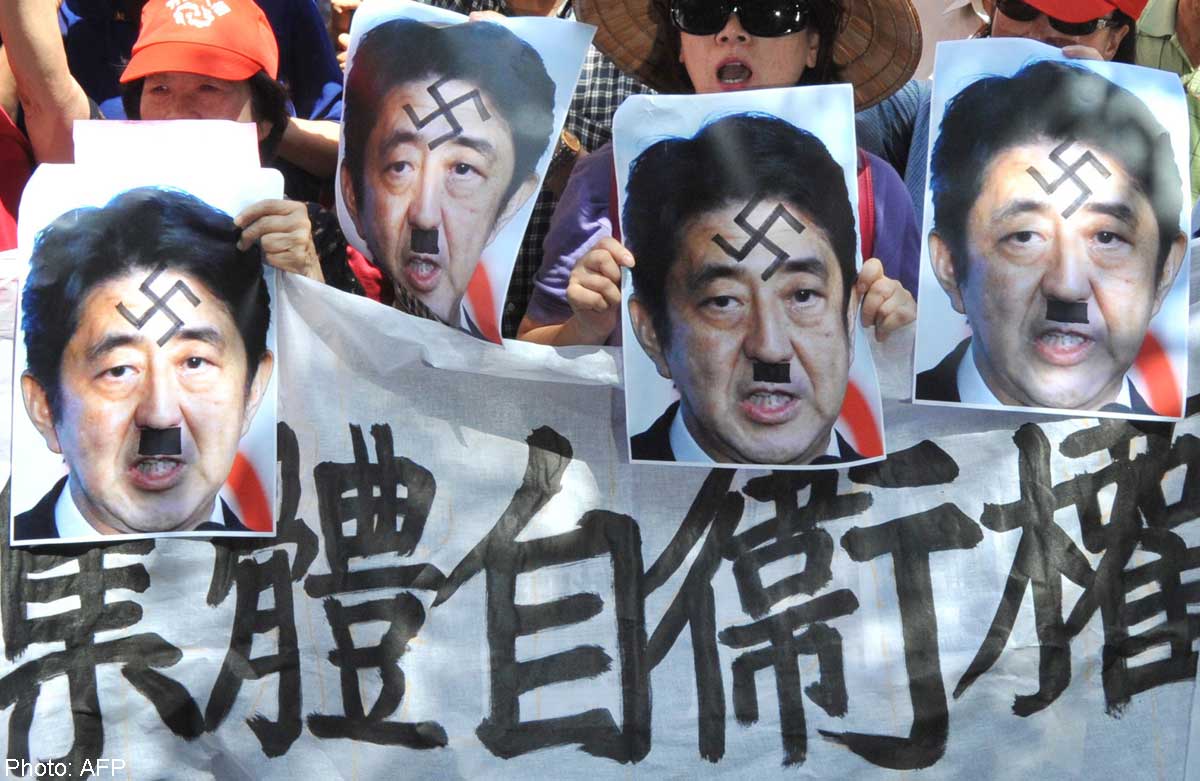 Asia's security landscape will be changed profoundly as Japan asserts what it says is its right to an expanded military role beyond defence of its territory, nearly 70 years after its World War II defeat. Whether the change to a "collective self-defence" that will encompass the whole region and involve third parties will be constructive or destabilising is an open-ended scenario.
What is known is that Prime Minister Shinzo Abe's move to redefine the war-renouncing Constitution - it has to be ratified by the Diet but without need of a referendum - will strengthen Japan's military pact with the United States, through burden-sharing.
Other immutables in the equation are a revitalised China that is making its presence felt, much to Japan's discomfort, while North Korea is capable of untold trouble. India, the Philippines, Vietnam and Australia are adjusting their military postures as a consequence, while Indonesia is examining policy options to prepare for the day when it would be the region's newest power.
In such a dynamic security calculus, Japan's move would seem logical. The country should have a "normal" military role commensurate with its economic power. It ought to be able to help treaty allies which are committed to its defence and security.
It could, for instance, intercept North Korean missiles headed towards Guam or the US mainland. The Self-Defence Forces may secure maritime routes if the country's oil and food supplies are threatened by hostile action.
Participation in United Nations peacekeeping missions without a combat role is limiting. But Mr Abe has been at pains to say Japan will not get involved in military entanglements if its interests are not at risk.
Much of Asia, preoccupied with growth and progress, might be prepared to take a pragmatic view of the move in the light of changed geo-strategic circumstances. But Japan does not help its own cause.
The inability of generations of ruling-class politicians to atone for wartime brutalities stands in the way.
Denials of events like the Nanjing Massacre, the use of sex slaves and the annual show of Yasukuni homage are only the more overt examples of historical revisionism. More insidious is that young Japanese are being kept in the dark about the past.
Distrust of Japan runs deep in parts of Asia. This is a monumental barrier to rehabilitation that Japan seems unwilling to overcome.
Mr Abe also faces opposition at home, where the appeal of pacifism is strong among older Japanese. He will have to convince the nation the fateful step he is taking is to protect Japan's interests and is not being done solely at America's urging. Japan, as much as other key players on the continent, has a stake in safeguarding Asia-wide security.

This article was first published on JULY 8, 2014.
Get a copy of The Straits Times or go to straitstimes.com for more stories.