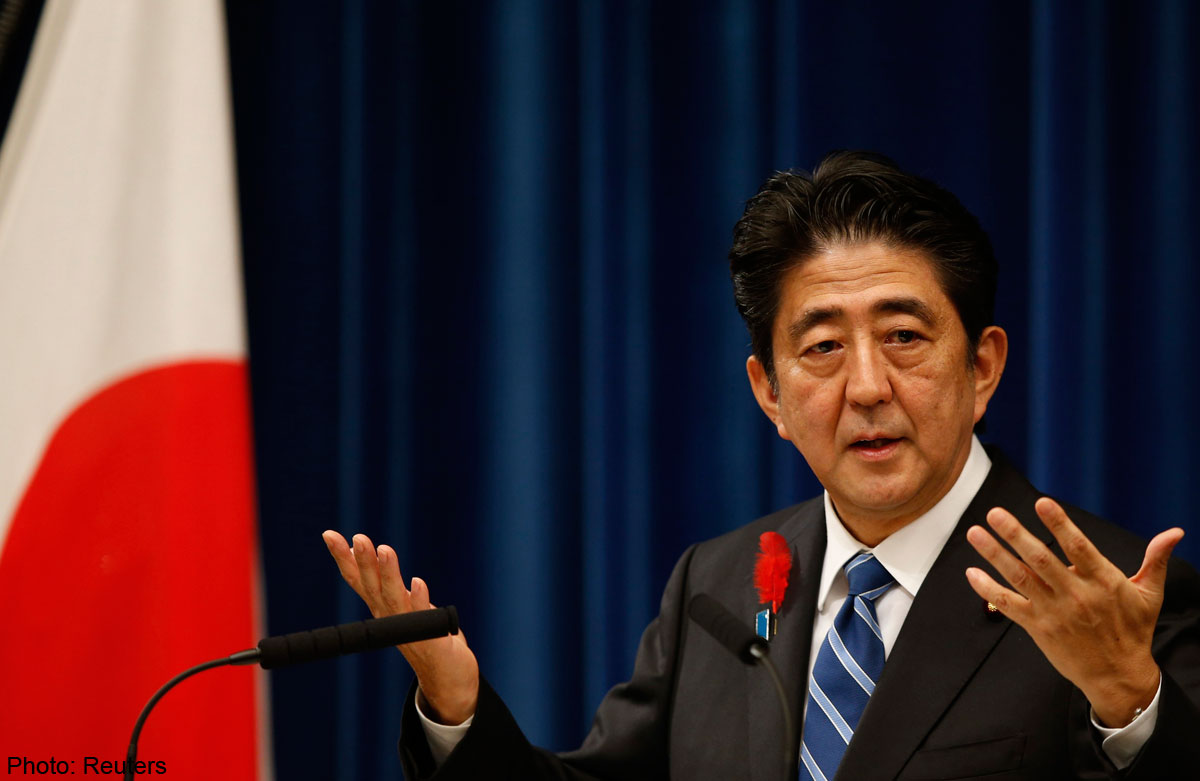 TOKYO - Japan and Southeast Asia must strengthen ties and ensure the region is based on the rule of law and not force, Japanese Prime Minister Shinzo Abe told Asian leaders at a summit on Saturday, amid heightened tensions over China's new air defence zone.
China's recent announcement of an air defence zone over islands in the East China Sea, which are also claimed by Tokyo, triggered protests from Japan, United States and South Korea.
China is also locked in territorial rows with other Asian nations over wide swathes of the South China Sea, including waters claimed by several members of the Association of Southeast Asian Nations (ASEAN), and has said it might set up a similar air defence zone there.
"I would like to build an Asia Pacific future that respects each other's cultures and construct an economic system that is realised not by force, but by rule of law and our efforts," Abe said at the start of the Tokyo summit with the 10 ASEAN nations.
The heightened tensions with China have raised concerns that an minor incident in the disputed seas could quickly escalate.
US and Chinese warships narrowly avoid collision in South China Sea last week, the US Pacific Fleet said in a statement on Friday.
While both Japan and China in recent months have scrambled aircraft over the disputed seas and conducted naval patrols.
The Japan-ASEAN summit is the centrepiece of a three-day regional gathering officially billed as celebrating 40 years of diplomatic ties.
ASEAN groups Vietnam, Thailand, Singapore, the Philippines, Malaysia, Myanmar, Laos, Indonesia, Cambodia, and Brunei.
The final summit statement due later on Saturday is likely to state its support for freedom of the air and the seas - but stop short of mentioning China.
Chinese state media kept up the invective against Japan's complaints over the air space zone on Friday, with the official Xinhua news agency saying Abe was going to "stage again its China-is-to-blame game" at the ASEAN summit.
"It is believed that anyone with only half a brain knows that it is Japan who intentionally set the region on fire in the first place," Xinhua said in an English-language commentary.
Abe has visited all 10 ASEAN nations within the year he has been in office, a charm offensive underlined by hefty aid and growing private investment by Japanese firms hoping to avoid rising costs and the potential risks of China.
At the summit, Japan will offer 300 billion yen (S$3.64 billion) for disaster-resistant infrastructure throughout the region, Japanese media has reported.
On Friday, it gave the Philippines 6.6 billion yen to provide patrol ships, along with a special post-typhoon loan, and announced currency swap deals with five Southeast Asian nations.