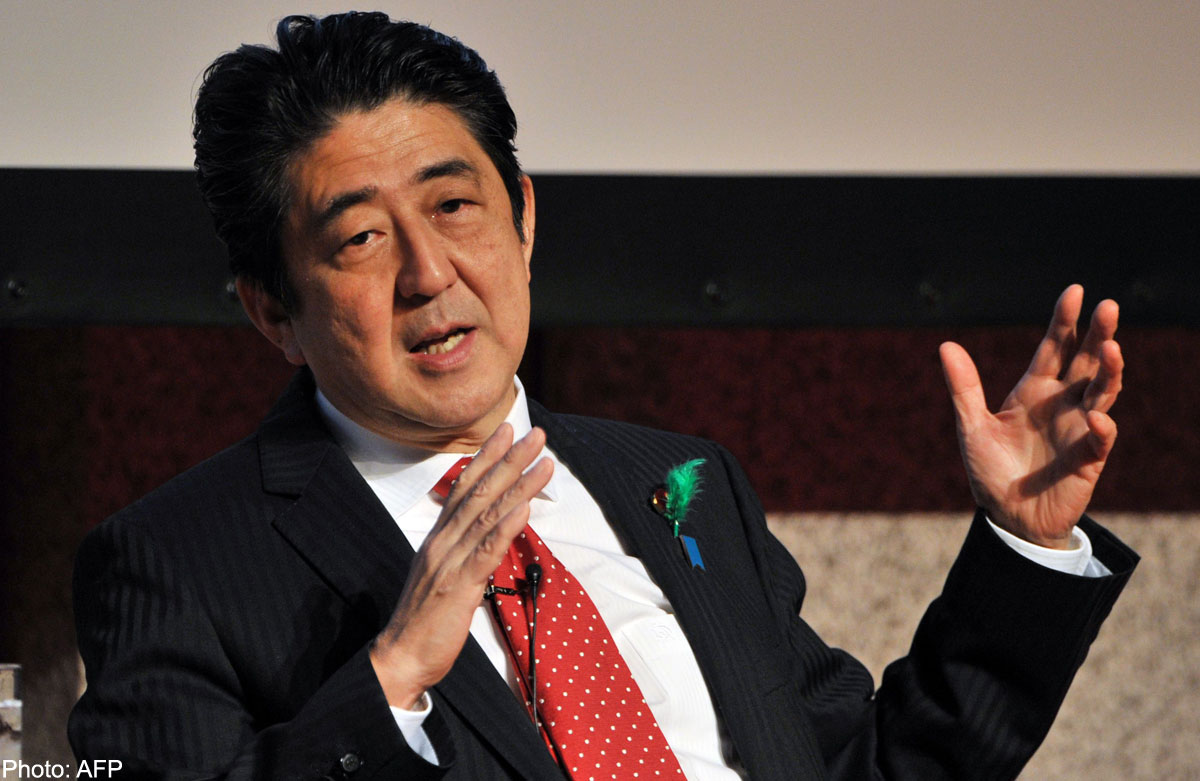 BERLIN - Japanese Prime Minister Shinzo Abe called during a visit to Germany on Wednesday for swift progress in talks with the European Union to nail a free-trade pact.
"We're putting all our strength into achieving an economic partnership accord with the EU," Abe told an industry forum in the German capital, kicking off the first leg of a nine-day visit to European countries.
"To advance the negotiations for a quick conclusion of the agreement, we'd like all your active support," he added, through an interpreter.
Japan views its economic partnership with Europe as an "important pillar" of its growth strategy, Abe said.
Later Chancellor Angela Merkel voiced hopes after talks with Abe that the deal could be completed next year, saying it could "drastically improve" the two countries' trade relationship.
"It's the wish of both of us that such an agreement can be completed. The year 2015 for example would be a good year for it," she told a joint press conference with Abe.
The EU and Japan launched trade talks a year ago, aiming for a tie-up that would account for about 40 per cent of global trade.
Brussels is due to decide next month whether to press on or suspend the negotiations with Tokyo, which in parallel is seeking a Pacific-wide free trade deal in talks with the United States.
The EU wants progress on non-tariff barriers in certain Japanese markets, while for Tokyo, a key issue is that Brussels dismantle customs duties on Japanese autos, a sensitive topic for big car producer and exporter, Germany.
"My brother drives a BMW," Abe told Matthias Wissmann, vice-president of the BDI Federation of German Industry and head of Germany's VDA automobile federation.
Merkel was also asked about the possibility of Abe's growth policy blitz - a mixture of big government spending and central bank monetary easing dubbed Abenomics - inspiring European economic policy.
"Every country must look for its way," Merkel responded, adding however it was "certain" that in the case of both Europe and Japan, structural reforms were necessary.
"I believe our course is right" in pursuing budget consolidation, she said, adding, like the European Central Bank has said, that the eurozone was not facing "imminent danger of deflation".
Although eurozone inflation picked up in April, concern has arisen in recent months that deflation could derail a very modest recovery. Japan is working to conquer years of deflation which have curbed growth in the world's third-largest economy.
The Japanese premier will continue on to Britain, Portugal, Spain, France and Belgium.