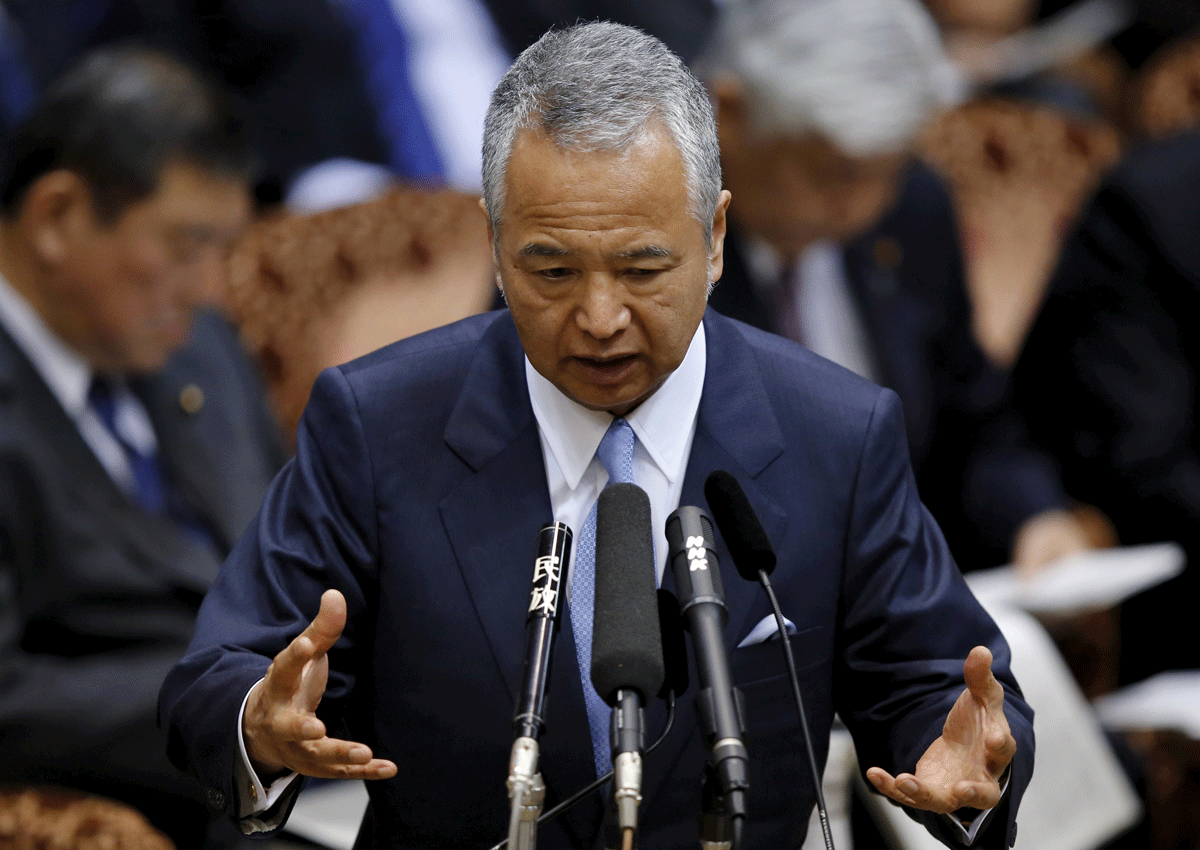 Akira Amari said Thursday he would not step down as state minister in charge of economic revitalisation to take responsibility for allegations, reported in a weekly magazine, that he and his secretaries received illegal donations from a construction company.
"I'll make a thorough investigation [into the report] and hold myself accountable," Amari said Thursday morning at a meeting of the House of Councillors Audit Committee.
Answering questions from Misako Yasui of the Democratic Party of Japan, Amari admitted that he met an employee of the construction company at the minister's office. However, he said he would explain the details of the meeting later because he had only a vague memory of what occurred at the time.
Amari also expressed his intention to investigate the matter with a third party.
Concerning the magazine's claim that his secretaries received cash from the construction company, Amari only said: "I learned of this for the first time from a press report. I'm currently confirming whether it's true."
He denied that he would resign, vowing to carry out his duties as revitalisation minister.
Prime Minister Shinzo Abe indicated his intention to monitor the situation, saying, "I'm confident that Mr. Amari will fulfil his accountability as a politician."
Natsuo Yamaguchi, leader of the LDP's coalition partner, Komeito, said Thursday morning at the party's executive meeting, "I'll closely watch to see how he will fulfil his responsibility to hold himself accountable."
Meanwhile, DPJ leader Katsuya Okada said he would pursue the allegations. "The prime minister also bears responsibility for appointing the minister, of course. I will thoroughly examine the responsibility," Okada said at a meeting of Diet members held jointly with the Japan Innovation Party on the day.
The weekly magazine Shukan Bunshun, which went on sale Thursday, claimed that an employee of a construction company in Shiroi, Chiba Prefecture, who was in charge of its general affairs, asked Amari's public secretary in May 2013 to mediate between the company and the Urban Renaissance Agency, with which it had a disagreement. The magazine said the company paid ¥5 million (S$60,800) in cash in return for the service in August of the same year.
The article also said an envelope containing ¥500,000 in cash was handed to Amari at the minister's office, and that ¥12 million was paid to the Amari side overall, including entertainment expenses.