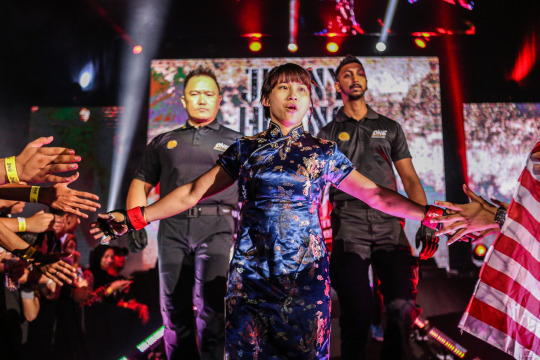 How a martial artist bounces back from their first defeat can set the tone for the rest of their career, and in the case of Jenny Huang, her first defeat is serving as motivation for improvement.
In March, "Lady Gogo" unsuccessfully challenged ONE Women's Atomweight World Champion Angela Lee for the title at ONE: WARRIOR KINGDOM. The Taiwanese contender stood toe-to-toe with the champion in the opening round of the contest, before succumbing to a series of ground strikes in the third frame, dropping her record to 5-1 and dashing her title hopes.
The loss proved to be the wakeup call she needed.
"I never thought I would have an opportunity so quickly to get a title shot. The most difficult thing was the pressure on my mind. Angela Lee not only has a martial arts family background, but is also an all-around fighter," the former challenger says.
In defeat, Huang realized she still had plenty to learn about mixed martial arts if she wanted to reach the promised land, and wear ONE Championship gold around her waist someday.
"I had to improve all of my techniques, on offense and defense," she continues. "I had to deal with everything in a short amount of time. Any time I am training, I need to be preparing, and ready, to be an all-around fighter. Before, my strong point was only grappling, and [the Lee] fight showed striking was my weakness. I cannot just focus on one thing."
The judo black belt has been on a journey of evolution since. She left her longtime training ground, Chinese Taipei's Martial Armour, for Northern China's Tianjin Top Team this year. But now, she is training in Tokyo, Japan.
Huang currently calls the highly-regarded Abe Ani Combat Club (AACC) home, where she trains under the watchful eye of friend and coach Hiroyuki Abe — or, as she calls him, "Professor Abe."
Under his mentorship, the 26-year-old is improving in all areas of the game, especially wrestling. She also gets the benefit of training with some of the best female athletes the country has to offer.
"I went to Japan to see more martial arts styles," she explains. "There are so many professional female fighters in many gyms here, so it is really exciting. In Chinese Taipei, there are no other female mixed martial artists, but in Japan you can easily find many in gyms, and train together. In my weight class, I am a shorter fighter, and I can find many fighters here that are the same height as me."
In fact, "Lady Gogo" will enjoy a slight height advantage when faces Mei "V.V." Yamaguchi at ONE: LIGHT OF A NATION on Friday, 30 June. The event takes place at the Thuwunna Indoor Stadium in Yangon, Myanmar, which just so happens to be the same venue where the Taiwanese atomweight successfully made her ONE debut two years ago.
Getting past Yamaguchi will be no easy task, however. At 15-10-1, "V.V." is a karate black belt and a former DEEP Jewels Featherweight Champion.
The Japanese heroine, who trains at Riki Gym, Gods, and Hybrid Fighter, is also looking to get back in the win column and avoid the first three-fight skid of her career. Yamaguchi fell to Lee, a common opponent, for the inaugural atomweight belt at ONE: ASCENT TO POWER in May 2016, and then lost a razor-thin decision to Istela Nunes three months later at ONE: HEROES OF THE WORLD.
Despite Yamaguchi's recent setbacks, Huang is not looking past the Japanese warrior, and fully recognizes the tough road ahead.
"Mei (Yamaguchi) has more experience, and she is a strong fighter," she says. "I did see her past few fights. She is tough, has all-around good skills, and good stamina as a fighter. But l will show everyone my new skills in this fight. I believe this fight will be amazing, and I have confidence I will win."