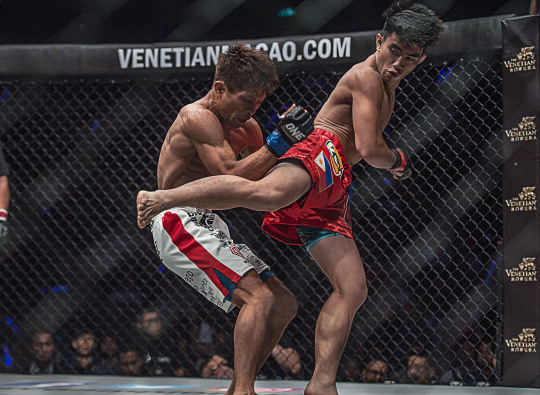 After missing out on the ONE Strawweight World Title, Joshua Pacio is looking to battle his way back into contention once more.
The Filipino strawweight arrived in ONE Championship with a bang, picking up back-to-back victories over Rabin Catalan and Kritsada Kongsrichai to put him in pole position for a title shot.
However, when that opportunity came, Pacio found himself on the wrong end of the result, losing out to defending champion Yoshitaka "Nobita" Naito in October 2016 by third-round submission.
Now, the martial artist known as "The Passion" is ready to kickstart another run towards the title, starting on 10 November, when he takes on the experienced Roy Doliguez at ONE: LEGENDS OF THE WORLD in Manila, Philippines.
"Doliguez is a former boxing champion, and we saw how dangerous he could be when he knocked out Yago Bryan in his last bout," said Pacio ahead of the contest.
"I am definitely not taking him lightly by any means. But I have also faced some of the best strikers, like former world champion Dejdamrong Sor Amnuaysirichoke, so it is nothing new to me."
After his loss to Naito, Pacio bounced back with a split-decision win over Dejdamrong Sor Amnuaysirichoke, only for his momentum to be halted once again when he lost to the undefeated Hayato Suzuki at ONE: KINGS AND CONQUERORS in August.
"After my bout against Suzuki, I was so disappointed in myself, because I was not able to showcase all the months of hard work I put into training," said Pacio.
"Although I did not get the victory, it made me realise just how much more I had to improve so that I can become a better martial artist.
"I realised that there are a lot of holes in my game, and that the only way to get better is to recognise my weaknesses."
Pacio now believes he has filled those holes and is ready to make another run at the belt, starting with a decisive victory over Doliguez, whose martial arts record belies a lifetime of competition experience across a range of disciplines.
Despite Doliguez's clear experience advantage, Pacio is confident he and his team have put together the right strategy to secure victory on 10 November.
"My game plan will be the key in this matchup, and I believe we have the perfect strategy to beat him. I fully expect to be victorious," he said.
"In the cage, anything can happen, so we always have to be prepared. We train in all styles, be it wushu,  striking, jiu-jitsu, wrestling, and many others. It has to all come together. A sound game plan is also key to bringing everything together seamlessly."
The 21-year old says that although he holds great respect for his 35-year-old opponent, he's ready to showcase his skills and prove he's one of the division's very best.
"Doliguez is one of the guys I grew up watching even during my amateur days, so I have a lot of respect for him," he said. "He is a fellow Filipino warrior, so I know what he is capable of, and I know how big his heart is.
"I have the utmost respect for him because he is a veteran in combat sports and his experience is an asset. But I will prove to him and to the world that I belong in this elite group, even if my career is still young."