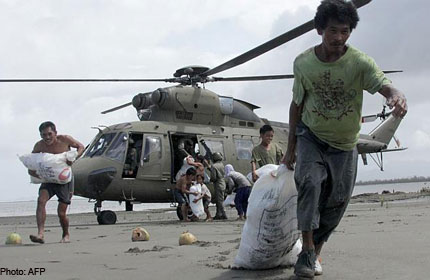 HANOI - Typhoon Haiyan made landfall in Vietnam early yesterday, uprooting trees and tearing roofs off hundreds of homes, but sparing the country the widespread devastation wrought on the Philippines.
In the northern port city of Hai Phong, residents said even a weakened Haiyan, still packing heavy rains and winds of 120kmh, had felt like a major storm when it hit.
"The storm was really big. I cannot think of any other bigger storm than this over the past several years. I felt my house shaking last night," resident Nguyen Hung Nam, 70, said. "We were quite well prepared so I don't think there is that much damage."
The capital Hanoi saw downpours, and houses in some northern provinces were damaged by high winds.
"Several hundred houses had their roofs ripped off. Thousands of trees in the province were uprooted," said Mr Nguyen Cong Thuan, a disaster official in Quang Ninh province. "Three people were reported missing."
The government said no deaths had been reported so far, although five people died during preparations for the typhoon.
In Quang Ninh - the most-affected province, which borders China, where at least six people have been killed by Haiyan - images on state media showed high winds and heavy rain lashing towns. The province estimates that storm damage will cost about US$4.7 million (S$5.8million).
State media hailed the "massive and costly preparations" for the storm - which changed course on Sunday, heading further north than initially anticipated - as a triumph of logistics.
"It's not a waste - though we escaped the worst of the typhoon, this can be considered a necessary rehearsal considering the increasing number of natural disasters we face due to climate change," the official Lao Dong newspaper said in an editorial.
In the Philippines, dazed survivors begged for help and scavenged for food and water as bodies lay uncollected on the streets. Police and soldiers guarded stores to keep looters at bay.
President Benigno Aquino yesterday declared a state of national calamity to speed up rescue, relief and rehabilitation efforts. He said the government had set aside 18.7 billion pesos (S$539 million) for rehabilitation.
Three days after Haiyan tore into the Philippines, the huge scale of death and destruction became clearer. Besides devastating Tacloban in Leyte province, where at least 10,000 people may have died, the typhoon levelled the seaside town of Basey in neighbouring Samar province where about 2,000 were missing.
Singapore is among 21 countries, including Indonesia, the United States, Britain and Japan, that have pledged to send relief.
Yesterday, the Singapore Government increased its total contribution to S$200,000. The Singapore Red Cross and Mercy Relief will be helping to raise funds for typhoon victims.
Mercy Relief said it would send a second team to assess the situation in Tacloban and other affected areas.
Two info-communications specialists sent by the Singapore Civil Defence Force are already in Tacloban to support the United Nations Disaster Assessment and Coordination Team to set up communications links.