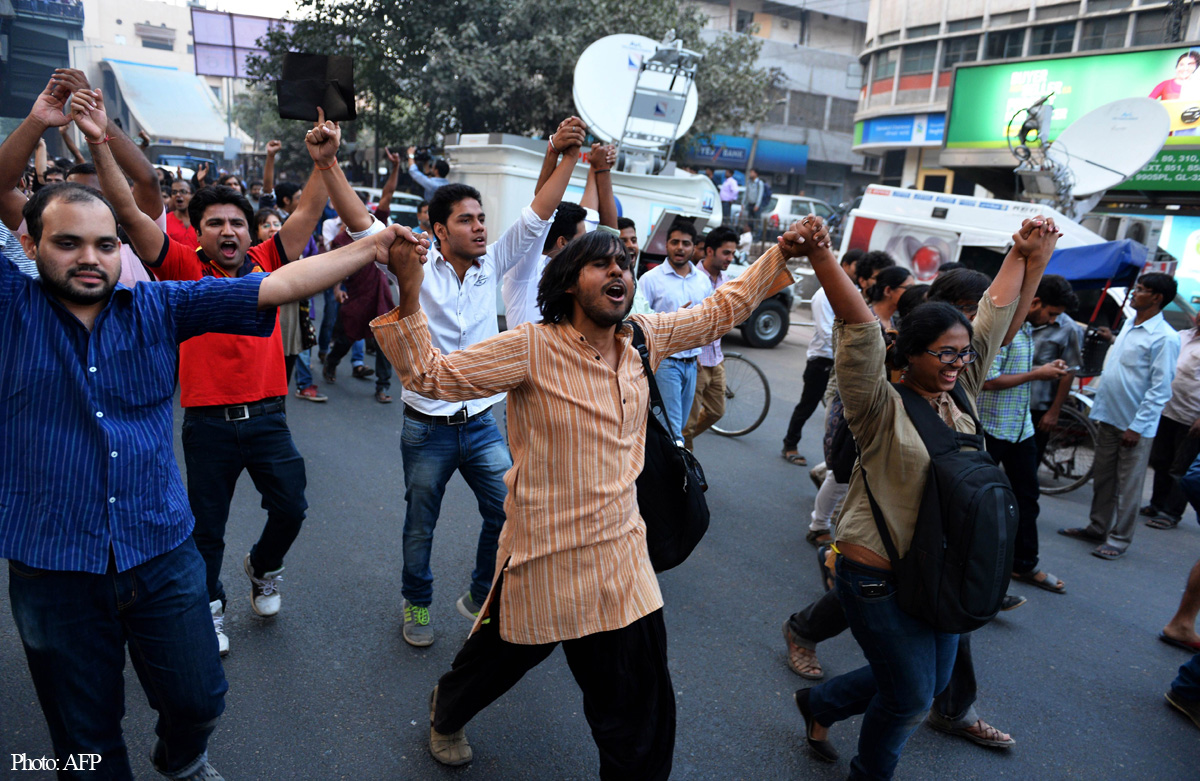 A mass-kissing campaign against moral policing in a southern Indian city has swept the country, advertised via Facebook, as urban youngsters challenge a deeply conservative society.
Dozens of "Kiss of Love" activists stole kisses and blocked traffic near a metro station in New Delhi on the weekend, outnumbering a handful of right-wing protesters who see such public displays as a threat to Indian culture.
"It's not about just kissing," 26-year-old research scholar Pankhuri Zaheer, one of the organisers, told Reuters.
"It's about inter-caste marriages, inter-religious marriages, live-in relationships."
Minor scuffles broke out between the rival groups as the police steered the rally away from the Delhi office of the Rashtriya Swayamsevak Sangh (RSS), a radical group considered the ideological parent of India's ruling Bharatiya Janata Party.
The activists shouted slogans against Prime Minister Narendra Modi, RSS chief Mohan Bhagwat and affiliated Hindu groups seen as self- appointed moral guardians forcing traditional mores on people with a Western outlook.
Police foiled the initial Nov 2 protest in southern state of Kerala by stopping participants reaching the venue.
But the Facebook "Kiss of Love" community page got over 110,000 likes and sparked similar demonstrations in cities such as Mumbai, Kolkata and Hyderabad.
In Kolkata in eastern India, about 100 university students marched last week, carrying posters saying: "Right to love is our democratic right."
Another protest is planned in Kerala early next month.
But not everyone is endorsing the campaign on the 'Kiss of Love' community page.
"Love is a personal thing. Enjoy it and don't make a drama out of it," reads a comment by Raghu Sharma.
Mr Modi has not yet commented on the protests, the report said.
But a spokesman for the Vishwa Hindu Parishad, affiliated to his party, said: "Our Indian culture does not permit us displaying such kinds of affection in public spaces."
Mr Devendra Upadhyay, who opposed the event, told Indian newspaper Hindustan Times: "We have nothing against modernity, but don't kiss on the streets.
"If the Supreme Court has said that there is nothing wrong in kissing in public, we don't agree with it.
"This is wrong."

This article was first published on November 12, 2014.
Get The New Paper for more stories.